Partner Ora Chatfield
Queer Places:
Emma, CO 81621
Vandalia Cemetery Porterville, Tulare County, California, USA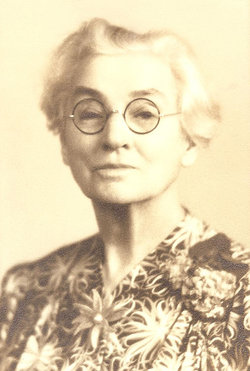 Clara Detrick (May 2, 1863 - October 28, 1955) was a Postmistress and general storekeeper. In 1889 The Denver Times tells the story of two women — postmistress Miss Clara Dietrich or Dietrick or Detrick and Miss Ora Chatfield — whose passionate letters were discovered, only to have their families attempt to keep them apart. Undeterred, they eloped.
Clara Dietrich was born 2 May 1863 in Leon, Iowa. Her mother Susannah M. Harrington (1833-1895) and Aunt Eliza Ann Herrington had married Andrew Joseph Detrick (1828-1893) and Isaac Willard Chatfield respectively. Clara's cousin Ora Lee Chatfield, daughter of Clark S. Chatfield, younger brother of Isaac Willard Chatfield, was born 19 July 1873 in Tecumseh, Nebraska. By the 1880's both the Dietrick and Chatfield families were living in Emma, Pitkins County, Colorado near Aspen. In 1889, the small farming town of Emma, Colorado, was "rent from center to circumference" over the "sensational love affair between "Miss Clara Dietrich, postmistress and general storekeeper, and Miss Ora Chatfield." The Aspen Daily Times noted with "wonder" about the relationship, which grew "out of the apparently insane infatuation of one woman for another." Love letters written between them caused papers in Denver to remark that the "love which existed between the two parties was of no ephemeral nature, but as strong as that of a strong man for his sweetheart." Despite attempts by their families and the Aspen sheriff to separate them, the "lady lovers" successfully eloped. "If the case ever comes to court," wrote the Denver Times, "from a scientific standpoint alone it will attract widespread attention."
It appears that Dietrich went to Aspen with the avowed intention of marrying a gentleman who lived not far from Emma, and Chatfield was there to visit relatives. From there they went to Denver, and as soon as they were missed and their elopement suspected, Hon. I.W. Chatfield was communicated with and requested to bring Ora back from Denver. Accordingly to the news of the time, they had stopped at an hotel in Denver and then they went to Iowa and Kansas City. Sheriff John W. White of Pitkin County brought Ora's back few weeks later. The two were torn apart and a warrant was procured in Aspen for the arrest of the older with the intention to have an investigation made as to her sanity. She promised the sheriff with tears trickling down her cheeks and her voice choking with suppressed emotion to give up her child wife. In 1890, Clara Dietrich married Oliver Sheridan Tyler (1861-1942), in Weiser, Washington Co., Idaho. They divorced in 1909 but remarried in August 1932. Ora L. Chatfield at the age of 25 married Charles Shaw in Wyoming 31 August 1898 and had one child. She divorced Shaw in 1920.

Clara Dietrich
Emma and Oliver had three children: Lorlie Olive Tyler Tingley (1891–1961), Anna T. Tyler Johnson (1894–1990) and Eulalie Tyler Amsbary (1900–1974). She died at age 92 in Terra Bella, Tulare County, California.
---
My published books:p>


---
http://benwilliamsblogger.blogspot.com/2014/07/this-day-in-gay-utah-history-july-6th.html