Partner Thomas Forsythe, Michael Brandow
Queer Places:
University of California, Berkeley, CA 94720
New York City Opera, Lincoln Center, NYC, NY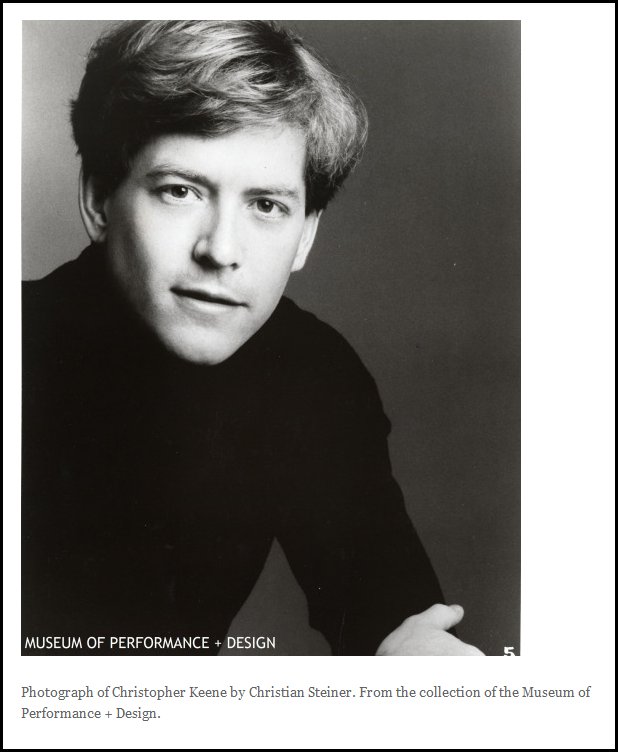 Christopher Keene (December 21, 1946 - October 8, 1995) was an energetic conductor and arts administrator and the enterprising general director of the New York City Opera.
In his six years as director of the City Opera, Keene strove to wean the company from a steady diet of classic delicacies and frothy desserts to sterner, more contemporary fare rich in nutritive challenges. The last season, which started just one month before his death, was to be his most adventuresome.
It began with "Mathis der Maler," a famously unwieldy work, which Keene said he had dreamed of presenting all his life. The season also includes the American premieres of Toshiro Mayuzumi's "Kinkakuji (The Temple of the Golden Pavilion)" and Jost Meier's "Dreyfus Affair." Keene was to have conducted them all.
"Keene is one of the few authentic cultural heroes New York has left, thanks to his many recent acts of courage, personal as well as artistic," Peter G. Davis wrote one month before Keene's death in his review of "Mathis" in New York magazine.
Keene was born in 1946 in Berkeley, Calif., and took to music and drama early. He studied piano and cello and organized neighborhood productions of operas and plays, initiating a pattern of self-study and spontaneous performance that carried into his adulthood.
Although firmly wedded to music, he majored in history at the University of California at Berkeley to avoid having to restudy what he had already learned on his own. There, too, he organized and conducted opera performances.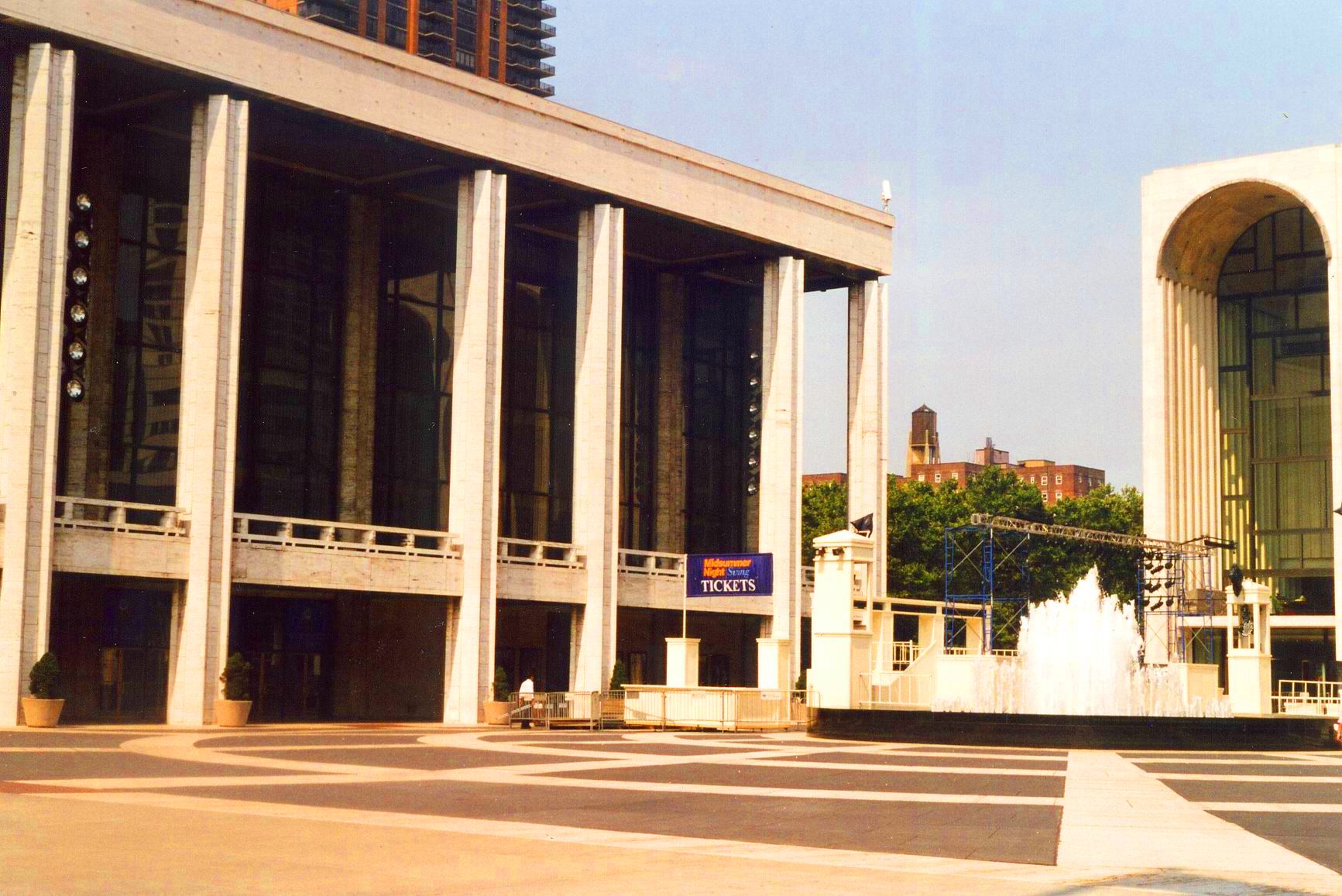 New York State Theater
He worked briefly at the San Francisco Opera as a conducting assistant to Kurt Herbert Adler, who recommended him to Gian Carlo Menotti and the Spoleto Festival in Italy, where he conducted in 1968. He became music director of the festival from 1972 to 1976 and of the Spoleto Festival U.S.A., in Charleston, S.C., from 1977 to 1980. On a further recommendation from Menotti, Keene became music director of Eliot Feld's American Ballet Company from 1969 to 1971.
Keene returned to the Charleston Festival in June 1995 in the frailest of health to make what would be his last concert appearance. The Charleston Post and Courier called his performance "a magnificent tribute to the human spirit."
He made his City Opera debut in 1970, having received the company's first Julius Rudel Award the year before, and his Metropolitan Opera debut in 1971. He became music director of the Artpark Festival in Buffalo from 1974 to 1989 and of the Syracuse Symphony Orchestra from 1975 to 1984. He founded the Long Island Philharmonic in 1979 and directed it until 1990.
All the while, he continued to conduct at the City Opera, during the regimes of Julius Rudel and Beverly Sills. Sills appointed him music director of the company from 1982 to 1986 and was instrumental in his appointment to succeed her as general director in 1989.
Keene's first season as head of the company was aborted by a musicians' strike, and later seasons were troubled by financial deficits, with the shortfall amounting in 1992 to $2.9 million of a $26 million budget. The company managed to put its house back in order in time for its 50th-anniversary celebration two years ago. But as the celebration approached its climax, with a week of premiere performances, Keene was admitted to the Betty Ford Center in Rancho Mirage, Calif., to be treated for alcoholism.
"I had a real nervous breakdown, and the heavy drinking I was doing at the time was certainly a component," Keene said of that period. "It was a time we lost so many friends and colleagues, close and professional, and the company seemed to be going under. My health was in doubt, and it was a time when I couldn't go on."
Keene was referring in part to the ravages of AIDS within arts institutions, with the City Opera being one of those hardest hit. Dozens of the City Opera's members and two administrators had died by then. In addition, Keene's longtime companion, Thomas Forsythe, was dying of AIDS at the time.
Although Keene's treatment at the Ford Center was not entirely successful, he eventually surmounted his drinking problem with treatments at an outpatient clinic in Manhattan. The City Opera saw him through this period, renewing his contract to 1997. But over his objections, it named an executive director, Mark Weinstein, to take over some of Keene's administrative responsibilities.
"The company is more important than I am," Keene told The New York Times in November 1993. "I owe my career to it. I would never do anything to make it suffer, and I don't want to leave it."
He seemed back on his feet and well-adjusted to his straitened professional responsibilities when his physical travails set in 1995.
Keene's innovations at the City Opera extended well beyond repertory. In 1994 the company abandoned its summer season, which extended into the fall, in favor of a more conventional fall and spring format, a change intended to attract the more serious operagoers needed to support the more serious repertory. Even in the standard repertory, he cleaned up many directorial excesses. He also reduced the number of productions, performances and cast changes each season and tightened up performance and rehearsal schedules to allow for better stage preparation and a greater ability to accommodate singer cancellations.
"A lot of the changes that I'm proudest of are totally invisible," he said.
In his 26-year association with the City Opera, Keene conducted numerous world, American and New York premieres. He also recorded Philip Glass's "Satyagraha" with the company for CBS Masterworks, later Sony. Keene's other recordings include John Corigliano's soundtrack score for Ken Russell's film "Altered States," on RCA.
He also carried his efforts into the literary sphere. He wrote about opera; prepared performing translations, including that of "Kinkakuji" from the original German, and wrote librettos. Just before his death, he was collaborating with the composer Charles Wuorinen on "Celia, a Slave."
Keene restated his intention to stay on as general director of the City Opera until 2000. But he also remained active as a symphonic conductor with leading American orchestras, and he said he hoped to devote more time to that pursuit after 2000, and ideally to become the music director of a major orchestra. Instead, he was destined to be forever identified with his first love, opera, and the company with which he worked for more than half his life.
He died on October 8, 1995, at New York Hospital in Manhattan. He was 48. The cause was lymphoma arising from AIDS, said Susan Woelzl, a spokeswoman for the City Opera. His lymphoma was discovered in February 1995, along with a tumor on a vocal cord. The tumor was removed surgically and the lymphoma treated with radiation and chemotherapy.
Keene meanwhile fulfilled almost all of his conducting engagements until one month before his death, when he was hospitalized for anemia and forced to withdraw from the City Opera production of Hindemith's "Mathis der Maler" after two performances.
In a recent conversation, he revealed that he had tested positive for H.I.V., the virus that causes AIDS, more than a decade ago. Yet he insisted that his illness was not related to AIDS, and he spoke avidly of his plans for the coming years.
"At no time have I been symptomatic in any way," he said. "In a very real sense, survivors like myself should give hope to people, because it is absolutely possible to live very many years without any problems whatsoever."
Keene was survived by his companion, Michael Brandow, of Manhattan.
---
My published books:


---