Partner Kate Harvey, Maud Gonne
Queer Places:
(1879) Courtlands, Esher, Surrey
(1890) 95 Wandsworth Road, Wandsworth, London SW
(1891) 2 Currie Street, Nine Elms, London SW
1-3 Robert Street, Adelphi, Charing Cross, London, WC2N 6BN, City Of Westminster
Wroth Tyes, Brackenhill, Cat St, Upper Hartfield, Hartfield TN7 4DU, Regno Unito
Glasnevin Cemetery (Finglas Rd, Dublin 11, D11 PA00, Ireland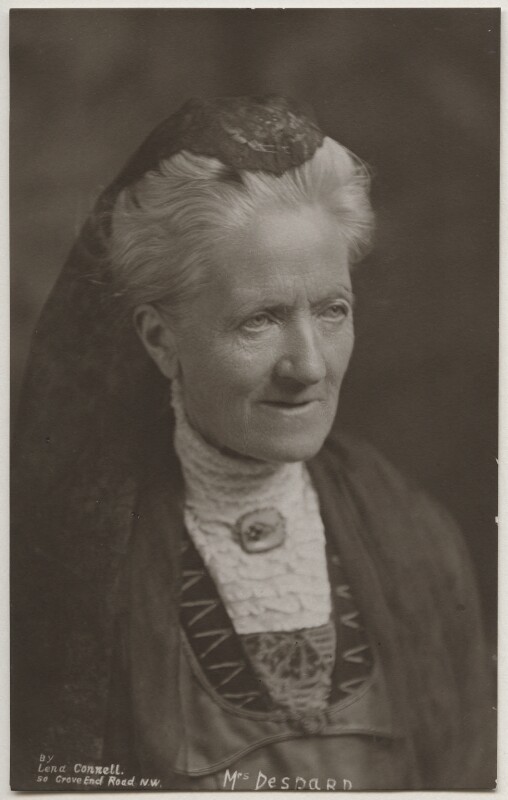 Charlotte Despard (née French) (15 June 1844 – 10 November 1939) was an Anglo-Irish suffragist, socialist, pacifist, Sinn Féin activist, vegetarian and novelist.[1] Her name and picture (and those of 58 other women and men's suffrage supporters) are on the plinth of the statue of Millicent Fawcett in Parliament Square, London, unveiled in 2018.
Despard was a founding member of the Women's Freedom League, Women's Peace Crusade, and the Irish Women's Franchise League, and an activist in a wide range of political organizations over the course of her life, including among others the Women's Social and Political Union, Labour Party, Cumann na mBan, and the Communist Party of Great Britain. The tax resister who got the most publicity – more than either Cicely Hamilton or Evelyn Sharp – was Charlotte Despard's lover, a deaf physiotherapist and mother of three, Kate Harvey, who refused to buy a National Insurance stamp for her servant, who memorably carried the same name – Asquith – as the prime minister. When Harvey was sent to prison, Despard wrote, 'The miss of my darling always greater ... I think of her first at noon and latest at night ... sad and first thoughts always of her, my darling.' They shared many interests, and their lives and work, closely for nine years. Together they went to the IWSA Congress in Budapest in 1913, a crucial gathering for the affirmation of war-time transnational women's networks. Then Despard went to Ireland to take up the cause of Irish independence, and a relationship with Maud Gonne. When Gonne was imprisoned and on hunger strike, Despard, 'as old as the hills and twice as wrinkled', kept another prison vigil outside Kilmainham jail. Her brother was by now Lord-Lieutenant of Ireland, having been dispatched by Lloyd George to impose Home Rule on Ulster by force. While French was recruiting the notorious Black and Tan troops to quell civil unrest, Despard was doing all she could to encourage it. Her brother never forgave her and refused to see her, even on his death bed.
A particularly evocative photograph, taken at the Zürich WILPF Congress in 1919, gives us Charlotte Despard, always eccentrically dressed in a black lace mantilla, standing between the German feminist Lida Heymann, who wears a masculine hat, and her lover, the radical lawyer and Germany's first woman judge, Anita Augspurg, whose attire is even more manly. Heymann always recalled her first sight of the woman who would become her lover for 40 years, a figure in brown velvet with a powerful voice and sparkling, clear-sighted eyes standing at a lectern.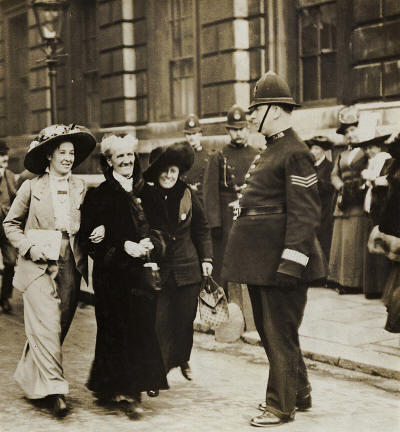 (l to r) Edith How-Martyn, Charlotte Despard and Emma Sproson, acting for the WFL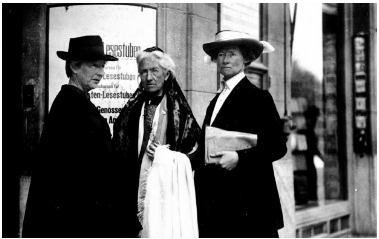 Anita Augspurg (left), Charlotte Despard (centre) and Lida Heymann (right) at the WILPF Congress in Zürich, 1919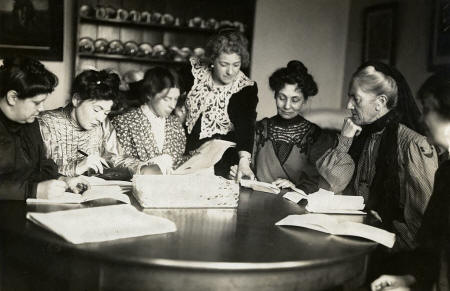 Flora Drummond with Christabel Pankhurst, Annie Kenney, (unknown), Emmeline Pankhurst, Charlotte Despard and (unknown), 1906–1907
Charlotte French was born in Ripple, Kent, the daughter of Irish Captain John Tracy William French of the Royal Navy (who died in 1855) and Margaret French, née Eccles (who died suffering from insanity in 1867).[2] Her brother John French became both a leading military commander during World War I and Lord Lieutenant of Ireland, putting them on opposing political sides in later life.
She regretted her lack of education, although she did attend a finishing school in London. In 1870, she married businessman Maximilian Carden Despard, who died at sea in 1890;[3] they had no children.[4]:11
Despard's first novel, Chaste as Ice, Pure as Snow was published in 1874. Over the next sixteen years, she wrote ten novels, three of which were never published.[5]
Following her husband's death when she was 46, Despard was encouraged by friends to take up charitable work. She was shocked and radicalised by the levels of poverty in London and devoted her time and money to helping poor people in Battersea. She lived above one of her welfare shops in one of poorest areas of Nine Elms during the week and converted to Roman Catholicism.[4]:12 In 1894 she stood and was elected as a Poor Law Guardian for Lambeth poor law union. She retired from the board in 1903.[6]
She became good friends with Eleanor Marx and was a delegate to the Second International, including to the fourth congress in London in 1896.[7] She campaigned against the Boer War as a "wicked war of this Capitalistic government" and she toured the United Kingdom speaking against the use of conscription in the First World War, forming a pacifist organisation called the Women's Peace Crusade to oppose all war.
Despard was a vocal supporter of the Social Democratic Federation and the Independent Labour Party. In 1906 she joined the National Union of Women's Suffrage Societies and was imprisoned twice in Holloway gaol. She became frustrated with the lack of progress the organisation was making she joined the more radical Women's Social and Political Union (WSPU).
In 1907, Despard was one of three women who formed the Women's Freedom League after disagreements over the autocratic way in which the WSPU was run.[8] She was joined by Teresa Billington-Greig and Edith How-Martyn. She was closely identified with new passive resistance strategies including women chaining themselves to the gate of the Ladies' Gallery in the Palace of Westminster; and also a "No taxation without representation" campaign, during which her household furniture was repeatedly seized in lieu of fines.[9]
From 1912 to 1921, she worked with Kate Harvey, another pacifist feminist and tax resister. Despard wrote in her diary that "the anniversary of our love" began on 12 January 1912, though it remains unclear the extent of what she meant by the words.[10] The two women bought property together and built a thirty-one-bed hospital for women and children on the 12-acre tract in Upper Hartfield.[11][10]
Unlike other suffragists, Despard refused as a pacifist to become involved in the British Army's recruitment campaign during World War I, a stance different to her family's – her brother, Field Marshal John French, was Chief of the Imperial General Staff of the British Army and commander of the British Expeditionary Force sent to Europe in August 1914, and their sister Catherine Harley served in the Scottish Women's Hospital in France.[9]
Despard was an active member of the Battersea Labour Party during the early decades of the 20th century. She was selected as the Labour candidate for Battersea North in the 1918 General Election; however, her anti-war views were unpopular with the public and she was defeated.[5]
She remained actively political well into her 90s, touring the Soviet Union and later joining the Communist Party of Great Britain.[5]
In 1908 Despard joined Hanna Sheehy-Skeffington, Margaret Cousins and other feminists to form the Irish Women's Franchise League. She urged members to boycott the 1911 Census and withhold taxes and provided financial support to workers during the Dublin labour disputes.[5] In 1909 Despard met Mahatma Gandhi and was influenced by his theory of passive resistance.
Despard settled in Dublin after World War I and was bitterly critical of her brother, now Field Marshal the Earl of Ypres.[12]
During the Irish War of Independence, together with Maud Gonne and others, she formed the Women's Prisoners' Defence League to support republican prisoners.[13] As a member of Cumann na mBan she opposed the Anglo-Irish Treaty, and was imprisoned by the Irish Free State government during the Irish Civil War.
In 1930 Despard toured the Soviet Union. Impressed with what she saw she joined the Communist Party of Great Britain and became secretary of the Friends of Soviet Russia organisation. In 1933 her house in Dublin was burned down by an anti-communist mob.[14]
She died, aged 95, after a fall at her new house, Nead-na-Gaoithe, Whitehead, near Belfast in November 1939. She was buried in the Republican Plot at Glasnevin Cemetery in Dublin.[15]
In London, two streets are named after her, one in Battersea SW11, and another in Archway, Islington. At the end of the latter is the Charlotte Despard pub, named in her honour.
---
My published books:


---
https://en.wikipedia.org/wiki/Charlotte_Despard
Crawford, Elizabeth. The Women's Suffrage Movement (Women's and Gender History) (p.169). Taylor and Francis. Edizione del Kindle.