Partner Mountford Coolidge
Queer Places:
Shore Rd & Pine Hill Rd N, Ogunquit, ME 03907
La Folie Monvel, Hi Mt Rd, Palm Beach, FL 33480
Lakeview House, 319 El Vedado Rd, Palm Beach, FL 33480
222 Worth Ave, Palm Beach, FL 33480
Son Julia Country House, Crta. De S'Arenal a Llucmajor, 07620 Llucmajor, Islas Baleares, Spain
Bennington Museum, 75 Main St, Bennington, VT 05201
Channing Weir Hare (April 20, 1899 - February 12, 1976) was a portrait artist and was also engaged in the antique business. His clients Included such noted Palm Beach and New York socialites as Phyllis Rhinelander and Alexander Woolcott, comedienne Beatrice Lillie, actress Florence Nash, and authors Booth Tarkington and Kenneth Roberts. He lived at Lakeview House, Palm Beach, FL, with Mountford Coolidge and his adopted son, Hopkins Hensel, and spent the summer months in Ogonquit, ME. Coolidge died in 1954. Lakeview House was featured in the 1961 book 100 Most Beautiful Rooms in America.
Hare's portraits and paintings are permanently represented al the Boston Museum of Fine Arts, Pennsylvania Academy of Fine Arts, Colorado Springs Fine Arts Center, Davenport Municipal Art Gallery, Virginia Historical Society, International Business Machines Collection, and many public and private collections. His work has been exhibithed extensively in Europe and America.
Born in New York City, Hare at a young age studied at Art Student League of New York with Robert Henri, George Bellows and William Zorach. During his early life, Hare was associated with his father in the Bennington Scale Works as was his brother, Col. Irving Hare. Both were also active in the local Green Mountain club in Bennington.
Almost from the beginning of his artistic career in early 1930s Depression-era New York, Channing Hare garnered critical and financial success. Having attended schools in Albany, New York, and Bennington, Vermont, before attending The Art Students League of New York, by the 1950s when many artists priced their work between $100 and $500, Channing tagged his at $3,000. Having ascended into New York and Palm Beach's social pantheon, his portraits were reported to command as much as $10,000.
From 1912 until 1917, Hare and his brother Irving lived in Bennington where his father, William Irving Hare was vice-president of the Bennington Scale Company. The same year Channing enrolled in a Manhattan art school, his family moved to Forest Hills Gardens, a Tudor-styled enclave in Queens. By the early 1930s, the Hares spent summers in Ogunquit and winter months in Winter Park, a suburb of Orlando, Florida.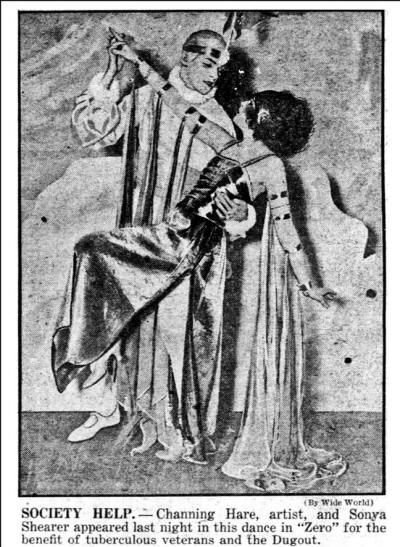 Channing Hare, 1922. New York. Hare designed scenery as well as acted in a satiric musical comedy called "Zero," a spoof on Roman emperor Nero, that ran for one week. [Chronicling America]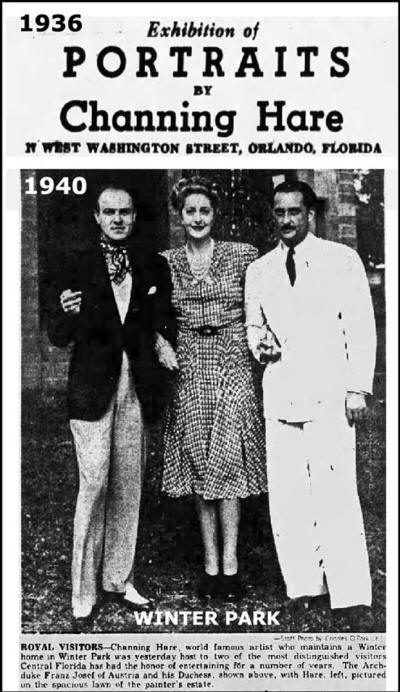 1936-1940. Winter Park. Channing's houseguests Archduke Franz Josef and the Duchess made page one headlines in the Orlando Sentinel. At Winter Park, Hare and Coolidge's eight-acre Via Tuscany lakefront estate was one of the area's showplaces. [Orlando Sentinel]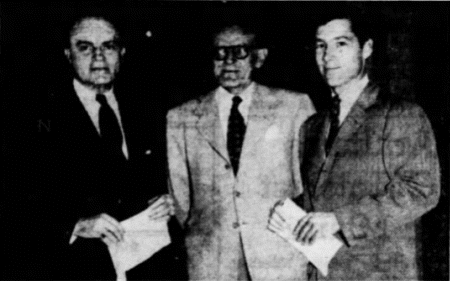 Channing Hare, Mountford Coolidge and Hopkins Hensel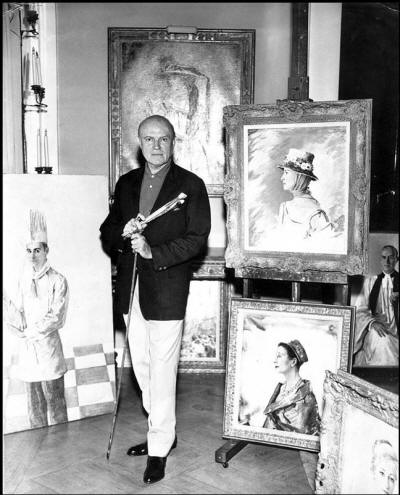 1960. Channing Hare in his studio. [Historical Society of Palm Beach County]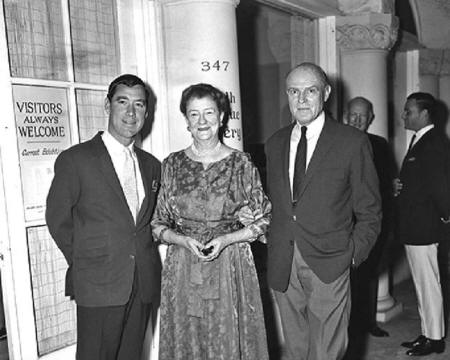 Mary Duggett Benson, center, flanked by two of her star artists, Hopkins Hensel and Channing Hare. [Historical Society of Palm Beach County]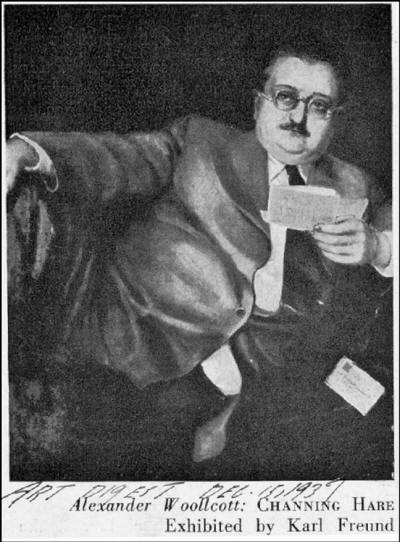 Portrait, Alexander Woollcott, Art Digest, 1937. [Smithsonian Archives of American Art]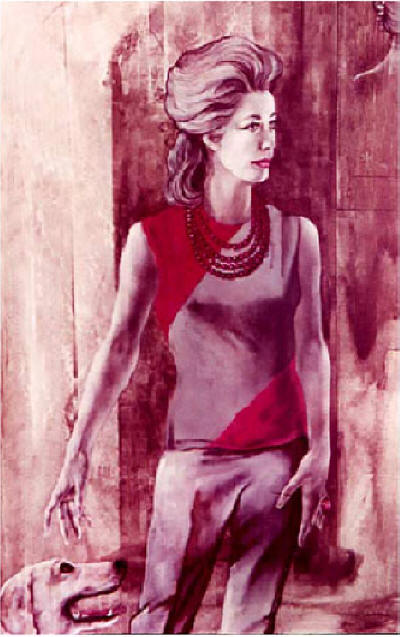 Portrait of Dysie Davie by Channing Hare, Spring, 1965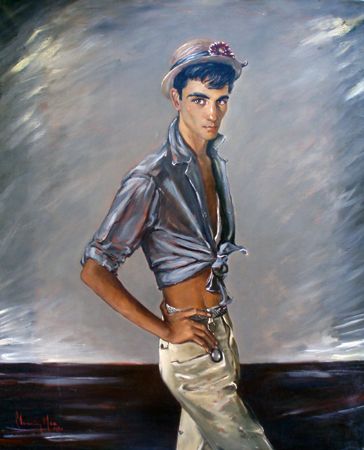 Channing Hare Ogunquit, Palm Beach 1899-1976 "Friend of Dorothy" Oil on Canvas 32 x 39 inches Signed and dated 1960 lower left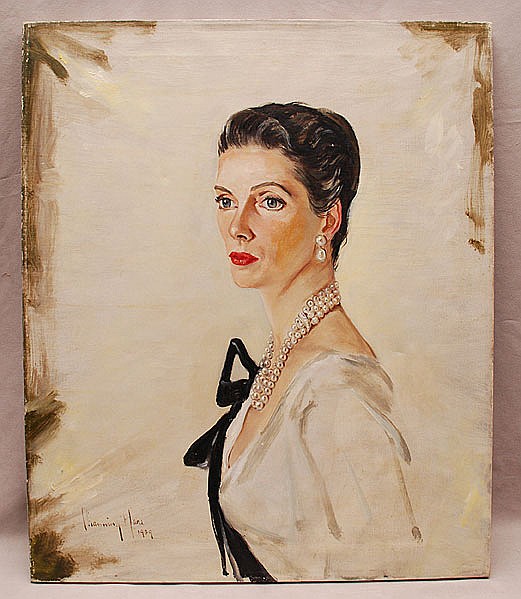 Channing Hare (American, 1899-1976) oil on canvas, portrait of lady in white dress w/ long pearls on, 1959, signed and dated (lower left) 24" x 20"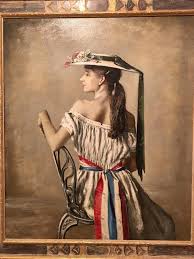 Channing Hare (1899-1976), "Fourth of July," 1949, Oil on canvas, Gift of Stephen Hopkins Hare

Peggy Thomas, Model
In 1929 Hare married Josephine Brooks Livermore of Newport, RI, to whom he remained married until her death in 1965, even if they lived separate lives since at least the 1940s.
Hare opened a studio in Ogunquit, ME, where he maintained a summer residence. Since the early 1940s he spent the winters in Palm Beach, FL. He was a member of both the exclusive B & T (Bath and Tennis Club) and the Everglades Club. Referred to as Uncle Bunny by his adopted son Stephen (Stevie) Hopkins Hensel, Hare also owned a large villa, Son Julio, in Majorca (possibly now the hotel Son Julia). In 1952, Hare moved to an apartment on Worth Avenue, the Villas, and sold Lakeview House to Audrey Emery.
As Hare began showing at Palm Beach, he and Mountford decided to spend more of the winter at Palm Beach rather than Winter Park. They first stayed at the Brazilian Court and The Villas before leasing Folie de Monvel. In 1939, Hare and Coolidge leased La Folie de Monvel, Bernard Boutet de Monvel's octagon house on Hi-Mount Road. The following season, the couple returned to de Monvel's one-of-kind house where they entertained between exhibitions and shows. Following de Monvel's death, the house was sold to artist Gertrude Schweitzer who owned it for several decades.
Reigning as the town's most popular portraitist, Hare's first significant show was at Prince George Stroganof Scherbatoff's galley on Worth Avenue. This was followed by shows at the Worth Avenue Gallery, first opened in December in 1942 by Mary Duggett Benson, in concert with the Washington Studio Gallery on Miami Beach.
After leasing the house at 319 El Vedado from Mrs. John Wendell Anderson for four consecutive seasons beginning in 1944, Channing Hare paid $150,000 for the Neoclassical-designed three-level waterfront home in October 1948. Four years later, he sold it to Audrey Emery, returning to his 222 Worth Avenue apartment that also had a Neoclassical facade. Emery would sell the El Vedado house to Consuelo Vanderbilt Balsan in February 1956.
In addition to his avid interest in painting, he was a collector of antiques and from time to time presented portions of his collection to various museums. The Channing Hare - Mountford Coolidge collection of Early American Blown and Pressed Glass is hosted at the Bennington Museum, Bennington, VT. The exhibit is one of the outstanding collections of American Glass in the United States. Channing Hare donated it to the Museum in 1958. It was with Mountford Coolidge (1888-1954) that Hare launched into his bobby of collecting early American glass. During his later years, Coolidge was well-known in art circles both in Palm Beach, FL, than in Ogonquit, ME, where Hare had his summer studio home. The Bennington Museum was chosen by Hare for this donation, as an outstanding regional museum where such a collection would be of special interest and value. Included among the pieces, many of which had been for years at Hare's Ogonquit home, were specimens of Stiegel, Early Sandwich, New Hampshire and Ohio glassware.
---
My published books:


---
The Palm Beach Post West Palm Beach, Florida 13 Feb 1976, Fri • Page 44
Rutland Daily Herald Rutland, Vermont 23 Feb 1976, Mon • Page 4