Queer Places:
Franks, 313-315 W 125th St, New York, NY 10027
Woodlawn Cemetery Bronx, Bronx County, New York, USA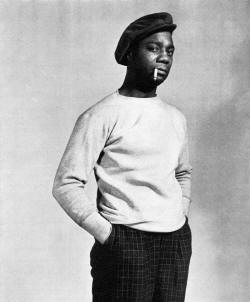 Canada Lee (born Leonard Lionel Cornelius Canegata; March 3, 1907 – May 9, 1952) was an American professional boxer and then an actor who pioneered roles for African Americans. After careers as a jockey, boxer and musician, he became an actor in the Federal Theatre Project, including the 1936 production of Macbeth adapted and directed by Orson Welles. Lee later starred in Welles's original Broadway production of Native Son (1941). A champion of civil rights in the 1930s and 1940s, Lee was blacklisted and died shortly before he was scheduled to appear before the House Un-American Activities Committee. He advanced the African American tradition in theatre pioneered by such actors as Paul Robeson. Lee was the father of actor Carl Lee.
In December 1925, Lee married Juanita Eugenia Waller.[3]: 26  On November 22, 1926, they had a son, Carl Vincent Canegata,[3]: 28  who became actor Carl Lee. The couple separated while their son was young,[3]: 33  and they were amicably divorced in 1942.[3]: 124  In 1934, Lee began a love affair with publisher and peace activist Caresse Crosby, despite the threat of miscegenation laws. They often had lunch in uptown New York in Harlem at the then-new restaurant "Franks", where they could maintain their secret relationship. When Lee was performing in Washington, D.C., during the 1940s, the only restaurant in the city where they could eat together was an African restaurant named the Bugazi. Crosby and Lee's intimate relationship continued into the mid-1940s.[36] In March 1951, Lee married Frances Pollack. They remained together until he died just over a year later.
Ted Pierce had created a whole set of loose-leaf binders of scrapbooks, now lost, of attractive young men; there were clippings from the press and photos of his circle of gay friends. The black actor Canada Lee, who had gone from racetrack roustabout to prizefighter to Harlem jazz bandleader before his acting career took off, got to know Ted Pierce and would stay in his house when he came to Madison. Lee played such roles as Caliban in Shakespeare's The Tempest. In January 1942 Lee was onstage at Madison's Parkway Theater performing in Orson Welles's Mercury Theater production of Richard Wright's Native Son, a role he had performed on Broadway. On one occasion in 1945, Lee stayed with Pierce when he was in town to be honored by the Madison chapter of the NAACP. On that trip Lee stated, "I will not play the stock Negro character since I feel it is a libel on the race." On Lee's death in 1952, Madison newspapers mentioned that he had been a guest of Pierce.
Lee died of a reported heart attack at the age of 45 on May 9, 1952, in Manhattan.[2][35] It was later revealed by his widow, Frances Pollack, that he had been diagnosed with uremia and died of kidney disease, slipping into a coma and passing away 10 days after his diagnosis.[3]: 346–348  He was buried at Woodlawn Cemetery in The Bronx.
---
My published books:


---