Queer Places:
Columbia University (Ivy League), 116th St and Broadway, New York, NY 10027
Woodlawn Cemetery Bronx, Bronx County, New York, USA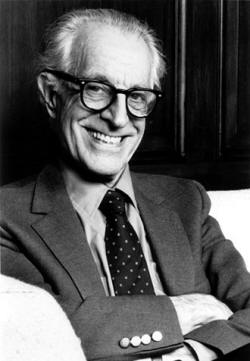 Albert Ellis (September 27, 1913 – July 24, 2007) was an American psychologist and psychotherapist who founded Rational Emotive Behavior Therapy (REBT). He held MA and PhD degrees in clinical psychology from Columbia University, and was certified by the American Board of Professional Psychology (ABPP). He also founded, and was the President of, the New York City-based Albert Ellis Institute.[1] He is generally considered to be one of the originators of the cognitive revolutionary paradigm shift in psychotherapy and an early proponent and developer of cognitive-behavioral therapies.[2]
By the 1960s, Ellis had come to be seen as one of the founders of the American sexual revolution. Especially in his earlier career, he was well known for his work as a sexologist and for his liberal humanistic, and in some camps controversial[19] opinions on human sexuality. He also worked with noted zoologist and sex researcher Alfred Kinsey and explored in a number of books and articles the topic of human sexuality and love. Sex and love relations were his professional interests even from the beginning of his career. Norman Haire, in his preface to Ellis' 1952 book Sex Beliefs and Customs, applauded the work of the Society for the Prevention of Venereal Disease while he ridiculed its rival, the National Council for Combating Venereal Disease, who argued that preventive measures such as condoms would encourage vice: Haire called them "the Society for the Prevention of the Prevention of Venereal Disease".[20] In 1958, Ellis published his classic work Sex Without Guilt which came to be known for its advocacy of a liberal attitude towards sex. He contributed to Paul Krassner's magazine The Realist; among its articles, in 1964 he wrote if this be heresy... Is pornography harmful to children?[21] In 1965, Ellis published a book entitled Homosexuality: Its Causes and Cure, which partly saw homosexuality as a pathology and therefore a condition to be cured. In 1973, the American Psychiatric Association reversed its position on homosexuality by declaring that it was not a mental disorder and thus not properly subject to cure, and in 1976, Ellis clarified his earlier views in Sex and the Liberated Man, expounding that some homosexual disturbed behaviors may be subject to treatment but, in most cases, that should not be attempted as homosexuality is not inherently good or evil, except from a religious viewpoint. Near the end of his life, he finally updated and re-wrote Sex Without Guilt in 2001 and released as Sex Without Guilt in the Twenty-First Century. In this book, he expounded and enhanced his humanistic view on sexual ethics and morality and dedicated a chapter on homosexuality to giving homosexuals advice and suggestion on how to more greatly enjoy and enhance their sexual love lives. While preserving some of the ideas about human sexuality from the original, the revision described his later humanistic opinions and ethical ideals as they had evolved in his academic work and practice.
Until he fell ill at the age of 92 in 2006, Ellis typically worked at least 16 hours a day, writing books in longhand on legal tablets, visiting with clients, and teaching. On his 90th birthday in 2003, he received congratulatory messages from well-known public figures such as then-President George W. Bush, New York senators Charles Schumer and Hillary Clinton, former President Bill Clinton, New York City Mayor Michael Bloomberg, and the Dalai Lama, who sent a silk scarf blessed for the occasion.[39][40] In 2004, Ellis was taken ill with serious intestinal problems, which led to hospitalization and the removal of his large intestine. He returned to work after a few months of supportive care. In 2005, he was removed from all professional duties and from the board of his own institute after a dispute over the management policies of the institute.[41] Ellis was reinstated to the board in January 2006 after winning civil proceedings against the board members who removed him.[42] On June 6, 2007, lawyers acting for Albert Ellis filed a suit against the Albert Ellis Institute in New York state court. The suit alleges a breach of a long-term contract with the AEI and sought recovery of the 45 East 65th Street property through the imposition of a constructive trust.[43] Despite his series of health issues and profound hearing loss, Ellis never stopped working with the assistance of his wife, Australian psychologist Debbie Joffe Ellis.[44] In April 2006, Ellis was hospitalized with pneumonia, and spent more than a year shuttling between hospital and a rehabilitation facility. He eventually returned to his residence on the top floor of the Albert Ellis Institute where he died on July 24, 2007 in his wife's arms. Ellis had authored and co-authored more than 80 books and 1200 articles (including eight hundred scientific papers) during his lifetime. He died aged 93.[8]
---
My published books:

---