Queer Places:
166 W N Temple, Salt Lake City, UT 84103, Stati Uniti
Salt Lake City Cemetery, 200 N St E, Salt Lake City, UT 84103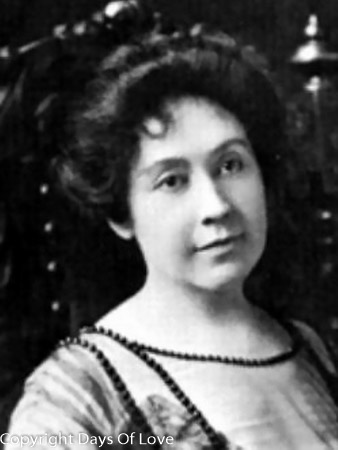 Ada Dwyer Russell (1863–1952), was an actress[2]:38 who performed on stage in Broadway and London and became the muse to her poet lover Amy Lowell.[7]
Dwyer was born in 1863 to a recently baptized Mormon Salt Lake City bookkeeper James Dwyer and his wife Sara Ann Hammer.[2]:51[8]:173 In 1893 at the age of thirty she married Boston-born actor[9] Harold Russell (lived 1859–1927),[10][2]:51 and they had a daughter Lorna the next year. Their marriage fell apart soon after Lorna's birth and they entered a lifelong separation, though, never legally divorcing.[11] Although no record exists of Dwyer renouncing the Mormon religion she was raised in, she ceased involvement,[2]:51 and her father was asked to resign in 1913 by top leaders after telling other Salt Lake members that same-sex sexual activity was not a sin.[8]:428
The second great romance of Amy Lowell's life was with Ada Dwyer Russell. Lowell met the actress in 1909 when she came to Boston to perform in a play, but their romance did not blossom until 1912 when Dwyer made a return trip to the city. Though Dwyer was raised a Mormon, eleven years older, and once married, she was also talented, well read, and able to stand up to Lowell. Dwyer was the ideal lover Lowell had wanted all her life. However, Dwyer had to be wooed. Lowell begged her to give up the stage and live full time in Brookline, but Dwyer was reluctant to do so. In the end, Dwyer and Lowell had a long passionate relationship that inspired Lowell's poetry. Supporting her emotionally, Dwyer calmed Lowell when she had to confront Ezra Pound and a group of male poets at a meeting to argue who best represented the burgeoning Imagist poetry movement which Lowell championed. In return, Lowell rhapsodized about Dwyer's talent with needle and thread as evidence of the quiet domesticity at the center of their love. In one poem, she compared Dwyer to flowers and church bells.
Dwyer moved in with Lowell in 1914 and their long-term lesbian relationship, or "Boston marriage" (the term for a 19th-century romantic female relationship) would last over a decade until Lowell's death in 1925.[12] Lowell lovingly referred to Dwyer as "the lady of the moon"[13] and loved Dwyer's daughter and grandchildren as her own.[14] Unfortunately, most of the primary document letters of communication between the two were destroyed by Ada at Amy's request, leaving much unknown about the details of their life together[2]:47 as they had to hide the nature of their relationship.[13]
Russell was the subject of many of Lowell's poems,[15] and Lowell wanted to dedicate her books to Dwyer who refused except for one time in a non-poetry book in which Lowell wrote, "To A.D.R., This, and all my books. A.L."[16] Examples of these love poems to Dwyer include the Taxi, Absence,[2]:xxi In a Garden, Madonna of the Evening Flowers,[14] Opal,[17] and Aubade.[13] Amy admitted to John Livingston Lowes that Dwyer was the subject of her series of romantic poems titled "Two Speak Together".[18][19] Lowell's poems about Dwyer have been called the most explicit and elegant lesbian love poetry during the time between the ancient Sappho and poets of the 1970s.[13]
---
My published books:


---
https://en.wikipedia.org/wiki/Ada_Dwyer_Russell
Improper Bostonians Lesbian and Gay History from the Puritans to Playland By History Project Staff · 1998
The Hub of the Gay Universe, An LGBTQ History of Boston, Provincetown, and Beyond, by Russ Lopez, 2019