Queer Places:
Tama Cemetery, 4 Chome-628 Tamachō, Fuchū-shi, Tōkyō-to 183-0002, Giappone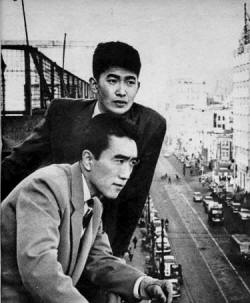 Yukio Mishima (January 14, 1925 – November 25, 1970), was Japanese author, poet, playwright, actor, model, film director, nationalist, and founder of the Tatenokai. Mishima is considered one of the most important Japanese authors of the 20th century. He was considered for the Nobel Prize in Literature in 1968, but the award went to his countryman Yasunari Kawabata.[1] His works include the novels Confessions of a Mask and The Temple of the Golden Pavilion, and the autobiographical essay Sun and Steel. His avant-garde work displayed a blending of modern and traditional aesthetics that broke cultural boundaries, with a focus on sexuality, death, and political change.[2]
In 1955, Mishima took up weight training and his workout regimen of three sessions per week was not disrupted for the final 15 years of his life. In his 1968 essay Sun and Steel, Mishima deplored the emphasis given by intellectuals to the mind over the body. Mishima later also became very skilled at kendo, traditional Japanese swordsmanship.
After briefly considering a marital alliance with Michiko Shōda (who later married Crown Prince Akihito and is now Empress Michiko[16]), Mishima married Yoko Sugiyama on June 11, 1958. The couple had two children: a daughter named Noriko (born June 2, 1959) and a son named Iichiro (born May 2, 1962).
While working on Forbidden Colors, Mishima visited gay bars in Japan.[17] Mishima's sexual orientation was an issue that bothered his widow, and she always denied his homosexuality after his death.[18] In 1998, the writer Jiro Fukushima published an account of his relationship with Mishima in 1951, including fifteen letters between himself and the famed novelist. Mishima's children successfully sued Fukushima for violation of his privacy and copyright.[19]
In 1967, Mishima enlisted in the Ground Self-Defense Force (GSDF) and underwent basic training. A year later, he formed the Tatenokai ("shield society"), a private militia composed primarily of young students who studied martial principles and physical discipline, and swore to protect the Emperor of Japan. Mishima trained them himself. However, under Mishima's ideology, the emperor was not necessarily the reigning Emperor, but rather the abstract essence of Japan. In Eirei no Koe ("Voices of the Heroic Dead"), Mishima denounced Emperor Hirohito for renouncing his claim of divinity after World War II, arguing that millions of Japanese had died in the war for their "living god" Emperor, and that the Showa Emperor's renouncing his divinity meant that all those deaths were in vain.
In the final ten years of his life, Mishima wrote several full-length plays, acted in several films, and co-directed an adaptation of one of his stories, Patriotism, the Rite of Love and Death. He also continued work on his final tetralogy, The Sea of Fertility (Hōjō no Umi), which appeared in monthly serialized format from September 1965.
Mishima espoused a very individual brand of nationalism towards the end of his life. He was hated by leftists, in particular for his outspoken commitment to bushido, the code of the samurai, and by mainstream nationalists for his contention, in Bunka Bōeiron (文化防衛論, "A Defense of Culture"), that Hirohito should have abdicated and taken responsibility for the loss of life in the war.
Mishima was active as a nationalist and founded his own right-wing militia, the Tatenokai. In 1970, he and three other members of his militia staged an attempted coup d'état when they seized control of a Japanese military base and took the commander hostage, then tried and failed to inspire a coup to restore the Emperor's pre-war powers, in accordance with Mishima's conceptualization of the Kokutai. Mishima then committed ritual suicide by seppuku. The coup attempt became known as the "Mishima Incident".
The Mishima Prize was established in 1988 to honor his life and works.
---
My published books:


---
https://en.wikipedia.org/wiki/Yukio_Mishima
Woods, Gregory. Homintern . Yale University Press. Edizione del Kindle.
Homosexuals in History, A Study of Ambivalence in Society, Literature and the Arts, by A.L. Rowse, 1977
Les amours masculines de nos grands hommes – April 30, 2014 French Edition by Michel Larivière
Dictionnaire historique des homosexuel.le.s célèbres – October 19, 2017 French Edition by Michel Larivière