Queer Places:
University of North Carolina at Chapel Hill, Chapel Hill, NC, Stati Uniti
Old Live Oak Cemetery, 22 Dallas Ave, Selma, AL 36701, Stati Uniti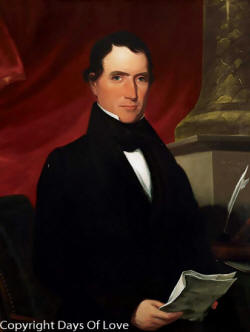 William Rufus DeVane King (April 7, 1786 – April 18, 1853) was an American politician and diplomat. He was the 13th Vice President of the United States for six weeks in 1853 before his death. Earlier he had been elected as a U.S. Representative from North Carolina and a Senator from Alabama. He also served as Minister to France during the reign of King Louis Philippe I.
A Democrat, he was a Unionist and his contemporaries considered him to be a moderate on the issues of sectionalism, slavery and westward expansion, which contributed to the American Civil War. He helped draft the Compromise of 1850.[2] He is the only United States executive official to take the oath of office on foreign soil; he was inaugurated in Havana, Cuba due to poor health. King died of tuberculosis after 45 days in office. With the exceptions of John Tyler and Andrew Johnson—both of whom succeeded to the Presidency—he is the shortest-serving Vice President.
King was the only Vice President from the State of Alabama and held the highest political office of any Alabamian in American history. He was the fourth Vice President to die in office.
While many believe King may have been asexual or heterosexual (but celibate), and there are many indicators that suggest he was homosexual, there is evidence to support the fact that he in fact did have a heterosexual relationship and possibly children. In Washington City on December 8th, 1824 he wrote a personal letter to then Alabama Governor, Israel Pickens regarding his "wayward heart that loves but once and loved forever." Pickens wife had recently passed away. King wrote that "...unfortunate as you have been in the loss of a most amiable and excellent woman, I am almost induced to envy you when I contrast your situation with mine; her lovely offspring are with you, you are training them up in the paths of virtue, and they bid fair to be an ornament to their Country, and to make glad the heart of their Father in the evening of his days." King continued, "You ask, why should it be so? I can only say such is the decree of fate; mine is a wayward heart that loves but once and loved forever. Of Petersburg or of those residing in its vicinity, I know but little, between me and them there never was a community of sentiment, variety, and youthful folly, may have mislead me for a — moment, but returning reason convinced me that perfect esteem entwined my desire ineffable." Was he speaking of Petersburg, Georgia now covered by a large TVA lake or Petersburg, Virginia outside of Washington. It is unclear but this is clear evidence of a lost love "...of Petersburg" and "...of those residing in this vicinity."[4]
The argument of homosexuality has been put forward by biographer Jean Baker,[5] supported by Shelley Ross, James W. Loewen, and Robert P. Watson.
The source of this interest has been King's close and intimate relationship with President James Buchanan. The two men lived together for 13 years from 1840 until King's death in 1853. Buchanan referred to the relationship as a "communion",[6] and the two attended all parties together. Contemporaries also noted the closeness. Andrew Jackson called them "Miss Nancy" and "Aunt Fancy" (the former being a 19th-century euphemism for an effeminate man[7]), while Aaron V. Brown referred to King as Buchanan's "better half".[8] James Loewen has described Buchanan and King as "siamese twins".
Buchanan adopted King's mannerisms and romanticised view of southern culture. Both had strong political ambitions and in 1844 they planned to run as president and vice president. Both men were soft, effeminate and eccentric.[6] They spent some time apart while King was on overseas missions in France, and their letters remain cryptic, avoiding revealing any personal feelings at all. In May 1844, Buchanan wrote to Cornelia Roosevelt, "I am now 'solitary and alone,' having no companion in the house with me. I have gone a wooing to several gentlemen, but have not succeeded with any one of them. I feel that it is not good for man to be alone, and [I] should not be astonished to find myself married to some old maid who can nurse me when I am sick, provide good dinners for me when I am well, and not expect from me any very ardent or romantic affection."[6]
After King died in 1853 Buchanan described him as "among the best, the purest and most consistent public men I have known."[6] While some of their correspondence were destroyed by family members, the length and intimacy of surviving letters illustrate "the affection of a special friendship".[9]
The 1852 Democratic National Convention was held at the 1851 Maryland Institute for the Promotion of the Mechanic Arts Hall in Baltimore. Franklin Pierce was nominated for President, and King was nominated for Vice President.
Pierce and King defeated the Whig candidates, Winfield Scott and William Alexander Graham. (While attending college, King and Graham had been members of rival campus organizations in Chapel Hill; King belonging to the Philanthropic Society and Graham to the Dialectic Society.) Because King was ill with tuberculosis and had traveled to Cuba in an effort to regain his health, he was not able to be in Washington to take his oath of office on March 4, 1853. By a Special Act of Congress, he was allowed to take the oath outside the United States, and was sworn in on March 24, 1853 near Matanzas, Cuba.[3][10][11]
Shortly afterward, King returned to Chestnut Hill, where he died within two days. He was interred in a vault on the plantation and later reburied in Selma's Old Live Oak Cemetery.[12] King never carried out any duties of the office.[13] The U.S. Senate displays a bust of King in its collection, even though he never presided over a legislative session as Vice President.[14]
Following King's death, the office of Vice President was vacant until John C. Breckinridge was inaugurated with President James Buchanan in March 1857.
---
My published books:


---
xxx