Wife Emily Maria Borie Ryerson
Queer Places:
4 Rutledge Ave, Charleston, SC 29401
Villa Bontoc, 30 Chemin du Roy, 06230 Saint-Jean-Cap-Ferrat, France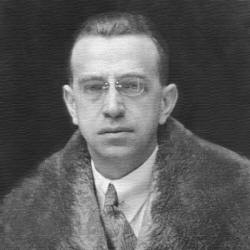 William Forsythe Sherfesee (May 23, 1882 - January 7, 1971) was born in Dingley Dell Farm, Transylvania, North Carolina to Heinrich (Henry) Louis Sherfesee and Annie Sophia Griffith. William Forsythe Sherfesee married Emily Maria Borie Ryerson. He passed away on 7 Jan 1971 in St. Jean, Cape Ferrat, France.
Louis Sherfesee was born on July 4, 1842 in the Prussian Empire. Later documents variously describe his birthplace as Germany, Alsace-Lorraine, and on board a ship for America. His father was Heinrich August Scherfesee and his mother's name was Charlotte Prusky Scherfesee. The parents are recorded as arriving in Charleston from Hanover in 1843, and his father was naturalized as a citizen on July 12, 1843. Heinrich worked as a grocer in Charleston. He died in 1853 when Louis was about 11, and is buried in Hampstedt Cemetery in Charleston County. Louis served in the Civil War as a young man, enlisting in 1861 in the Hampton Legion of the Confederate Army as a private, aged about 19. In 1864, he was serving in Capt. Gregg's Artillery and later in Capt. Hart's Horse Artillery.
In 1870, he married Annie Griffith, who was born in South Carolina of parents who had emigrated from Ireland. In the 1870 Census, the couple was living in Charleston in Ward 4. Louis was working in the life insurance profession. Along with Louis and Annie, the household included Charlotte Sherfesee, 59, his mother, Elvina Sherfesee, 26, probably his sister, and two servants. The couple had no children.
Sometime in the late 1870s, the young family moved to the mountains of North Carolina. The 1880 Census records them as living in the Davidson River Township in Transylvania County, near Brevard. The couple now had five children: Charlotte Elizabeth, age 9, Moseley F., age 8, Annie Louise, age 6, Louis H., age 4 and Robert Augustus, age 2. Also in the household were Eliza Griffith, 63, Annie's mother, Sarah E. Griffith, 35, Annie's sister, and a servant. The two oldest children, Elizabeth and Moseley, were in school. Louis is recorded as being a farmer. The move to North Carolina must have been made before March 1878, as son Robert Augustus is recorded as having been born in Brevard on that date and the last child, William F., was born there in May 1882.
By 1889, the family had moved to Rock Hill, South Carolina. On January 3, 1889, the Rock Hill Herald reported that "Mr. Louis Sherfesee, formerly of Charleston, has removed his family to Rock Hill and is occupying the Dr. Johnston residence on Johnston Street." On March 14, the Herald reported that Sherfesee had been admitted to the firm of W. S. Creighton, and the name of the business would be changed. In May of that year, a large ad appeared in the local newspaper announcing the firm "Creighton, Sherfesee & Co." (Rock Hill Herald, May 23, 1889). The firm offered carts, buggies, phaetons, surreys, products from the Columbus Buggy Company, harnesses, stoves and furniture, sewing machines, coffins, engines, and saw mills. The firm included repair shops under the supervision of J. A. Giles. The firm was described as "successors to W. S. Crieghton & Co.," indicating that Sherfesee had recently become a partner. The Herald, in an article in the same edition, described the expansion of the business. Creighton, Sherfesee, & co. was planning to expand by building a separate machine shop to the rear of their existing wood shop. The machine shop would offer repair and manufacturing of engines, gins, thrashers, saw mills, and other equipment. The paper stated, "Besides being among the largest dealers in buggies and other kinds of vehicles in this part of the State, they are handling an immense amount of furniture, which is constantly changing, and besides are large dealers in musical instruments of all kinds, sewing machines, coffins, and harnesses, and have extensive shops at which all manner of wood and iron work is done and where machinery generally is repaired." This large business was taking place in store houses and shops extending from Main Street to Black Street, with a show room and paint shop on the west side of Black Street (we would think of this today as the south side). One show room contained buggies from nine manufacturers along with vehicles made by Creighton, Sherfesee & Co.
By June, construction on the new machine works was beginning, described as being "in the rear of their shops and along Black Street." (Rock Hill Herald, June 13, 1889). Construction was completed soon and by August 1890, when an ad for Creighton, Sherfesee & Co. announced the "Rock Hill Machine Works," the facility had been in operation for some time. It stated, "We are now prepared to repair machinery of all kinds, including engines, boilers, saw mills, threshers, and gins, and to undertake blacksmith, wheelwright and wood work projects." The superintendent of the machine works was G. W. Reed, formerly superintendent of the Statesville Ironworks in North Carolina. (Rock Hill Herald, August 20, 1890). The company employed 18 men in the Rock Hill Machine Works, and within a year of opening, it had repaired 25 cotton gins and 17 engines. Creighton, Sherfesee & Co. was manufacturing a one-horse wagon model known as the "Palmetto." On hand at one time for sale were 70 carts and buggies, and more than 100 had been sold in a year's time. (Rock Hill Herald, September 10, 1890). This volume of activity in a town the size of Rock Hill indicates the firm must have been doing business in a wide section of territory. They were competing with Holler & Anderson, another local buggy manufacturer which would go on to become perhaps the largest in the South and eventually transition into the Anderson Motor Company.
The 1890 Census records have been lost, and there are no City Directories available for this period, so we do not know at this time where the Sherfesee family lived in Rock Hill. They initially rented the Johnston home on Johnston Street when they arrived in 1889, but it is not known how long that arrangement continued.
Sherfesee continued in partnership with Mr. W. S. Creighton until early in 1893. The Rock Hill Herald reported on February 1, 1893: "Mr. L. Sherfesee, who recently withdrew from the firm of Creighton, Sherfesee & Co., on account of the expiration of the limited partnership, has not yet decided what [business] he will follow. He is an expert accountant and an energetic businessman, and will think maturely before embarking on any enterprise." At the same time, papers were filed to incorporate the Rock Hill Machine Works as a separate entity from Creighton, Sherfesee & Co. The capital stock of the company was $10,000, and the incorporators were W. S. Creighton, J. R. London, and P. C. Poag. (Rock Hill Herald, February 1, 1893).
It is unclear if Louis Sherfesee entered into another business venture in Rock Hill. There are indications that members of the family were in Rock Hill as late as 1896. In 1894, Louis presided over the organizational meeting of the Piedmont Colonization Society in Rock Hill (Rock Hill Herald, October 10, 1894). In April of 1895, he was appointed to a committee of the Confederate Veterans to arrange a program for Confederate Memorial Day (Rock Hill Herald, April 24, 1895). Son Robert Augustus Sherfesee was in an oratorical contest at the Presbyterian High School described in the Rock Hill Herald on June 8, 1895. [This school was located in the building that would later serve as home to Rock Hill High School and, with significant alterations, Winthrop Training School]. In the fall of 1896, daughter Louise was one of the teachers at the Rock Hill Graded School (Rock Hill Herald, September 2, 1896). She would have been about 22 years old.
Louis, Annie, and the children moved to Charleston sometime before 1900. In the Census of that year, they were living in Ward 2 in the city, and Louis is listed as an insurance agent. Remarkably, all six children were living with the parents, and apparently none had married. Charlotte was 29 and is recorded as an office worker. Moseley was 18 and was a railroad conductor. Annie Louise, age 25, does not have an employment listed. Louis H, age 24, is an insurance agent, probably in partnership with his father. Robert Augustus, age 22, is listed as a stenographer. William F., 18, was a student. Also in the household was Annie's sister, Sarah E. Griffith, age 55.
Several City Directories for Charleston show the family living at 4 Rutledge Street between 1902 and 1904. Son Louis, Jr. was working in the insurance business with his father. The agency is named Louis & Louis Sherfesee, Insurance Agents, and was located at 277 King Street. Moseley F. Sherfesee continued to work as a railroad conductor until the 1904 Directory, when he is recorded as an insurance agent for Germanic Life Insurance Company. It is not clear if this was in his father's agency or another agency. Robert Augustus Sherfesee worked as a stenographer in 1902 with Pringle Brothers, then as a bookkeeper in 1903 and 1904 with Wm. M. Bird & Company.
Louis Sherfesee, Sr. died on March 22, 1904 and was buried at Magnolia Cemetery. Shortly after his death, the family moved to 44 Montague Street. The Charleston City Directory for 1905 shows the family consisting of Annie, widow of Louis and Louis, Jr., General Agent and Manager for Germania Life Insurance Company of New York with offices still at 277 King Street. He was not shown as married. Robert Augustus Sherfesee lived with his wife Helen at 26 Rutledge Avenue and continued to work for Wm. M. Bird & Company.
By the 1910 Census, the family had moved to 62 Montague Street in Charleston. The head of the household was Louis, Jr., who is listed as an insurance agent. His wife was Louise Gilland Sherfesee, and they had a daughter Louise, aged 3. Also in the household was Elizabeth, Louis's sister, and his mother Annie. The younger couple had been married for five years and owned their house with no mortgage. The 1912 City Directory for Charleston identified Louis, Jr. as General Manager for the South Carolina Phoenix Mutual Life Insurance Company (Hartford, Connecticut), with offices at 26 Broad Street. His daughter, mother, and unmarried sister Charlotte Elizabeth were also in the household. Robert Augustus Sherfesee was living with his wife Helen at 171 Broad Street. He was still working as a bookkeeper for Wm. M. Bird & Company.
By 1918, Louis, Jr. and his family had moved to Greenville. His World War I draft registration form listed the family's address as 732 East Washington Street, and he was working as General Agent for State Mutual Life Insurance Company of Worchester, Massachusetts. The 1924 City Directory for Greenville shows the family still living at 732 East Washington Street, and listed the daughter Louise, who was about 17 and was a student. There are no other children listed. At this time, Louis, Jr. was working with Wilson J. Harvey in the insurance firm of Sherfesse and Harvey with offices at 512 Masonic Temple. The family later lived at 704 East Washington Street, and the 1935 Greenville City Directory shows Louis with an insurance office at 13 South Main Street, room 1308. Louis, Jr. died on September 2, 1951. He had retired and was evidently living in Columbia at the Cornell Arms Apartments. He was buried in the Williamsburg Presbyterian Church Cemetery in Kingstree. The informant for his death record was Caldwell Withers, his son-in-law, who is probably the husband of daughter Louise.
Annie Louise Sherfesee, the daughter of Louis, Sr. and Anne Griffith Sherfesee, married Rev. Daniel Penick Junkin, a Presbyterian minister born in Virginia. His parents were Rev. Ebenezer Dickey Junkin and Agnes Penick Junkin. In 1920, the couple was living in St. James Santee Parish in Charleston County. Rev. Junkin died suddenly of heart failure in Mount Pleasant on October 11, 1925. The 1930 Census shows that Louise, now a widow, was working as a matron at Joins Hall at Winthrop College in Rock Hill. In 1940, the Census reported that Louise was living with her sister Elizabeth at 109 Rutledge Street in Charleston. In 1946, she was a resident at the South Carolina State Hospital in Columbia for almost nine months, and died there on January 11, 1947. Rev. and Mrs. Junkin are buried at the Stonewall Jackson Memorial Cemetery in Lexington, Virginia. There are no known children.
Robert Augustus Sherfesee continued working as a bookkeeper, salesman, and auditor. He married Helen Clotworthy about 1904. As noted above, they lived on Rutledge Avenue. He registered for the draft for World War I in September 1918, and reported his address as 20 Rutledge Avenue and that he was working as a traveling salesman for H. B. Davis & Company of Baltimore. In the 1920 Census, Robert Augustus and wife Helen were living at 20 Parkedge Street in Charleston, and they had three children, Robert A,. Jr. age 13, James E. age 11, and Sarah G., age 6. He was working in 1920 as a commercial salesman in paint and varnish. The 1930 Census has Robert Augustus living in Greensboro as a roomer with Mrs. J. S Deal at 421 Belle Meade Street. He is listed as married, but has no family with him. He is a salesman for Wm. Zimmer Company. There is no record of him in the 1940 Census. In 1942, he registered for the draft for World War II at the age of 64. At the time, he was living in the Chester Arms Hotel in Chester, Pennsylvania and working as an auditor at the Strath Haven Inn in Swarthmore, Pennsylvania. Robert Augustus Sherfesee died on January 14, 1949 in Phildaelphia at the age of 70. His last position was as auditor for the Hotel Sylvania in Philadelphia.
Charlotte Elizabeth Sherfesee never married. In the 1910 Census as reported above, she was living with her family at the age of 39 in the household headed by her brother Louis in Charleston. There was no work occupation recorded for her. The 1920 Census recorded her as living on Colonial Street in Charleston as the head of a household with a roommate, Virginia Douglas, who was an artist in music. In 1940, she was living at 109 Rutledge Street in a rental house. At this time she is recorded as a librarian. Since she had a limited education, having completed two years of high school, she was probably a library assistant. Her sister Louise Junker is living with her at this time as a widow aged 75. Elizabeth died on March 13, 1946 in Greenville, South Carolina at the age of 75. It appears that she was living with her brother Louis at The Davenport Apartments. She was buried in Magnolia Cemetery in Charleston.
Moseley Fitch Sherfesee worked as a single young man in Charleston as a railroad conductor and as an insurance agent, probably with the family agency. In 1907, at the age of 35, he married Eleanor Pearce Haughton, often called Pearl, who was nine years younger. Eleanor was from Raleigh, where the wedding occurred. It appears that Moseley worked in real estate for the rest of his career. The couple lived in San Antonio, Texas in 1910, Nashville, Tennessee in 1916, and then to Houston, Texas by 1923. The family appears to have stayed in Houston, where Moseley continued in real estate. They had two sons, Charles Moseley Sherfesee (1908-1999) and William Augustus Sherfesee (1913-1998). The couple retired to Coronado Beach, Florida, where they were recorded in the 1940 Census and they owned their own home. Moseley died on May 19, 1946 in Legion, Texas and is buried in Fort Sam Houston National Cemetery.
The youngest child of Louis and Annie Sherfesee was William Forsythe Sherfesee. He lived an interesting and remarkable life. He graduate from Charleston High School and the College of Charleston in 1903. He then went to Yale University, where he received a graduate degree in Forestry in 1905. As a youth, his name is listed as William F. Sherfesee. As he matured, he began using his middle name Forsythe, although some friends called him Bill. He must have worked for the U. S. Forest service after graduation, as there are two publications credited to him under their name in 1908 and 1909. From various passport applications and ship passenger records, we learn that Forsythe left the United States in October 1909 to serve as Director of Forestry for the Philippine Islands. Forsythe was working for the U. S. Forest Service, so he may have been an advisor to the department from the U. S. government. He was in this position until January 1916, when he moved to Peking (now known as Beijing), China to begin service as forestry advisor to the Chinese government in the Ministry of Agriculture and Commerce. He continued to publish scholarly papers, including "The Industrial and Social Importance of Forestry in China," published in The Chinese Social and Political Science Review (date unknown). Later during his service in Peking, he was asked to be Advisor to the Ministry of Finance. In his passport and travel documents, he identified his legal residence as Charleston during his years in foreign service.
Forsythe had not married during his years of service overseas. In 1927, he met a widow who was traveling in China, Mrs. Emily Ryerson. Mrs. Ryerson had a privileged and interesting background. She had grown up in a wealthy family and married Arthur Ryerson, from another wealthy family. The Ryersons lived in the Chicago area, where Emily was active in church and philanthropic work. They traveled widely, and in April 1912, were preparing to return to the United States from Europe because of the death of an adult son in an accident. They boarded the Titanic, and on April 15 were part of the drama of its sinking at sea. Emily and her children entered a lifeboat, while Arthur stood on board and watched them safely placed in the water. He was never seen again. Information on the family and their tragedy is found in Rich Men Poor Man: Ryersons on the Titanic by Phyllis Ryerson. Emily returned to Chicago and raised her children. She continued to be a world traveler, and in 1927 met Forsythe Sherfesee in Peking. At their meeting, she was 64 and he was 45. They were instantly attracted to each other, and planned an early marriage in Chicago, announced in The Lincoln Star on December 2, 1927. Forsythe resigned his position and planned a trip to Chicago for the wedding. This trip was publicized in newspapers around the nation, as he barely reached Chicago for the wedding on December 9. The couple honeymooned in Italy and Persia, and traveled widely. They eventually settled on the French Riviera, building a home named "Villa Bontoc" at Saint-Jean-Cap-Ferrat near Nice. The name was apparently derived from the city of Bontoc on the Philippine Island of Leyte, the capital of Mountain Province. The villa hosted many celebrities and was a center of Anglo-American society in the Nice area. Their next-door neighbor was W. Somerset Maugham, the noted British playwright and novelist. The Ottawa Journal of Ottawa, Canada carried an article on January 21, 1967 describing Villa Bontoc. The house contained valuable items designed by French designer Jean Michel Frank and also Chinese antiques and rugs collected by Forsythe. Late in his life, Forsythe donated 23 items to the Cooper-Hewitt Museum in New York City, a unit of the Smithsonian Institution. The couple continued to travel widely, and during a trip to South America, Emily died in Montevideo, Uruguay in 1939. Forsythe continued to live at Villa Bontoc until his death in 1971 at the age of 89. He was cremated and his ashes were buried at Cap Ferrat.
---
My published books:

---
Compiled by Paul Gettys from various sources. We welcome additions and corrections.