Queer Places:
Slade School of Fine Art, University College London, Gower St, Bloomsbury, London WC1E 6BT, Regno Unito
Cooks Hill NSW 2300, Australia
Newcastle Memorial Park, 176 Anderson Dr, Beresfield NSW 2322, Australia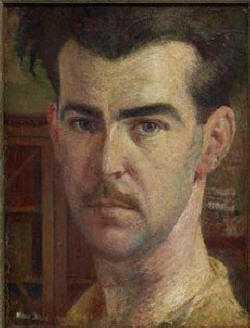 Sir William (Bill) Dobell OBE (24 September 1899 – 13 May 1970) was a renowned Australian portrait and landscape artist of the 20th century. Dobell won the Archibald Prize, Australia's premier award for portrait artists on three separate occasions. The Dobell Prize is named in his honour.
Dobell was born in Cooks Hill, a working-class neighbourhood of Newcastle, New South Wales in Australia to Robert Way Dobell and Margaret Emma (née Wrightson). His father was a builder and there were six children.
Dobell's artistic talents were evident early. In 1916, he was apprenticed to Newcastle architect, Wallace L. Porter and in 1924 he moved to Sydney as a draftsman. In 1925, he enrolled in evening art classes at the Sydney Art School (which later became the Julian Ashton School of Art), with Henry Gibbons as his teacher. He was influenced by George Washington Lambert. He was also gay and consequently never married, while several of his works carried strong homoerotic overtones.[1]
In 1929, Dobell was awarded the Society of Artists' Travelling Scholarship[2] and travelled to England to the Slade School of Fine Art where he studied under Philip Wilson Steer and Henry Tonks. In 1930, he won first prize for figure painting at Slade and also travelled to Poland. In 1931 he moved on to Belgium and Paris, and after 10 years in Europe returned to Australia – taking with him a new Expressionist style of painting as opposed to his earlier naturalistic approach.
In 1939, he began as a part-time teacher at East Sydney Technical College. After the outbreak of war, he was drafted into the Civil Construction Corps of the Allied Works Council in 1941 as a camouflage painter; he later became an unofficial war artist.
In 1944, he had his first solo exhibition including public collection loans at the inauguration of the David Jones Art Gallery, Sydney.
In 1949, he visited New Guinea as a guest of Sir Edward Hallstrom with writers Frank Clune and Colin Simpson. The trip inspired a new series of tiny, brilliantly coloured landscapes. In 1950, he revisited New Guinea; on his return to Australia he continued to paint scenes of New Guinea, as well as portraits.
Between 1960 and 1963 TIME magazine commissioned Dobell to paint four portraits for covers, one per year, of: Sir Robert Menzies, Prime Minister of Australia; South Vietnam's President Ngô Đình Diệm; Frederick G. Donner, the Chairman of General Motors; and Tunku Abdul Rahman, Prime Minister of Malaysia.
In 1964, Dobell exhibited in a major retrospective at the Art Gallery of New South Wales and the first monograph of his work was written by James Gleeson.
Dobell was a very private man, known almost always as 'Bill' and never as 'William' or 'Sir William'. He died on 13 May 1970 in the Lake Macquarie suburb of Wangi Wangi of hypertensive heart disease. The sole beneficiary of his estate was the Sir William Dobell Art Foundation, which was founded on 19 January 1971 and awards the Dobell Australian Drawing Biennial, which is named in his honour. He was cremated with Anglican rites.
A film of Dobell's life, titled Yours sincerely, Bill Dobell was made in 1981 by Brian Adams and Cathy Shirley for the Australian Broadcasting Commission and the William Dobell Art Foundation. Brian Adams' book Portrait of an Artist – A biography of William Dobell was first published in 1983 by Hutchinson Publishing Group and revised in paperback in 1992 for Random House Australia.
A book on the life and art of William Dobell, William Dobell: An Artist's Life by Elizabeth Donaldson, was compiled in 2010 with the support of the Sir William Dobell Art Foundation and Dobell House, in Wangi Wangi. It is published by Exisle Publishing.
---
My published books:


---
https://en.wikipedia.org/wiki/William_Dobell#References