Queer Places:
University of Oxford, Oxford, Oxfordshire OX1 3PA
Eton College, Windsor, Windsor and Maidenhead SL4 6DW
Wilfrid Jasper Walter Blunt (19 July 1901 - 8 January 1987) known simply as Wilfrid Blunt, was an art teacher, writer, artist and a curator of the Watts Gallery in Compton, Surrey, from 1959 until 1983. He wrote about two dozen books, including a witty, entertaining autobiography Married to a Single Life, 1983, and Slow on the Feather, 1986.
His parents were the Rev. Arthur Stanley Vaughan Blunt and Hilda Violet Master, daughter of Henry Master of the Madras civil service. His brothers were the numismatist Christopher Evelyn Blunt and Anthony Blunt, Poussin expert and Russian spy.[3] His namesake Wilfrid Scawen Blunt was a distant family cousin. Blunt was born at Ham in Surrey[1] and educated at Marlborough College, where he was a scholar, leaving in July 1920 for Worcester College, Oxford, where he was an Exhibitioner.
He left Oxford University after two terms and studied in Paris at the Atelier Moderne under Othon Friesz and at the Académie de la Grande Chaumière, Paris, where he had his first one-man show. Entered the Royal Academy engraving school in 1922, where his teachers included Frank Short, and worked under Leon Underwood in his studio.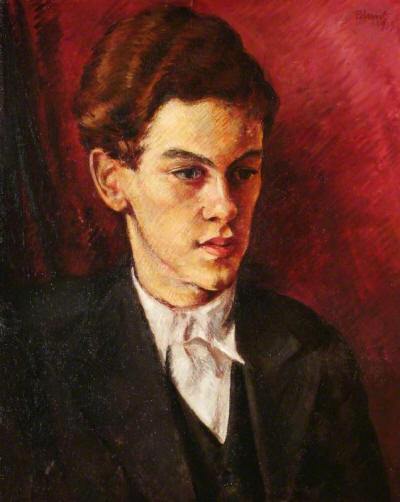 Michael Severne Wilfrid Jasper Walter Blunt (1901–1987) Watts Gallery – Artists' Village
He was art master at Haileybury College (1923–38)[2] for 15 years, interrupted by a period studying singing in Germany and Italy; he sang professionally for a while. He became art master at Eton College (1938–59) and helped to start a revolution in the hand-writing of British school-children, using the 15th-century Italian Cancellaresca ("Chancery") script[4] as a basis, although one of his students at Eton reminisced that after being taken off Art to improve his handwriting, Blunt failed to make it any more legible.[5][6][3] For his book The Art of Botanical Illustration in 1950[7] he was awarded the Veitch Memorial Medal by the Royal Horticultural Society.[1] This book was considered the first comprehensive review of botanical illustration in Europe. Subsequent editions (by his co-author, Willian T. Stearn) provided coverage of more of the world and the twentieth century.[8] The sixth international exhibition of botanical art and illustration held in 1988 at the Hunt Institute for Botanical Documentation, USA was dedicated to Blunt. He had been a member of the Advisory Committee to the Institute since 1964.[1]
He died in Guildford on 8 January 1987.[3]
---
My published books:

---