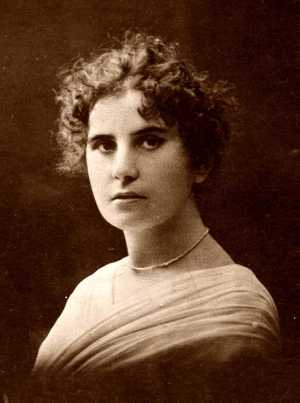 Pilar Grangel Arrufat (October 19, 1893 - March 18, 1987) was a Spanish anarchist and educator, one of the founders of the Women's Solidarity Committee; she wrote for Mujeres Libres, spoke at a women's anti-fascist unity rally in Barcelona in 1937, and helped evacuate children from war zones in 1938. After the defeat of the anarchists, she lived in France and worked with the SIA. She was pedagoga rational and member anarcosindicalista .
Based in Barcelona, ​​she joined the Teachers Section of the Single Union of Liberal Professions (SUPL) of the National Confederation of Labor (CNT).
Before the Civil War , together with his partner, Joaquin Ferrer Álvaro (with whom he had at least one daughter, Violeta Ferrer), she was in charge of the Pestalozzi Rationalist School in the Barcelona neighborhood of Sants (where he also founded the group "Brises Llibertàries", which intended to teach night classes for working women) and directed the school of the Union of the Woodworking Branch.
In 1934 , the group "Brises Llibertàries" gave rise to the Cultural Femení, which met with the Union of Graphic Arts of the CNT in Barcelona. During the war, she was a member of "Mujeres Libres", aided in her body of expression, which had the same name, and was in charge of the Maternity of Las Cortes; although he did not support the group's attempt to join the Iberian Anarchist Federation (FAI).
In September 1936, she was one of the founders (with Ernestina Corma, Eugènia Bony, Maria Colomé and Palmira Puntas, among others) of the Women's Committee of Solidaritat Libertària of the SUPL, a committee that was created to set up a clothing workshop for the front , do nursing and childcare courses, give propaganda conferences, etc.
At the end of the war, she went to France , where she was interned in various camps, settling in Clermont-Ferrand de Hérault.
In 1945 , he had not yet managed to emigrate to Mexico , which made him settle permanently in Montpellier, where he collaborated in the exile press (Cenit, Espoir, etc.) and in assistance tasks in Solidaridad Internacional Antifascista (SIA).
---
My published books:


---
https://es.wikipedia.org/wiki/Pilar_Grangel_Arrufat