Partner Nicholas Balaban, Diego Cogolato
Queer Places:
Manchester Metropolitan University, 70 Oxford Street, Oxford St, Manchester M1 5NH, Regno Unito
Royal College of Art, Kensington Gore, Kensington, London SW7 2EU, Regno Unito
Linden Gardens, London W2 4ER
54 Cambridge Gdns, London W10 5UD, UK
17 Powis Terrace, London W11 1JJ, UK
Kensal Green Cemetery, Harrow Rd, London NW10 5NU, Regno Unito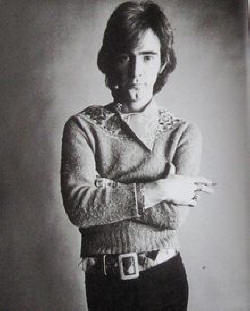 Raymond "Ossie" Clark (9 June 1942 – 6 August 1996) was an English fashion designer who was a major figure in the Swinging Sixties scene in London and the fashion industry in that era. Clark is now renowned for his vintage designs by present-day designers.
Raymond "Ossie" Clark was born in Liverpool, evacuated to Oswaltwistle, then moved to Warrington aged 7.
Clark is compared to the 1960s fashion great Biba and influenced many other designers, including Yves Saint Laurent, Anna Sui and Tom Ford. Manolo Blahnik has said of Ossie Clark's work: "He created an incredible magic with the body and achieved what fashion should do—produce desire." Ossie Clark and Ossie Clark for Radley clothes are highly sought after, and are worn by well known models such as Kate Moss and Naomi Campbell.
Ossie Clark met Celia Birtwell in 1961 when they were at art school in Lancashire. They married in 1969 when she was pregnant with their first son, Albert. They had another son, George, 3 years later. David Hockney painted' Mr and Mrs Clark and Percy', as a wedding present. He was taking drugs and began to go downhill. She was tired of his other affairs and started to have an affair with artist Adrian George. When Clark found out he began violent episodes towards her. She divorced him in 1974.
Although the 1980s were chaotic and nomadic there were brighter sides to his life charted in his published diaries. In January 1978 he had met his second long-term partner Nicholas Balaban, who was working as a barman at the Sombrero Club in Kensington.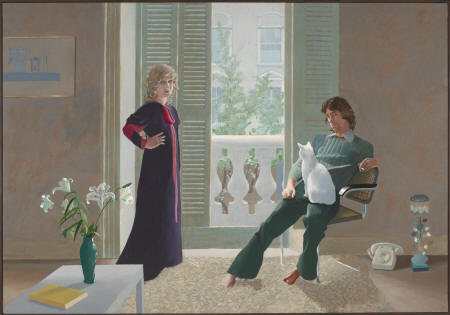 Celia Birtwell and Ossie Clark by David Hockney

Michael Roberts; Ossie Clark; Mickey Finn; Pierre La Roche; Marianne Faithfull; Valentino Moon (Jurgen) by Clive Arrowsmith digital chromogenic print, 1973 17 1/2 in. x 17 3/8 in. (443 mm x 442 mm) overall Given by Clive Arrowsmith, 2016 Photographs Collection NPG x199703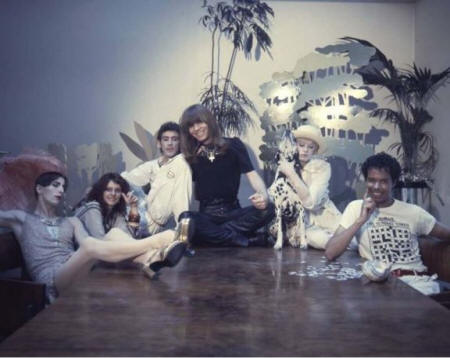 Pierre's Breakfast Willie Christie at David Hockney's house in Notting Hill on May 18, 1974. Valentino Moon (Jurgen), Alice Pollock, Ossie Clark, Pierre La Roche, Marianne Faithfull and Michael Roberts

The pictures behind Kim Waiyaki and Nick Balaban are Kim's homoerotic African influenced lithographs and silkscreen prints which he showed in the "No Comment" exhibition.



The 'Village People' are Nick Balaban, Guy Burch and Geraldine Walsh taken in 1984 at Byam Shaw where they studied at the time of "No Comment"



Amanda Lear, 1968, Satin three-piece party trouser-suit by Ossie Clark and Amanda Pollock, London ©Getty Images



Ossie Clark and Peter Morgan, 1965, ©Getty Images



Ossie Clark and models, 1966, Ossie Clark, Judy Guy Johnson and Patti Boyd ©Getty Images



1967, Linda Keith wears 'Oz', a snakeskin suit with short jacket and flared skirt; Chrissie Shrimpton wears 'Little Louis Angel', a cream silk party dress; Suki Poitier wears 'Boogie-Woogie', a silk Levy suit; and Annie Sabroux wears 'Hipster', a studded leather jacket with a zip-up front and cuffs ©Getty Images



Amanda Lear, 1968, Ossie Clark for Alice Pollock suit ©Getty Images



Amanda Lear, 1968, Ossie Clark for Alice Pollock suit ©Getty Images




Bill Chenail, 1968, Ossie Clark e Alice Pollock jacket and pants ©AP Images



Ali MacGraw, 1969, Ossie Clark dress ©Getty Images



Vicki Hodge, 1969, Rough suede trouser suit with long fringe, part of the Ossie Clark and Alice Pollock collection ©Getty Images



Ali MacGraw, 1969, Ossie Clark dress ©Getty Images



Vogue Italia, October 1969, Ossie Clark coat, Photo by David Bailey



Vogue Italia, December 1969, Ossie Clark dress and coat, Photo by Barry Lategan



1970, Ossie Clark dress ©Getty Images



Vogue Italia, February 1970, Ossie Clark shirt and pants, Photo by Elisabetta Catalano, Patrick Lichfield



Vogue Italia, June 1972, Ossie Clark pants and shirt, Photo by Sarah Moon



Twiggy, 1972, Fur coat by Ossie Clark ©Getty Images



Hazel, 1973, Ossie Clark's Mini Dress, London, ©Getty Images



Lamborghini, Chinoisery, early 1969. A fashionable young woman wore this suit as a wedding outfit in the spring of 1969. The designer Ossie Clark used shiny satinised cotton for the sharply tailored ensemble. Its form-fitting silhouette and diagonally placed pockets accent the waist and hips. Ossie Clark was one of Britain's most influential fashion designers of the 1960s and 1970s. He was among the first to produce trouser suits for women. This particular suit was called 'Lamborghini' after the luxury car. The trousers are made from a Celia Birtwell print called 'Chinoisery'. This streamlined, iconic trouser suit is a key Ossie Clark design. While he was best known for his flowing chiffon and crepe gowns, Ossie Clark was also a skilled tailor. This suit, christened 'Lamborghini', was one of his most successful designs, being worn by a number of models, It Girls, and faithful clients. Twiggy was photographed wearing hers. It was also modified for ready-to-wear as part of the first "Ossie Clark For Radley" collection the following year. While the cream satin jacket and black-ground "Chinoisery" print trousers (designed by Celia Birtwell) are the most famous incarnation of the Lamborghini, other, rarer variations appear with printed satin jackets and plain trousers, or both pieces being printed satin. Historical significance: The 'Lamborghini' is the best-known example of Ossie Clark's tailoring. This cream satin jacket and chinoiserie style printed trousers, created in 1968, were worn by a number of Ossie's fans and loyal clients. Twiggy was photographed wearing hers.



Floating Daisy; Poppy, 1969. Ossie Clark used the 'Floating Daisy' print along with a larger floral for this ensemble. The 'Floating Daisy' design had a bold graphic quality. This made it easy for Clark to adapt it for his lower-priced 'Ossie Clark for Radley' range. In 1970 you could have bought this ensemble for around £140. The Radley version would have cost you £30.



Tunic, 1968. This tunic was part of Ossie Clark's first collection for his lower-priced Radley label. The print is by Celia Birtwell. The simple silhouette meant that it could be worn either as a dress or with trousers. Kay, Ossie Clark's sister, wore it as a mini-dress when Clark married Celia Birtwell in 1968. Ossie Clark was one of Britian's most influential fashion designers of the 1960s and 1970s.



Tunic top & Skirt, 1973. Vogue magazine featured this quintessential Ossie Clark ensemble in the issue of April 1972. Ossie Clark was one of Britain's most influential fashion designers in the 1960s and 1970s. Mrs John Ritblat has been purchasing selected highlights from couture and ready-to-wear collections since the 1960s. In 1997 she donated much of this wardrobe to the V&A. Her gift included this Clark ensemble. Its exuberant Celia Birtwell print and flowing silhouette are typical of Clark's designs in the early 1970s. Illustrated in the Daily Telegraph Magazine, May 5th 1972. The accompanying copy read: "You no longer need time on your hands and London on your doorstep to keep slightly ahead of fashion. Now many of the brighter boutiques sell their clothes by post, and it is as easy to dress well in the Hebrides as in Kensington. For example, Ossie Clark's screen-printed silk skirt and flowing smock (above) can be ordered separately from Just Looking, 88 King's Road, London SW3 and 5-7 Brompton Road, SW3. The smock costs £34.10, the skirt £56.65 (plus 25p post and packing)."



Elvis Presley Check, 1969. Ossie Clark was one Britain's most influential fashion designers of the 1960s and 70s. This was one of the first Ossie Clark designs for his less-expensive Radley label, and was designed to be worn as a mini-dress, with bare legs. Although the printed crepe is quite transparent, fashionable young women would have tended not to wear underwear underneath.



Evening dress, 1969. Ossie Clark designed this evening dress. He was one of Britain's most influential fashion designers of the 1960s and 1970s. Talitha Getty, who wore this dress, was one of Clark's best clients. Born Talitha Pol in Bali in 1966, she married Sir Paul Getty, the wealthy American-born businessman. Talitha was an actress and model. She was known for her fashionable wardrobe. This form-fitting dress features a distinctive Celia Birtwell print. It exemplifies Talitha's individual sense of style. This dress was worn by Talitha Getty and donated by Paul Getty via Cecil Beaton. An identical Ossie Clark dress is featured on film in a German-made fashion report made by London Akutell in 1969.



Evening dress, 1970-1971. Ossie Clark designed this dress. He was one of Britain's most influential fashion designers of the 1960s and 1970s. Throughout his career he used the textiles designed by his wife Celia Birtwell. This dress features one of her most popular patterns, which mingles hearts with feathers and poppies. Ossie Clark used it for a variety of garments. Here the motifs appear in vibrant red and green on a cream ground. A fanciful yoke of appliquéd feathers accents the collar.



Evening dress, 1974-1976. This dress has the simple, flattering lines of a classic Ossie Clark design. Its flowing silhouette, waist-tie and deep décolletage suited women of most shapes and sizes. This style was very successful when the Radley label produced it. Radley made it in printed fabrics as well as a range of coloured crêpes. A very popular design from Al Radley's wholesale/ready to wear range of Ossie Clark designs. This particular design was manufactured in various colours and fabrics (including chiffon, muslin, and cheesecloth) and sometimes even featured machine embroidery. It was produced from 1969 through to the mid 1970s, and was one of the staples of the line. The moss crepe fabric in this example is not quite as nice quality as earlier examples, the Deco style label also indicates a later date. (Daniel Milford-Cottam, 2009)



Trouser suit, 1970. This 'Ossie Clark for Radley' design became a top seller in the early 1970s. At this time women increasingly adopted trousers both for work and leisure. Clark accents its classic cut with scalloped satin piping along the jacket front. Satin trim also embellishes the cuffs and pockets.



Floating Daisy, Coat, 1970. Ossie Clark designed this coat. He was one of Britain's most influential fashion designers in the 1960s and 1970s. Clark used fabrics designed by his wife, the textile designer Celia Birtwell. For this coat Clark chose 'Floating Daisy', one of Birtwell's best-known textiles. A complementary grid pattern flatters the collar, cuffs and bodice. The coat's trim shape demonstrates Clark's skill at accentuating the female form. Typical early 1970s design showing a joyful ecclectism : a powerful design by Celia Birtwell where flowers clash with geometrical lines and mystic rainbows transformed into a shift dress reminiscent of the flaring shapes of the 1930s.



Trouser suit, 1971. This trouser and top ensemble epitomises the work of Ossie Clark. He was one Britain's most influential fashion designers of the 1960s and 1970s. Trousers were an Ossie Clark hallmark, and he designed many variations throughout his career. He used fabrics designed by his wife Celia Birtwell for almost all his clothes. The pattern you can see here is a stripe and leaf design. Clark chose delicate chiffon for the top, which has an exaggerated bow at the neck. The chiffon is provocatively sheer. The top is also open down the midriff, offering an alluring glimpse of the wearer's skin.



Rock and pop costume, 1972. By their 1972 American and European tour, The Rolling Stones had been together for over ten years, and had garnered a reputation as the "The Greatest Rock 'n' Roll Band in the World". The title had been conferred on them by their tour manager on their 1969 US tour, and it stuck with them ever since. The 1972 tour, labelled "one of the benchmarks of an era" by Dave Marsh (an American music journalist), was covered by well-established writers such as Terry Southern (screenwriter of Easy Rider) and Truman Capote. This was a first for a rock tour, and indicative of how the tour was perceived culturally. The Stones tour coincided with the explosion of the glam rock movement in British pop. David Bowie's androgynous alien and Marc Bolan's glitter pixie were dominating Top of the Pops and Melody Maker and their stylistic influence on the British music scene was palpable in nearly every band of the time. Mick Jagger, as a performer, had an element of adrodgyny about him and the glam style fitted perfectly with his stage personality. The costume for this tour was specially designed for him by Ossie Clark, famed for his romantic flowing gowns and unabashed show-stopping garments. Jagger had become a client of his in the late 1960s, and Clark had created this voluptuous outfit for this tour in the glam style, reminiscent of costumes Bowie had been pictured in; an all-in-one velvet jump suit, with large areas uncovered to show off Jagger's lithe body.



Paper dress, 1966. Paper dresses were a brief but spectacular 1960s sensation. They were cheap and disposable, and the simple 2-D shape was ideal for the bold graphic prints that were so fashionable. In 1966 the Draper's Record announced that Ossie Clark had launched Britain's first range of throwaway dresses. The floral design, by Celia Birtwell, was printed onto imitation paper made by Johnson and Johnson, formed from bonded textile fibres. The wholesale price was 15 shillings.



Blouse & Trousers, 1967-69. Part of an outfit worn by Shirley Abicair and donated by her to represent the 1969 Hippy in the Street Style exhibition. In the late 60s Shirley Abicair was a musician and television presenter. She loved wearing Ossie Clark's clothes and combined them with special garments made by her creative friends, such as the hat and waistcoat here. The mud stains on the trousers are from Stonehenge. Shirley Abicair sometimes painted her face with fluorescent coloured lacy designs while wearing this outfit. "Shirley Abicair arrived in England from Australia via Singapore and Karachi in the Fifties. 'I was a music student. It seemed the most natural thing in the world for me to arrive at the airport wearing a Punjabi dress, silk baggy trousers, tunic and embroidered slippers, with dead jasmine in my hair and around my wrist - it had been a long flight. I was singing folk songs and was interested in different cultures. It just seemed a natural thing for me to do.' In the Sixties Abacair spent her time between America and England. 'I was in New York because I was writing an album there, and then I spent some time in Oregon which I loved because of the space and air. When the Sixties arrived I was in my element. I bought beautiful Twenties and Thirties clothes from the Chelsea Antique Market, and tie-dyed T-shirts and jeans from stalls in the King's Road or Carnaby Street. I had a beautiful burgundy Borsalino hat that I bought in Greenwich Village and wore everywhere and with everything. It was, in fact, my second Borsalino - I lost the first one at a Grateful Dead concert at the Phillmore West in San Francisco.'" (Shirley Abicair, interviewed by Sarah Callard for "The British supermarket of style", published in The Independent, Saturday 25 September 1994)



Suit, ca. 1972. Ossie Clark was a favored designer of London from the mid-1960s to the mid- 1970s. Just three months after graduating from the Royal College of Art in 1965, his work appeared in British Vogue. At the same time, he began designing a collection of clothes for Alice Pollock's store Quorum in Chelsea. With these events, Ossie Clark was introduced to the public and his fashion setting clientele grew. He is most known for his chiffon dresses of mixed prints, designed by his wife Celia Birtwell, but he was also an expert cutter and made exceptional tailored pieces. This suit is a testament to his skill, for the construction and cut allow for a perfect fit, creating a flattering silhouette. The plunging neckline is quite daring, but is a characteristic found in his fresh and innovative work.
For most of the Eighties they lived together in a house loaned to them by Chelita Secunda, the wife of Mark Bolan's manager Tony Secunda. Ossie had helped get her off heroine, locking her in her room at one point to do cold turkey. She had moved to the Caribbean to keep away from the drug lifestyle and Ossie filled her house with the remnants of of his past affluence, supplemented by new treasures, often s lightly dishevelled or moth eaten, from hunting expeditions on the Portobello road. Oriental carpets and Lalique glass, Hockney prints (he hid a few stained and unsigned pulls from his creditors in their frames below drawings by his children) and Vogue photographs, fought for space with piles of clothes, dress patterns and two King Charles spaniels appropriately named Oscar and Bosie.
With Clark's encouragement Balaban applied to the Byam Shaw School of Art and went on to start his own highly successful fashion business producing printed T-shirts for high-street boutiques and multiples. Although most published accounts choose not to pay much attention to Clark's gay relationships his sexuality was predominantly homosexual. Unfortunately Clark's continued erratic behaviour eventually led to the relationship's collapse in 1983/84.
Ossie was devastated and his world fell apart again. For two years he stagnated in a state of total depression always hoping Nick would return. For a time he lived with Guy Burch in an Islington council flat Nick and Burch had (Nick moved in with a new partner). They remained in contact and gradually Ossie was reconciled to this second 'divorce'. In 1991 Nick was diagnosed with AIDS and depression descended again. Nick had also become disenchanted with fashion selling his share of the business (Balaban and Nota Bene) he had started and returned to painting. Ossie encouraged him all he could but the effects of the virus were becoming more and more debilitating. Finally Nick was diagnosed with CMV and blindness slowly descended. At the end love was what Nick needed and Ossie gave it to him.
With Nick's death in 1994 Ossie slowly let go of the past. Now in a tiny housing association flat, it began to be filled with new drawings and designs. Re-appraising his old work he was searching for a new silhouette for clothes. Working for Bella Freud and Ghost his genius for bias cut and difficult material were gaining him recognition again. With new boyfriend Diego, and the promise of financial backing from David Gilmore of Pink Floyd, it looked as if his star was rising again.
Only with Balaban's death from AIDS in 1994 and a conversion to Buddhism did Clark finally begin to rebuild a career and shake off the past. In the early 1990s he trained the designer Bella Freud to pattern-cut and an extremely promising new beginning was the use of Clark's mastery of pattern-cutting chiffon and delicate fabrics by the Ghost label. Clark found their computerised pattern cutter a revelation, able to turn initial ideas into formers almost instantaneously.
On 6 August 1996, 54-year-old Ossie Clark was stabbed to death in his council flat, in Kensington and Chelsea, London,[4] by his lover, 28-year-old Italian Diego Cogolato.[5] In March 1997, Cogolato was convicted of manslaughter on the grounds of diminished responsibility, and jailed for six years.[6]
---
My published books:


---
https://en.wikipedia.org/wiki/Ossie_Clark