Queer Places:
236 W 135th St, New York, NY 10030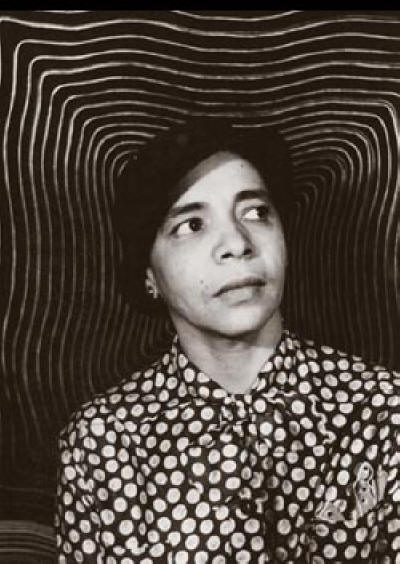 Nellallitea "Nella" Larsen, born Nellie Walker (April 13, 1891 – March 30, 1964), was an American novelist of the Harlem Renaissance. Working as a nurse and a librarian, she published two novels, Quicksand (1928) and Passing (1929), and a few short stories. Though her literary output was scant, she earned recognition by her contemporaries. Passing has recently been the subject of critical debate concerning its homosexual content. Larsen's biographer, Thadious Davis, rejects lesbian readings of Larsen's novella, although she writes that 'Larsen frequently associated with a literary and theater crowd that included lesbians, homosexuals, and bisexuals who were open in their sexual preferences.' Deborah McDowell's introduction to the reissued edition of Passing and Quicksand in 1986 uncovered the possibility of a lesbian subtext in Passing. More recently, queer theorist Judith Butler has explored the possibility of a queer identity in the novella through a reading of the intersecting vectors of race, gender and sexuality.
Carl Van Vechten's sensational and very popular novel Nigger Heaven sexualises and exoticises the black community in Harlem. Like Larsen's Passing, Nigger Heaven depicts the nightclubs in Harlem which allowed interracial mixing and became meeting places for gays and lesbians. A friend and mentor of Larsen, Van Vechten appears as a character in Passing and was influential in introducing her and other black writers to publishers in the 1920s.
The daughter of a white Danish mother and a black West Indian father, novelist Nella Larsen explores the complex issues of racial identity and identification in her fiction. Though critics remain conflicted about her novels, Quicksand (1928) and Passing (1929), there can be no question that they are significant, groundbreaking American literary texts. Larsen received a number of awards for her writing; in 1930, she was the first black woman to receive a Guggenheim Fellowship for creative writing. Along with her contemporary, novelist Zora Neale Hurston, Larsen is considered to be one of the most important female voices of the Harlem Renaissance.
Born in Chicago, Larsen lost her father when she was a child and her mother married a Dane. Though Larsen stated that she lived in Denmark as a teenager and that she returned to that country to attend the University of Copenhagen, some scholars argue that there is no documentary evidence to support these claims. She did, however study at Fisk University, the Lincoln Hospital Training Program where she studied nursing, and the New York Public Library's librarian training program. Through the height of her writing career Larsen worked as a nurse and as a children's librarian at the 135th Street Branch of the New York Public Library.
Carl Van Vechten was an early supporter of Larsen's work; "Who discovered this writer?" asked Thelma Berlack in the Amsterdam News, "Carl Van Vechten—and in her living room is an autographed photograph of him."1 Van Vechten introduced Nella Larsen to his publishers, Blanche and Alfred Knopf, who later issued both her novels. Larsen and Van Vechten shared a warm friendship throughout the 1920s, when both were highly visible members of Harlem's literary community.
Quicksand, Larsen's first novel, was inspired in part by her experiences as a mixed-race woman in Harlem, the southern United States, and abroad. The novel's main character, Helga Crane, is the daughter of a white mother and black father. She faces hypocrisy and prejudice and her efforts to fit into various white and black communities are unsuccessful. The novel won the Harmon Foundation prize and the praise of contemporary critics and readers.
Larsen's second novel, Passing, is also concerned with the complexities of racial identity. Passing is the story of Clare Kendry, a mixed race woman who passes for white and marries a white man. Eventually, however, Clare risks her husband's discovery of her true identity because she feels compelled to go to Harlem and spend time with African Americans. Like Helga Crane, Clare is a woman who feels marginalized in both white and black communities. Passing was not as well received by critics as Quicksand; nevertheless, many agreed with one unsigned review which remarked that Passing was "an earnest and courageous attempt to deal with the whole theme, not just part of it selected as suitable for racial defense or propaganda." Because of its subject matter, the novel was widely read, in spite of the mixed reviews it received. The controversy over the idea that some African Americans might pass for white is evident in an advertisement for the novel: "Every woman who 'passes' is a possible storm center. Nella Larsen knows her subject and around this sensational question she has written a fast-moving, action-filled story that will startle both Negroes and whites."
Larsen began but never completed a third novel. In spite of her literary success, she went back to nursing and spent the next thirty years working at a Brooklyn hospital. The success of Quicksand and Passing speaks to Larsen's potential as a novelist and suggests that had she continued to write, she would likely have developed ever-greater skill. Though her books were out of print for some time, in recent years she has regained a reputation as a writer whose work reveals the complexity of her subject with both sensitivity and clarity.
In 1930, Larsen published "Sanctuary", a short story for which she was accused of plagiarism.[16] "Sanctuary" was said to resemble the British writer Sheila Kaye-Smith's short story, "Mrs. Adis", first published in the United Kingdom in 1919. Kaye-Smith wrote on rural themes, and was very popular in the US. Some critics thought the basic plot of "Sanctuary," and some of the descriptions and dialogue, were virtually identical to Kaye-Smith's work.[17]
No plagiarism charges were proved. Larsen received a Guggenheim Fellowship in the aftermath of the controversy, worth roughly $2,500 at the time, and was the first African-American woman to do so.[19] She used it to travel to Europe for several years, spending time in Mallorca and Paris, where she worked on a novel about a love triangle in which all the protagonists were white. She never published the book or any other works.
---
My published books:


---
https://en.wikipedia.org/wiki/Nella_Larsen
Robert Aldrich and Garry Wotherspoon. Who's Who in Gay and Lesbian History Vol.1: From Antiquity to the Mid-Twentieth Century: From Antiquity to the Mid-twentieth Century Vol 1 (p.254). Taylor and Francis. Edizione del Kindle.
http://brbl-archive.library.yale.edu/exhibitions/cvvpw/gallery/larsen.html
Dictionnaire historique des homosexuel.le.s célèbres – October 19, 2017 French Edition by Michel Larivière