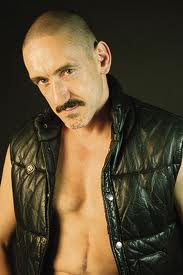 Neil Vivian Bartlett, OBE, (born January 1, 1958) is a British director, performer, translator, and writer. He was one of the founding members of Gloria, a production company established in 1988 to produce his work along with that of Nicolas Bloomfield, Leah Hausman and Simon Mellor.[1] His work has garnered several awards, including the 1985 Perrier Award (as director for Complicite, for More Bigger Snacks Now), the Time Out Dance Umbrella Award (for A Vision of Love Revealed in Sleep), a Writers Guild Award (for Sarrasine), a Time Out Theatre Award (for A Judgement in Stone), and the Special Jury Prize at the Cork Film Festival (for Now That It's Morning).[1] His production of The Dispute won a Time Out Award for Best Production in the West End and the 1999 TMA Best Touring Production award.[2] He was appointed an OBE in 2000 for his services to the arts.[3][4]
Bartlett's first book, Who Was That Man, showed how the gay history of London in the 1890s affected Bartlett's life as a gay man in London in the 1980s. His latest novel, The Disappearance Boy, was published in London by Bloomsbury Circus in January 2014.
Bartlett's early performance work with Gloria included A Vision of Love Revealed in Sleep, Sarrasine and Night after Night. He also served as artistic director at the Lyric Theatre Hammersmith from 1994 until 2004.[5] At the Lyric he directed productions of classic British plays, foreign classics which he translated or adapted, and a series of notable Christmas shows. The following are some of the plays he directed and translated:
The first English production of Jean Genet's Splendid's
Kleist's Prince of Homburg and Marivaux's La Dispute
His adaptation of Charles Dickens' Oliver Twist, and A Christmas Carol.
Adaptation of The Servant by Robin Maugham.
Many of Bartlett's translations of classic plays have been performed throughout the world.
Since leaving the Lyric he has created work for leading cultural producers including the National Theatre in London, the Abbey in Dublin, the Bristol Old Vic, the Manchester Royal Exchange, the Edinburgh International Festival, the Manchester International Festival, the Brighton Festival, the Aldeburgh Festival, the Holland Festival, the Wellcome Foundation and Tate Britain.
He also took part in the Bush Theatre's 2011 project Sixty Six Books, where he wrote a piece based upon a chapter of the King James Bible[6]
---
My published books:

---
https://en.wikipedia.org/wiki/Neil_Bartlett_(playwright)