Queer Places:
University of Cambridge, 4 Mill Ln, Cambridge CB2 1RZ
Royal Star & Garter Home, Richmond TW10 6RR, UK
Chilterns Crematorium Amersham, Chiltern District, Buckinghamshire, England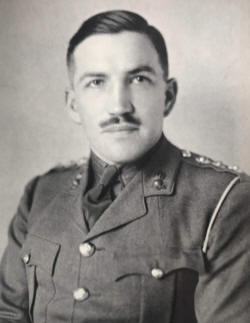 James Michael Calvert (6 March 1913 – 26 November 1998) was a British soldier involved in special operations in Burma during the Second World War. He participated in both Chindit operations and was instrumental in popularizing the unorthodox ideas of General Orde Wingate. He frequently led attacks from the front, a practice that earned him the nickname amongst the men under his command of "Mad Mike."
Michael Calvert was born at Rohtak in India, son of a member of the Indian Civil Service. He was educated at Bradfield College and the Royal Military Academy, Woolwich, from which was commissioned as a subaltern into the British Army's Royal Engineers as a professional soldier.[1]
Calvert read mechanical sciences at St John's College, Cambridge, and later he was the Army's middleweight boxing champion. Michael dedicated his life to the Army, and during World War II he fought in northern Norway before joining the first commando training centre at Lochailort, as an explosives expert. Michael then joined forces with Orde Wingate to set up and train the Chindits, a 'special force' formed to carry out Wingate's newly developed guerrilla warfare tactic of long-range penetration behind the Japanese lines in Burma. The Chindits served in Burma and India in 1943 and 1944 during the Burma campaign. Michael proved to be the most successful column commander, leading a brigade behind enemy lines in Burma from March to August 1944. He never expected his men to take a risk he would not take himself. His most famous victory was to recapture Mogaung from the Japanese. He was invalided home in late 1944, but was fit enough to be given command of the Special Air Service (SAS) in March 1945. In addition to receiving the DSO, Michael was honoured with both the French and the Belgian Croix de Guerre. However, although he was considered to be a great soldier and leader of men, Michael was also an alcoholic, opinionated and dangerously outspoken. His men loved him, but the military establishment did not. In 1952, after a court martial that lasted seven days, Michael was convicted of 'gross indecency with male persons' and dismissed from the Army. Michael protested his innocence to the end of his life. David Rooney has written in the Oxford Dictionary of National Biography (2004) that his biography, Mad Mike (1997): contained dramatic evidence that the court martial verdict was unjust [...] In spite of this evidence, an appeal, supported by more than one MP, was rejected.
After the military Calvert tried several times tried to build a career as an engineer, including a spell making a new start in Australia, but his life in this period was plagued by alcoholism, and he resorted to hand-to-mouth manual itinerant work, and for a while he was a vagrant there. He later returned to England.[30] He wrote three books about his time in Burma with Wingate and the Chindits: Prisoners of Hope, Fighting Mad: One Man's Guerrilla War, and Chindits: Long Range Penetration. He also contributed to the acclaimed British documentary television series, The World at War. He is interviewed in the fourteenth episode, "It's a Lovely Day Tomorrow – Burma (1942–1944)". He also appeared on film in the 2001 documentary series Gladiators of World War II episode 11, entitled "The Chindits". Subsequently, he was appointed research fellow at the University of Manchester in 1971 to write "The Pattern of Guerrilla Warfare", which was never finished. With little money in his final years, he was compelled to sell his military medals and decorations in 1997.[30]
On 26 November 1998 Calvert, who had been called 'the bravest of the brave', died in penury at the Star and Garter Home, Richmond, Surrey, his character still unjustly besmirched. He was unmarried. Up until his death he was a supporter of The Chindits Old Comrades Association and other charities for the support of ex-servicemen. His body was cremated at the Chilterns Crematorium in Amersham, in the county of Buckinghamshire.[31]
---
My published books:

---
Bourne, Stephen. Fighting Proud . Bloomsbury Publishing. Edizione del Kindle.