Partner John Butler
Queer Places:
Parsons School of Design, 66 5th Ave, New York, NY 10011
57 E 57th St, New York, NY 10022
Floral Walk, Fire Island, NY 11782
41 N Menantic Rd, Shelter Island, NY 11964
88 Greenwich St, New York, NY 10006
50 Murray Street, New York, NY 10007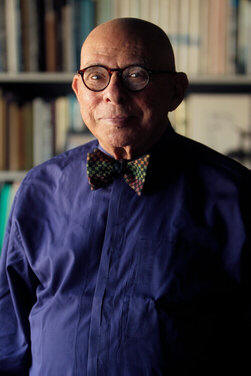 Melvin Dwork (February 9, 1922 – June 14, 2016) was an American interior designer and LGBT activist. He was discharged from the United States Navy in World War II for his homosexuality. He eventually had his dishonorable discharge changed to honorable in 2011. Following the war, he studied design and won several awards.[1]
Dwork was born on February 9, 1922 at Kansas City, Missouri to parents Henry Dwork and the former Esther Brown.[2] After graduating from Southeast High School in 1939, he spent two years as a student at the Kansas City Art Institute.[2] Dwork then attended the Parsons School of Design in New York City in 1941 and 1942.[2]
During World War II, Dwork served in the U.S. Navy and then applied for officer candidate school. In 1944, he began classes at the Medical University of South Carolina in Charleston, South Carolina. After his partner was arrested and revealed that Dwork was his partner, military police arrested Dwork in Charleston in 1944.[2] He was jailed, labeled "deviant" by psychiatrists and then discharged as "undesirable."[2] After leaving the Navy, Dwork returned to New York City and went on to become a successful interior designer in New York City.[2] He took classes at the Parsons School of Design, worked for antique dealers and worked alongside Yale Burge in the 1960s and James Maguire in the 1970s before striking out on his own.[2] Parsons was then on East 57th Street, which was the epicenter of the New York decorating world. Dwork lived and worked in that neighborhood (with one brief detour to the Upper West Side) for 40 years. "I could walk everywhere," he said. For a few years, he ran an antiques store on 57th Street, where the Four Seasons Hotel now stands.
According to Dwork, he and choreographer John Butler were companions from 1961 until 1993, when Butler died.[2] "He was the love of my life," Dwork wrote in the unpublished memoir he had been working on for several years. Unlike many men of his generation, Dwork was never shy about his homosexuality.

John Butler and Melvin Dwork
Peggy Glanville-Hicks and John Butler met in February or March 1958, shortly after the disastrous New York premiere of Glanville-Hicks's opera The Transposed Heads. She also met and admired Butler's partner from 1961, the interior designer Melvin Dwork. After Butler's death in 1993, Melvin Dwork decided to donate to a museum a Greek vase that Peggy Glanville-Hicks had given Butler. After offering it to the Metropolitan Museum he chose instead to give it to a museum in Kansas City, Missouri, his own home town. This fifth-century figure vase, a fragile and priceless memento of friendship, is now part of the collection of the Nelson-Atkins Museum of Art.
The first draft of his unpublished memoir focused heavily on his experiences as a gay man in postwar New York and in Fire Island Pines in the 1960s, where one summer he shared a house with two other design stars, Halston and Angelo Donghia, before building his own ough-hewn "tree house" there in 1967. Looking like a set of stacked cubes, its interiors are panelled in golden-coloured timber with oak floors and in Dwork's lifetime with Scandinavian furniture and neutral tones. He also owned a single room cottage on Shelter Island. Constructed in the 1940s, the modest shingled dwelling was at one time owned by Giorgio DeLuca, the cofounder of legendary NYC meals emporium Dean & DeLuca. Later in his life, Dwork spent weekends at his house on Shelter Island, off the North Fork of Long Island, and he drove himself to the ferry in Greenport or North Haven every Friday morning. "I don't consider it a weekend if you arrive on Saturday and return on Sunday," he said.
Dwork was elected to the Interior Design Hall of Fame in 1993.[3]
After moving to New York, Dwork lived on the East Side for decades, and then downtown, in a duplex co-op in SoHo, for almost 20 years. In 2002 he decided he had to move again. "The politics of the board were beyond what any reasonable person could put up with," he said. "I thought, Sell it, make a profit, and get yourself a place with service." He rented a one-bedroom with a Hudson River view at 88 Greenwich Street, an Art Deco office tower that had been converted into a luxury doorman building in 2000. "The apartment was rather ordinary," said Dwork. "I chose it because that was where my brother lived." A couple of years later, his brother moved to California, and then in 2006, the building announced that it was converting to condominiums. Dwork had to move again. He rented a lofty L-shaped studio apartment with a breathtaking northern view at 50 Murray Street, a pair of converted office buildings with 390 apartments. Formerly home to the I.R.S, 50 Murray now has the look and feel of a trendy Miami boutique hotel, and Dwork had a smorgasbord of services. "I have a valet, a concierge, a doorman, a gym if I wanted and a parking garage," he said gleefully. "It's just terrific." He furnished his apartment with an eclectic mix of antiques, artworks and furniture that he had for decades. (The only new thing he bought was a small flat-screen television.) "I knew where everything was going before I moved in," said Dwork. "I came here and measured, went home and measured all my things, and worked it all out ahead of time. That's how it's done." He positioned a large, round marble table top with a modern base in the corner of the L, which created a transition between his sleeping and living areas. "It's 27 inches high, which is my idea of a good dining height," said Dwork. "Thirty-inch dining tables to me are all wrong. There are a lot of people who sit at them and feel small." The table is next to his bed, which happened to be the perfect style for a studio. "It looks like a big chaise," he said. "It's just a good mattress on a platform. I used to make those a lot for clients." In the alcove behind his bed, he mounted public-library-style metal bookshelves from his previous apartment that fit the space perfectly. "It's as though the place were destined for me," he said. For the walls, Dwork chose the color Dark Pewter by Benjamin Moore. "The walls and ceilings are the same color," he said. "I like to do that because it gives a sense of infinity. I like dark walls. It's the whole theory of a jewelry shop where they show gems on black velvet. All my art looks so good against this color." The two works that look the best against the rich gray-blue walls were both by Francoise Gilot, who was Picasso's mistress and the mother of his children Claude and Paloma. "The painting is Paloma in her crib, and the drawing is of Claude and Paloma," Dwork said. "I inherited them from my friend John Butler, who bought them in Paris in the 1950s."
Dwork spent years trying to remove his naval discharge status from "undesirable" to "honorable." With support from pro-gay and lesbian military employees and veterans, Dwork succeeded in winning that status change in 2011, shortly before the U.S. military ended its "don't ask, don't tell" policy.[2] Dwork is thought to have been the first World War II veteran to expunge an "undesirable" discharge.[2] The ruling entitled him to veterans benefits.[2] Filmmaker Michael Jacoby made a still-unreleased documentary, titled The Undesirable, about Dwork's case.
Dwork lived in Manhattan until his death on June 14, 2016 at the age of 94. He was survived by a brother, Irvin.[2]
---
My published books:

---