Queer Places:
Cimetiere de Levallois-Perret Levallois-Perret, Departement des Hauts-de-Seine, Île-de-France, France, Plot Division 16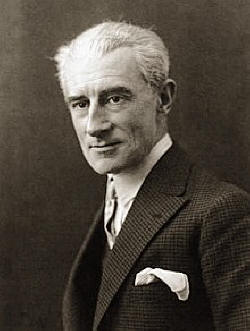 Joseph Maurice Ravel (7 March 1875 – 28 December 1937) was a French composer, pianist and conductor. In "Discoveries," Robert Craft, the Igor Stravinsky's longtime friend and assistant, writes, "Ravel and Stravinsky were, of all artists, the most successful in concealing their sexuality. The two were time-to-time lovers...."
Ravel is often associated with impressionism along with his elder contemporary Claude Debussy, although both composers rejected the term. In the 1920s and 1930s Ravel was internationally regarded as France's greatest living composer.
Born to a music-loving family, Ravel attended France's premier music college, the Paris Conservatoire; he was not well regarded by its conservative establishment, whose biased treatment of him caused a scandal. After leaving the Conservatoire, Ravel found his own way as a composer, developing a style of great clarity, incorporating elements of baroque, neoclassicism and, in his later works, jazz. He liked to experiment with musical form, as in his best-known work, Boléro (1928), in which repetition takes the place of development. He made some orchestral arrangements of other composers' music, of which his 1922 version of Mussorgsky's Pictures at an Exhibition is the best known.
As a slow and painstaking worker, Ravel composed fewer pieces than did many of his contemporaries. Among his works to enter the repertoire are pieces for piano, chamber music, two piano concertos, ballet music, two operas (each less than an hour long), and eight song cycles; he wrote no symphonies and only one religious work ("Kaddish" [1]). Many of his works exist in two versions: first, a piano score and later an orchestration. Some of his piano music, such as Gaspard de la nuit (1908), is exceptionally difficult to play, and his complex orchestral works such as Daphnis et Chloé (1912) require skilful balance in performance.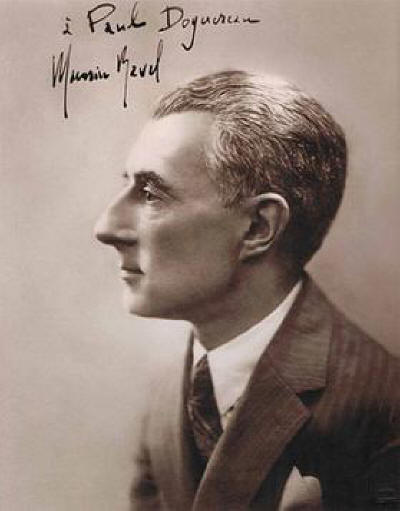 Maurice Ravel photograph inscribed to Paul Doguereau
Ravel was among the first composers to recognise the potential of recording to bring their music to a wider public. From the 1920s, despite limited technique as a pianist or conductor, he took part in recordings of several of his works; others were made under his supervision.
Vaughan Williams's recollections throw some light on Ravel's private life, about which the latter's reserved and secretive personality has led to much speculation. Vaughan Williams, Rosenthal and Marguerite Long have all recorded that Ravel frequented brothels.[79] Long attributed this to his self-consciousness about his diminutive stature, and consequent lack of confidence with women.[73] By other accounts, none of them first-hand, Ravel was in love with Misia Edwards,[69] or wanted to marry the violinist Hélène Jourdan-Morhange.[80] Rosenthal records and discounts contemporary speculation that Ravel, a lifelong bachelor, may have been homosexual.[81] Such speculation recurred in a 2000 life of Ravel by Benjamin Ivry;[82] subsequent studies have concluded that Ravel's sexuality and personal life remain a mystery.[83]
---
My published books:


---
"Kaddish – Music as Prayer || Albert Combrink". Retrieved

2017-04-09

.

Nichols (2011), p. 1

Nichols (2011), p. 390

Quoted in Nichols (2011), p. 3

Nichols (2011), p. 6

James, p. 13

Orenstein (1991), p. 9

Orenstein (1991), p. 8

Orenstein (1995), pp. 91–92

Orenstein (1991), p. 10

Quoted in Goss, p. 23

Nichols (2011), p. 9

Goss, p. 23

Goss, p. 24

Kelly, Barbara L. "Ravel, Maurice", Grove Music Online, Oxford University Press, retrieved 26 February 2015

(subscription required)

Orenstein (1967), p. 475

James, p. 15

Orenstein (1991), p. 16

Orenstein (1991), pp. 11–12; and Nichols (2011), pp. 10–11

Lesure and Nectoux, p. 9

Orenstein (1991), p. 11

Nichols (2011), pp. 11 and 390

Orenstein (1995), p. 92

Orenstein (1991), p. 14

Kelly (2000), p. 7

Nichols (2011), p. 14

Nichols (1987), pp. 73 and 91

Jankélévitch, pp. 8 and 20

Nichols (1987), p. 183

Quoted in Orenstein (1991), p. 33

Nichols (1977), pp. 14–15

Nichols (2011), p. 35; and Orenstein (1991), p. 26

Nichols (1987), p. 178

Nichols (1977), p. 15

Langham Smith, Richard. "Maurice Ravel – Biography", BBC, retrieved 4 March 2014

Larner, pp. 59–60

Orenstein (1991), p. 24

Nichols (1977), p. 12

Nichols (2011), p. 30

Nichols (1987), pp. 118 and 184

Orenstein (1991), pp. 19 and 104

James, p. 22

Nichols (1987), pp. 10–14

Orenstein (1991), p. 111

Nichols, pp. 57 and 106; and Lesure and Nectoux, pp. 15, 16 and 28

Orenstein (1991), p. 28

Pasler, p. 403; Nichols (1977), p. 20; and Orenstein (1991), p. 28

Nichols (1987), p. 101

Orledge, p. 65 (Dubois); and Donnellon, pp. 8–9 (Saint-Saëns)

McAuliffe, pp. 57–58

McAuliffe, p. 58

James, pp. 30–31

Kelly (2000), p. 16

Orenstein (2003), p. 421

Orenstein (1991), p. 127

Orenstein (1991), p. 33; and James, p. 20

Landormy, p. 431

Nichols (2011), p. 52

James, p. 46

Nichols (1987), p. 102

Nichols (2011), pp. 58–59

"Winners of the Prix de Rome", Grove Music Online, Oxford University Press, retrieved 27 February 2015

(subscription required)

Macdonald, p. 332

Macdonald, p. 332; and Kelly, p. 8

Hill, p. 134; and Duchen, pp. 149–150

Nichols (1977), p. 32

Woldu, pp. 247 and 249

Nectoux, p. 267

"Hidden clue to composer's passion", BBC, 27 March 2009

Nichols (2011), pp. 66–67

Goddard, p. 292

Sackville-West and Shawe-Taylor, p. 607

Nichols (1987), p. 32

Nichols (2011), pp. 26–30; and Pollack, pp. 119–120

Quoted in Nichols (1987), p. 67

Pollack, p. 119

Pollack, p. 728

Vaughan Williams, p. 79

Nichols (1987), pp. 70 (Vaughan Williams), 36 (Rosenthal) and 32 (Long)

Nichols (1987), p. 35

Nichols (1987), pp. 35–36

Ivry, p. 4

Whitesell, p. 78; and Nichols (2011), p. 350