Queer Places:
2707 Fairfield Ave, Fort Wayne, IN 46807
Bryn Mawr College (Seven Sisters), 101 N Merion Ave, Bryn Mawr, PA 19010
108 E 38th St, New York, NY 10016
Outward Bound, Siasconset, MA 02564
Prospect Hill Cemetery Nantucket, Nantucket County, Massachusetts, USA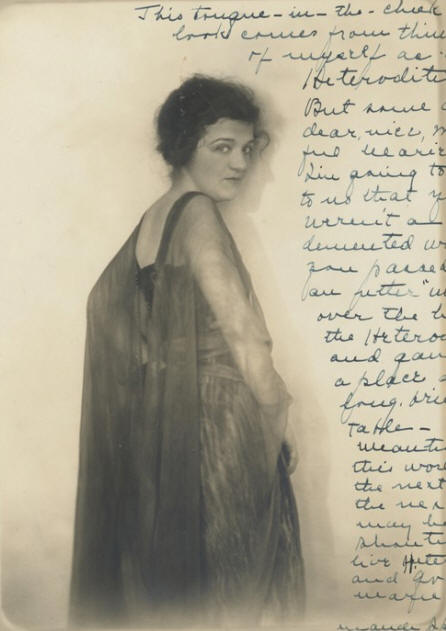 Maude F. Sperry Turner (April 9, 1878 - October 27, 1959) was an author who wrote under the pen-name Celia Caroline Cole. She wrote for the Delineator and Pictorial Review. She was a member of the Heterodoxy Club.
Maude F. Sperry was born in Iowa on 9 April 1878 to Charles Wells Sperry (1847-1931) and Belle M. Franklin (1848-1922). She spent her girlhood in Indiana, at 2707 Fairfield Avenue, Fort Wayne. She graduated from the Fort Wayne High School, attended Chicago University for 1 year, and then moved to Bryn Mawr College. After graduation she returned to Fort Wayne, where she held the position as society editor on the Journal-Gazette. Her first recognition came as a result of her series of society "leads" on "What the Lady on the Court House Says." being a type of philosophical literary diversion which was greeted with pleasure by subscribers to the paper. Sperry also took up fiction writing. She wrote a large number of magazine stories. the majority of which were printed in tho "Delineator."
In 1910 she married Paul Newell Turner (1869-1950), attorney for Actors Equity and one of the founders of the organization in 1913, and had 1 child, Tabitha "Tibs" Turner (1918-1991), who married Robert Dumper (and later was known as Tabitha T. Krauthoff).
After marriage, Maude Sperry Turner did not cease her activities in the literary lines, but continued even with more popular success than before. In 1918 Turner's best story came out in the "Delineator." She called it "Fathers" and it met with such decided approval by the publishers and editors of the magazine, that the story was used in a concentrated advertising campaign throughout the country. In the New York Times, extracts of the story "Fathers" were printed in a full page advertisement, The Chicago Tribune also carried excerpts in a full page advertisement, proclaiming Maude Sperry Turner in black letters, as the author. Later, the publishers of the magazine, in order to awaken interest in the publication, issued thousands of booklets announcing the story as one of the great features of the magazine fiction. To some extent, Turner wrote stories for advertising purposes. Her notable success in this line came with her cleverly written articles in an advertising booklet for Elizabeth Arden, a fashionable beauty specialist in New York City. The Colgate company, attracted by the brilliant display, sought to secure the services of the author in one of its own advertisements, but she refused. After moving to New York City, Turner became assistant to Adolph Klauber, dramatic critic of the New York Tribune.
Maude Sperry Turner signed her short stories with her own name, and her personality articles with her grandmother's name, Celia Caroline Cole. She said: "I stole for beauty, and besides grandmother was a beauty, and antedated all these bobbed heads of fifty years. She cut her's off because she was so busy running the small town of Fayette, Iowa, where I was born, that she couldn't be both - shall never forget." Turner's daughter, Tabitha Turner, attended Sarah Lawrence College, Bronxville. Her real home was on Nantucket Island, at Siasconset, although she spent several winter months in New York, at 108 E. 38th Street. Her home was on the edge of the sea, with miles of moors around it, and was called "Outward Bound" because, situated a mile from the colony behind it and one - fourth mile from the nearest neighbor, the lighthouse (and no fog horn) it looked as if it had just sailed past the lighthouse and was on its way.
She passed away on 27 October 1959 in Nantucket, Massachusetts, USA.
Written as Maude Sperry Turner:
The Retracing (ss) Young's Magazine Sep 1914
And They Moved Next Day (ss) Women's Stories Oct 1914
Adabee and Creation (ss) The Delineator Sep 1917
House That Lived (ss) The Delineator Mar 1918 Ultimate Alimony (ss) The Delineator Nov 1918
Glistening White Road (ss) The Delineator Dec 1918
Mother Ann (ss) The Delineator Mar 1919
Orchid of the Holy Ghost (ss) The Delineator Apr 1919
She Criticized Her Husband (ss) The Delineator Jul 1921
Fulfillment (ss) The Delineator May 1933
The Travelers (ss) Good Housekeeping Jul 1934
The Troubadours (ss) Good Housekeeping Nov 1934
Written as Celia Caroline Cole:
The Beauty Shop (ar) The Delineator Dec 1917
A Lady (ar) The Delineator Jan 1920
Be a Chord, Not a Discord (ar) The Delineator Feb 1920
Fat on Thy Bones (ar) The Delineator Mar 1923
Carrot-Tops —- and Other Tops (ar) The Delineator Jun 1924
The Art of Staying Young (ar) The Delineator Jan 1927
The Faces Up Your Sleeve (ar) The Delineator Feb 1927
Heads You Win (ar) The Delineator Sep 1927
All by Yourself (ar) The Delineator Jan 1928
All Drenched and Shining (ar) The Delineator Jun 1928
Every Whit Whole (ar) The Delineator Oct 1928
Temperamental Tresses (ar) The Delineator Apr 1930
The Face That Launched a Thousand Slips (ar) The Delineator Feb 1931
The Light Touch (ar) The Delineator Mar 1931
As Thy Days (ss) The Delineator Mar 1937
Whither Shall I Go (ss) Pictorial Review Aug 1938
---
My published books:


---
http://www.philsp.com/homeville/fmi/d/d1242.htm#A38218
The Fort Wayne Sentinel Fort Wayne, Indiana 27 Nov 1920, Sat • Page 9