Queer Places:
Westminster School, Little Dean's Yard, Great Smith St, Westminster, London SW1P 3PF, Regno Unito
University of Oxford, Oxford, Oxfordshire OX1 3PA
9 Devonshire Pl, Marylebone, London W1G 6HR, UK
Nassau Rd & Church Rd, Barnes, London SW13 9QD, UK
The Albany, Albany Court Yard, Mayfair, London W1J, Regno Unito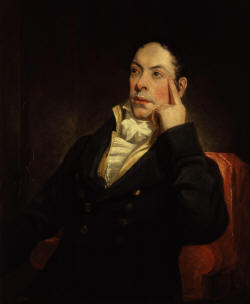 Matthew Gregory Lewis (9 July 1775 – 14 or 16 May 1818[1]) was an English novelist and dramatist, often referred to as "Monk" Lewis, because of the success of his 1796 Gothic novel, The Monk.
Matthew "Monk" Lewis was born to a fairly prosperous family of some distinction. His father, who deeply loved his son, was England's Deputy Secretary at War; and his mother, also deeply loving, was literary, musical, and in all things encouraging to her son. Lewis's parents divorced when the boy was six years old, and throughout his life he acted as emissary between them.
He was educated at Westminster School and Christ Church, Oxford, and after leaving university, at eighteen, he went to The Hague to pursue a diplomatic career, at the same time convinced that he had a future as a writer. During his six months in The Hague, he composed his scandalous masterpiece The Monk (1795), which earned him the nickname that lasted until his death.
After that "succès de scandale," Lewis was appointed to Parliament, and he served as a member of the House of Commons from 1796 to 1802. As a member of Parliament, he received special censure for his novel, but his heart was not in politics, and he spent most of the time after the publication of The Monk working on other literary products, one of which, The Castle Spectre (1797), was a huge success on the stage.
Chief among his attachments was his love for William Kelly, the ne'er-do-well son of Mrs. Kelly, an author with whom he corresponded, and to whom he offered various kinds of financial aid, among them the cost of educating her son. Lewis was involved with William for fifteen years, and though there is no proof of sexual involvement, Lewis did include the younger man in his will and speak of him always in affectionate, if frustrated terms.
The question of Lewis's "homosexuality" has been debated by his biographers, such as Summers and Peck, but surely they have been asking the wrong questions. That Lewis was of an unconventional sexual makeup is clear in his life as well as his works.
But whether or not anything about Lewis's own sexual behavior can be proved, The Monk is one of the great works in the gay and lesbian literary tradition. It is the story of frustrated desire expressed, at first anyway, as male-male love. Ambrosio, the hero of the novel, is a handsome monk above reproach in his private affairs. Then suddenly he finds himself involved with the emotions of a young (male) novice, whom he befriends and who becomes more and more tormenting to his solace.
---
My published books:


---
Citation Information Author: Haggerty, George E. Entry Title: Lewis, Matthew G. General Editor: Claude J. Summers Publication Name: glbtq: An Encyclopedia of Gay, Lesbian, Bisexual, Transgender, and Queer Culture Publication Date: 2002 Date Last Updated November 12, 2002 Web Address www.glbtq.com/literature/lewis_mg.html Publisher glbtq, Inc. 1130 West Adams Chicago, IL 60607 Today's Date May 14, 2013 Encyclopedia Copyright: © 2002-2006, glbtq, Inc. Entry Copyright © 1995, 2002 New England Publishing Associates