Queer Places:
Red House Museum, 281 Oxford Rd, Gomersal, Cleckheaton BD19 4JP, UK
High Royd, now Gomersal Lodge Hotel, 189 Spen Ln, Gomersal, Cleckheaton BD19 4PJ, UK
St. Mary The Blessed Virgin, Spen Ln, Gomersal, Goemrsal BD19 4LS, UK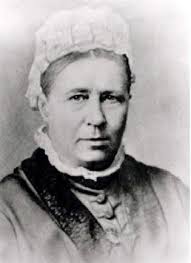 Mary Taylor (26 February 1817 - 1 March 1893) and her younger sister Martha were sent to a boarding school in Mirfield, a few miles from their home. In January 1831 Taylor met author Charlotte Brontë and they became friends. They both left the school in 1832 and in the next few years regularly visited each other at home. The radical & boisterous Taylor family of Red House were described as the 'Yorke' family in Charlotte Bronte's novel 'Shirley'. Charlotte described the family so well that Mary wrote "There is a strange feeling in reading it of hearing us all talking" (Mary Taylor to Charlotte Bronte 13 Aug 1850). Mary Taylor appears as 'Rose York'.
In 1840 Taylor's father died leaving debts. She considered immigrating to New Zealand, believing that she would fare better in New Zealand. Her younger brother William Waring Taylor arrived in Wellington in April 1842. Mary Taylor spent some time in Belgium and Germany, studying and teaching. On 18 March 1845 she left London on the ship Louisa Campbell and arrived at Wellington on the 24th July.
Taylor settled in Wellington where she lived at first with her brother William Waring Taylor in a house in Herbert Street, Te Aro. She had a house built in Cuba Street which she let for 12s. A week and supplemented this income by working as a piano teacher. Not long after she arrived in New Zealand Charlotte Brontë sent her £10, having heard overly negative reports of her situation. Mary used the money to buy a cow.
In August of 1849 Mary Taylor's cousin Ellen Taylor arrived in Wellington. With financial help from Mary's brothers in England the cousins leased a subdivision on the south-west corner of Dixon and Cuba streets. Ellen paid for a small house to be built on the site. The cousins lived on the second floor and opened a drapery and clothing shop on the ground floor. Mary's brother Waring had a shop and import agency nearby. Waring taught the two women. Mary and Ellen took turns week by week in their work, one attending to the shop and accounts while the other did the housework.
Ellen Taylor died of tuberculosis in December 1851. Mary, who had nursed her cousin, was deeply grieved but continued with the shop. Mary bought the shop from Ellen's brother. The shop was a continued success and Mary soon extended the premises and employed an assistant. In 1853 the Wellington Almanack lists her shop as a significant Wellington store.
Several years after her cousin's death Mary found the shop became less profitable. In 1858 she stopped ordering goods from England. She left Wellington for Wanganui in May 1859 and in the next year returned to Yorkshire where she lived until her death. High Royd, the house built for her, was her home for the rest of her life. She made annual visits to Switzerland where, aged almost 60 in 1875, she led a party of five women on an expedition to climb Mont Blanc and they published Swiss Notes by Five Ladies, an account of their ten-week adventure.[2] She wrote just one novel "Miss Miles" published in 1890.
She died at Gomersal on 1 March 1893.
Taylor contributed articles to Emily Faithfull's Victoria Magazine championing feminist issues, women's suffrage and property rights. She worked on her only novel, Miss Miles, or, A Tale of Yorkshire Life Sixty Years Ago, for forty years before it was published in 1890. It strongly advocates a working life for women.[2]
---
My published books:


---
http://kete.wcl.govt.nz/site/topics/show/16-mary-taylor-1817-1893
http://brusselsbronte.blogspot.com/2015/06/mary-taylor-in-wellington-report-from.html