Partner May Morris
Queer Places:
Kelmscott Manor, Kelmscott, Lechlade GL7 3HJ, UK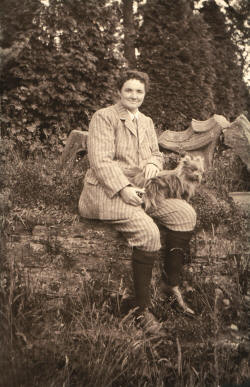 Mary Francis Vivian Lobb (1878 – October 7, 1939) was born 1878. Her father, Nicholas William Lobb (1846-1908), was a financial negotiator and inventor, patenting things such as dried milk, vermin traps (the 'Holdfast', in 1891) and a preparation of farinaceous (starchy) foods (1878). Her mother was Emma Vivian (1854-1932). Both of Miss Lobb's parents were originally from Cornwall, and though she and her older brother Nicholas were born in Surrey, by the 1881 census they were all living at Mary's maternal grandparent's farm at South Petherwin in Cornwall. In the 1891 census, Mary Lobb was attending a small private school which had only 10 pupils, girls between the ages of 12 and 15. This was St Thomas' College, under the headmistress Caroline Stringer, in nearby Launceston, but after her academic career she was back at home in Trewen, less than 10 miles from Launceston and South Petherwin by the 1901 census. Whilst Nicholas Junior was keen to leave the confines of rural Cornwall, first as a apprentice railway engineer, then immigrating to Canada, second son George Leopold remained on the family farm with his mother. Arabella, the youngest, also remained in Cornwall for the whole of her life. By the 1911 census, George, Arabella and Mary all live with their widowed mother on their farm, 'Trenault'.
On page 2 of the West Briton and Cornwall Advertiser of Monday 11 September 1916, there was a short piece entitled 'Cornish lady drives a steam roller' - 'Miss Lobb of Trenault, a lady of independent means, is to be seen every day driving a steam roller on the main roads near Launceston.' This was such a gripping news story that they ran it again on the Thursday of the same week. Around the same time Miss Lobb competed with other women to win £5 by binding up 12 bundles of wood in the quickest time. When she received her posting to Gloucestershire, she was put to work immediately. In Robert Lusty's memoir Bound to be Read (1975), he remembers going with his aunt to collect Miss Lobb from the railway station.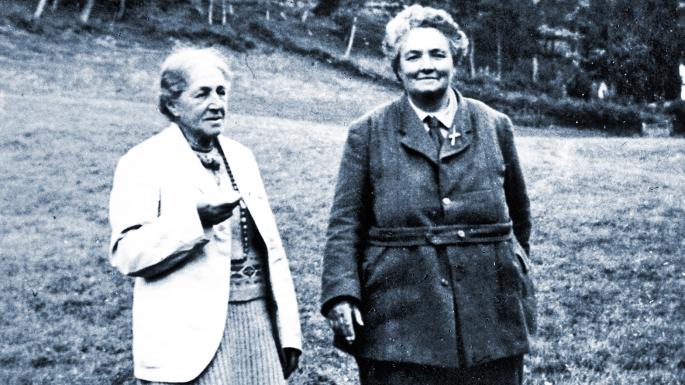 Marjorie Breakspear was the niece of Lily Huntley, school teacher in Kelmscott, and in her memoir she records how May Morris and Mrs Hobbs both stood as president of the Kelmscott Women's Institute - 'There seemed to be a little rivalry about the office.' (page 11 of 'My Memories of Kelmscott'). If May had intended to complain about Hobbs in her letter about hedge trimming and to actively compete with Mrs Hobbs over this aspect of local role, possibly her acquisition of Miss Lobb into the household at Kelmscott Manor was done out of mischief as much as necessity. As May was listed as an attendee, she might have already met Miss Lobb at the demonstration of 'Women in Farm Work' on the farm in Kelmscott, as recorded in the Banbury Guardian in June of 1916. How ever it occurred, Miss Lobb entered Kelmscott Manor in 1916 and only left it after she and May had died.
Miss Lobb joined the Kelmscott household as a gardener but swiftly became May's companion and close friend who ably fought May's battles, kept away anyone who she felt was bothering May. That included Lord Berners MP, who had allegedly planned to install a siren at his home nearby. Lord Berners, who knew Miss Lobb in person, replied 'It would be better is Mr [sic] Lobb had ascertained the facts before writing a letter which sounded as though it had emanated from the brain of a crazy spinster.' (from Lord Berners: The Last Eccentric by Mark Amory). Miss Lobb continued her interest in her family land in Cornwall, advertising it to be let for £2 a week (Sheffield Daily Independent, Tuesday 12 April 1932). May and Miss Lobb lived simply at the Manor, using the kitchen as a living room, lit by lamp as there was no electricity in the Manor as yet. It is interesting how her friends responded to the presence of Miss Lobb in her life. In George Bernard Shaw's account, Miss Lobb is merely a guard dog who knew nothing of the deep 'mystical betrothal' that existed between himself and May. Janis Londraville, in On Poetry, Painting & Politics: The Letters of May Morris and John Quinn states that May, by the time she met Miss Lobb, knew her dreams had all vanished into 'thin air' (p.27). May herself had apparently grown 'masculine and moustached' (George Bernard Shaw's account) and Miss Lobb's company seems to diminish May Morris in the eyes of others, reducing them both to 'two lesbian ladies of Llangollen' (William Morris: A Life for Our Time by Fiona MacCarthy, p.679). May Morris herself found the village interest in her relationship with Miss Lobb amusing (according to Marjorie Breakspear's account). When the village found out that the couple shared a room and Miss Lobb kept a loaded gun by her bed to ward off intruders 'the village folk had a lot to say about it.'
May wrote her will in 1929, correctly assuming that it was likely she would outlive her sister, and leaving the bulk of her estate to Miss Lobb. Jenny too had made this assumption even before her mother's death in 1914, writing a will leaving her belongings to May. When May died after a short illness on Sunday 17th October 1938, the newspapers reported her exquisite needlecraft, how she was a pioneer in jewellery, her work with SPAB and her role in the founding of the Women's Guild of Arts (from the Gloucestershire Echo, 18 October 1938). It was rumoured by some villagers that 'Miss Lobb 'has summit to do with it'' (from Bound to be Read, p.17) or, in James' Laver's Museum Piece - 'they do say as she done away with the old lady.' (p.196), but mostly the accounts are of a woman so broken-hearted that she got drunk and killed herself, possibly with the loaded gun by the side of her and May's bed.
On her death certificate her death is due to conditions that have connection associated with her smoking, drinking and weight but according to Simon Evan's research, Miss Lobb had been ill in her last years and May Morris had paid for her to receive medical help on several occasions.In an article for The Burlington Magazine (1976) Shirley Bury writes that Miss Lobb responded to the letters of condolence she received at the death of her companion, including one from the director of the V&A. She also wrote letters to the local newspapers on subjects such as the patterned quilts she had found in the attic chest at Kelmscott (Western Morning News and Daily Gazette 2 February 1939) and the medicinal quality of nutmeg for rheumatism (same paper, the day before).
When Miss Lobb died, her Will caused much interest. Under the headline 'NO HEARSE OR COFFIN', the Cheltenham Chronicle and Gloucestershire Graphic (October 7 1939) reported that Miss Lobb's dying wishes were to be placed in 'just a plain, oblong box of deal, rough but strong.' and it was to be conveyed to the crematorium not by a hearse but a 'motor lorry'. Furthermore she wanted to be cremated without a religious ceremony, no mourning or flowers and her ashes to be sprinkled back in Cornwall, preferably Bosporthennis Moor. Haunted Cotswolds by Diz White records that Miss Lobb's ghost roams the attics of Kelmscott calling for May.
---
My published books:


---
http://fannycornforth.blogspot.com/2017/05/like-nutmeg-for-rheumatism.html
https://www.llyfrgell.cymru/fileadmin/fileadmin/docs_gwefan/amdanom_ni/cylchgrawn_llgc/cgr_erth_XXXVI_rhif4_2017_2.pdf