Queer Places:
35 Charlotte St, Aberdeen AB25, UK
Saint Nicholas Churchyard Aberdeen, Aberdeen City, Scotland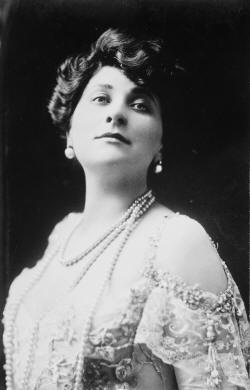 Mary Garden (20 February 1874 – 3 January 1967) was a Scottish operatic soprano with a substantial career in France and America in the first third of the 20th century. She was censored for her performance of Salome, "which," Emma Goldman observed, "the moral busybodies had declared indecent;" she admired Goldman's "stand for freedom". Women also played integral roles in forging this modern fairyland. Those of influence cultivated a queer elite, often artistic, culture in Miami. This included recruiting opera divas of international acclaim with great queer followings, such as Amelita Galli-Curci and Mary Garden, to perform in the city. Alden Freeman personally hosted these women. In part to inaugurate and celebrate the opening of Casa Casuarina, in February 1931 Freeman hosted Garden for a concert in Miami. Garden, who never married, had earned a reputation for her sexual ambiguity and gender-bending characters and became a lesbian icon. For instance, she created the lesbian role of Chrysis in Camille Erlanger's 1906 opera Aphrodite. In 1913, a nineteen-year-old girl in Philadelphia committed suicide because of her uncontrollable—and unrequited—infatuation with the opera singer, whom she had never met. "The young girl had become imbued with the idea that Mary Garden was Queen Cleopatra, and that she was her slave," noted one report. It appears Garden's queer aura also resonated with men like Freeman.
Garden spent the latter part of her childhood and youth in the United States and eventually became an American citizen, although she lived in France for many years and eventually retired to Scotland, where she died.[1] In the twentieth century opera became a significant force in lesbian subculture. Leading singers such as Mary Garden, Emma Calve, Geraldine Farrar, and Kathleen Ferrier became cultural icons to lesbian opera fans. The American lesbian novelist Willa Cather, a devotee of opera, wrote The Song of the Lark (19IS), a fictionalized biography of the Wagnerian soprano Olive Fremstad.
Described as "the Sarah Bernhardt of opera", Garden was an exceptional actress as well as a talented singer. She was particularly admired for her nuanced performances which employed interesting uses of vocal color. Possessing a beautiful lyric voice that had a wide vocal range and considerable amount of flexibility, Garden first arose to success in Paris during the first decade of the 20th century. She became the leading soprano at the Opéra-Comique; notably portraying roles in several world premieres, including Mélisande in Claude Debussy's Pelléas et Mélisande (1902). She worked closely with Jules Massenet, in whose operas she excelled. Massenet notably wrote the title role in his opera Chérubin (1905) for her.[2]
In 1907, Oscar Hammerstein convinced Garden to join the Manhattan Opera House in New York where she became an immediate success. By 1910 she was a household name in America and Garden appeared in operas in several major American cities; including performing with the Boston Opera Company and the Philadelphia Opera Company. Between 1910 and 1932 Garden worked in several opera houses in Chicago. She first worked with the Chicago Grand Opera Company (1910–1913) and then joined the Chicago Opera Association in 1915, ultimately becoming the company's director in 1921. Although director for only one year, Garden was notably responsible for staging the world premiere of Sergei Prokofiev's The Love for Three Oranges before the company went bankrupt in 1922. Shortly thereafter she became the director of the Chicago Civic Opera where she commissioned the opera Camille by 28-year-old composer Hamilton Forrest. She sang roles at the Civic Opera until 1931, notably in several United States and world premieres.
Additionally, Garden appeared in two silent films made by Samuel Goldwyn.[3]
After retiring from the opera stage in 1934, Garden worked as a talent scout for MGM. She also gave lectures and recitals, mostly on the life and works of Claude Debussy, until 1949. She retired to Scotland and in 1951 published a successful autobiography, Mary Garden's Story.
Her voice is preserved on a number of recordings made for the Gramophone Company (including some with Debussy at the piano), Edison Records, Pathé, Columbia Records and the Victor Talking Machine Company between 1903 and 1929.[4]
---
My published books:

---