Queer Places:
10 Gramercy Park S, New York, NY 10003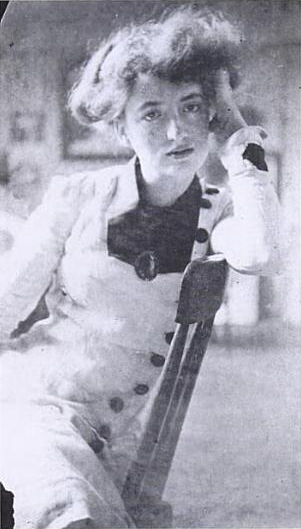 Marjorie Organ Henri (December 3, 1886 – July 5, 1930) was an Irish-born American illustrator, cartoonist and caricaturist.[1]
Marjorie Organ was born in Ireland on 3 December 1886, the daughter of a wallpaper designer. Her family moved to New York c. 1895, and Marjorie attended Saint Joseph's School and the Normal College (later Hunter College) before studying at Dan McCarthy's National School of Caricature. In 1902, at the age of 16, she joined the staff of the New York Evening Journal, working in the paper's art room with Richard Outcault, Rudolph Dirks and Paul Bransom. She was regarded as something of a "maverick" by the social mores of the day, making no objection to the older men's salty humour.[4] She created "Little Reggie and the Heavenly Twins", a strip about a hapless little man strung along by a pair of beautiful but manipulative girls, which ran in the Journal from 27 October 1902 to 3 February 1905. It has been suggested that Organ herself and her best friend Helen Marie Walsh, who married Rudolph Dirks, may have been the inspiration for the "Twins". She also created "The Wrangle Sisters", about a pair of young socialites, which ran in the Journal from 8 December 1904 to 7 January 1905, and several others for the Journal and the New York World, including "Strange What a Difference a Mere Man Makes!", "Girls Will Be Girls", "The Man Haters' Club" and "Lady Bountiful".

The Beach Hat, (1914)

O in Black with Scarf, (1910), Marjorie in a Yellow Shawl, The Masquerade Dress, (1911)
In 1908, when she was a student of the New York School of Art, she met the head of the school, the widowed painter Robert Henri. Three weeks later they married in Connecticut. Her career as a cartoonist ended, but she continued to paint and draw, exhibiting at the 1913 Armory Show in New York City, the Society of Independent Artists (1919-24, 26-28), the McDowell Club (1917-18), the New York Society of Women Artists (1927, 1932), the Morton Gallery (1928) and others, and managed her husband's business and social life. Henri painted a portrait of her in 1910, "O in Black with Scarf". She died of cancer in July 5, 1930, exactly one year after her husband. Childless, their estate was left to Violet Organ, Marjorie's umarried sister. In addition, Organ inherited a small fortune along with Henri's collection of works and took up residence in Henri's former home and studio (from 1909 till his death in 1929). Organ and Lucie Bayard, one of Henri's student, destroyed an estimate number of 1000 painting of Robert Henri, in the hope the price of the remaining pieces to increase. Among the destroyed portraits are those of Emma Goldman and Bernard Baruch.
Portraits of Marjorie Organ Henri by Robert Henri
O in Black with Scarf, (1910), Fine Arts Museums of San Francisco
The Masquerade Dress, (1911), Metropolitan Museum of Art[7]
Portrait of Mrs. Henri, (1914), San Diego Museum of Art (a second version of The Beach Hat).
The Beach Hat, (1914), Detroit Institute of Art
Marjorie Organ Henri or O, Reclining Figure, Estate of Robert Henri[8]

Viv Reclining Aka Nude

Viv In Blue Stripe

Viv (New York)
Henri also painted at least two portraits of Marjorie Organ's sister, Violet Organ.[9]
Viv (Miss Violet Organ), oil painting, 1919, private collection[10]
Violet Organ, watercolor, (1921) private collection[11]
Violet Organ co-authored Robert Henri and his circle in 1969.
Marjorie Organ was also connected with Ethel Myers.
---
My published books:

---
https://en.wikipedia.org/wiki/Marjorie_Organ