Partner Maxine Bennett
Queer Places:
Waucheeta Trail, Madison, WI 53711
Alvo Cemetery Alvo, Cass County, Nebraska, USA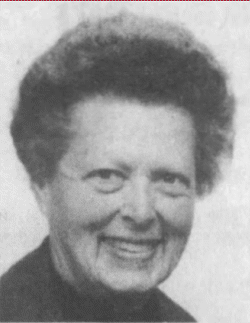 Margaret Josephine "Jo" Prouty (August 12, 1908 - August 28, 1992) was a pediatrician.
Margaret Josephine Prouty was born in London Mills, Illinois, on August 12, 1908, the daughter of the Reverend Joseph Madison Prouty and Clara S. Skiles. Her father, a Methodist minister and the second graduate of Nebraska Wesleyan University, and her mother had come to Illinois from Alvo, Nebraska, where they both were born, when he entered the ministry. They had one other child, a son Herbert, who was ten years older than Jo. Her father become ill when she was three years old; the family returned to Lincoln, Nebraska where they lived until his death in 1913 when Jo was five years old. Soon after her husband's death, Clara Skiles Prouty secured a position as housemother at the Wlllard House at Nebraska Wesleyan University, and later at the Sigma Nu and Chi Omega houses at the University of Nebraska to support herself and her children. Both Herbert and Jo earned college degrees from Nebraska Wesleyan and Jo from the University of Nebraska through the persistent efforts of Mrs. Prouty and the determination of Jo and Herbert. Jo received her A.B. degree on August 8, 1929 from the University of Nebraska; she had transferred there after three years at Nebraska Wesleyan. Her major was biology. She received a Bachelor of Science degree from Nebraska Wesleyan on June 1, 1932 and her Master of Science degree a year later on June 2, 1933 from Wesleyan. Her major professor for these degrees was Dr. Robert Coatney, a world authority on Malaria, with whom she maintained a warm professional and personal relationship until his death.
For as long as she could remember, Jo Prouty's goal was to attend Medical School. After graduation from college she taught in Lincoln High at Lincoln, Nebraska, and worked summers at the YMCA Camp and Cheley Camp in Estes Park, Colorado until she had saved enough to enter Medical School at the University of Nebraska in 1938. There were three women in that entering class, one of them was Maxine Bennett; that was the beginning of a lifelong friendship. They lived together during medical school and later on in Madison, Wisconsin when they both entered medical practice there after completing their Internships. In time they built a home on Lake Waubesa in which they lived until they retired. They shared many interests, especially mountain climbing, during their years in medical practice in Madison.
Margaret Prouty graduated from the University of Nebraska Medical School in 1942; she interned at Norwegian American Hospital in Chicago; she came to Madison in 1943 to join the Jackson Clinic in Pediatrics where she remained until her retirement in 1973. She received her license to practice medicine in Wisconsin on the first day of July in 1943. She was honored for her fiftieth year of medicine by the State Medical Society in May 1992. One of her continuing medical interests was "ulcers in children" on which she did research, published papers and presented reports at medical meetings.
Travel, mountain climbing and archaeloglcal artifacts were life long interests. She was a licensed guide in the Rocky Mountain National Park in Colorado, a counselor and climbing guide at Cheley camps. She traveled all over the world with any friend who could be persuaded to join her on unusual expeditions to places where there were mountains, archaeloglcal remains, birds or other things of interest to her: Switzerland, USSR, Tibet, Nepal, India, all the countries of South America, the Galapagos, New Zealand, Sri Lanka, Antarctica, Alaska, Australia, Iceland, Greenland, Mexico, Austria, Germany, Latin America. Climbing the Matterhorn in 1949 with Dr. Bennett was an early achievement. She climbed Long's Peak 14 times including the East face, Mt. Ralner, Kilimanjaro and iked to the Monastery at the base of Mt. Everest in 1965. She made over 260 ascents of peaks of altitudes ranging from 10,000 feet to 20,000 feet in 22 countries.
In May, 1989, Dr. Prouty moved to the Oakwood Village where she lived happily and made many friends. She continued to spend the winter months in Arcadia, California with her good friend from Cheley Camp days, Vivien Buser Ragsdale. She also liked to go to Door County for a few weeks each summer. Margaret Prouty was a member and past president of the Altrusa Club of Madison; she supported the visiting Nurses Association, the Well Baby Clinic, and was a member of the America Alpine Club, Alpha Chi Omega, PEO, the Sierra Club and the Bethany Methodist Church. She wrote five sections on hiking for the International Encyclopedia of Sports Medicine.
She died at Hebron Hall Nursing Home at Oakwood Village on August 28, 1992.
---
My published books:


---
Wisconsin State Journal Madison, Wisconsin 30 Aug 1992, Sun • Page 20