Queer Places:
Solna Church Cemetery Solna, Solna kommun, Stockholms län, Sweden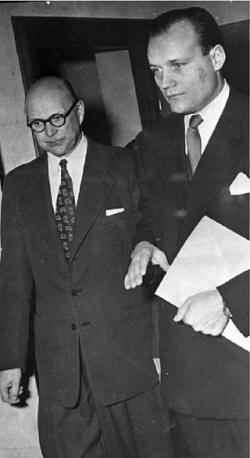 Kurt Alfred Johansson Haijby (May 14, 1897 - August 27, 1965), The Haijby affair was a political affair in Sweden in the 1950s, involving the Swedish king Gustav V of Sweden, Kurt Haijby and the author Vilhelm Moberg. This affair was initially just gossip, but in 1952 Kurt Haijby was officially accused of blackmailing the king, and the affair turned from gossip to scandal. Haijby had been a lover of the bisexual king in the years between 1912 and 1932. The court of Sweden had paid Haijby 170.000 swedish crowns to keep quiet about this. However, in 1938 Haijby was arrested for paedophilia and put in custody at the asylum of Beckomberga. The court then approached him and promised him 400 crowns a month if he left the country and promised never to talk about his relationship to the king again. He accepted this deal. Breaching the agreement, Haijby returned to Sweden in 1940 and wrote a book about his adventures with the king. The entire printing of this book was then bought by the court and destroyed, and has never been read by anyone. In the meantime, an inflicted debate concerning another affair, the Kejne affair, had started making rounds in the press where Vilhelm Moberg was busy writing lengthy articles about homosexual conspiracies among the Swedish officials. Haijby reported his forced detention in the asylum at Beckomberga to the Attorney General of Sweden. These papers were smuggled out of the Attorney General's office by Vilhelm Moberg, and the whole thing thus came to public attention. As a consequence, the court was forced to charge Haijby for all acts of blackmail in public.
Kurt Alfred Johansson Haijby was born at Maria Magdalena Församling, Stockholm, the son of Johan Alfred Johansson, a fish and wine merchant in Gamla Stan who was a supplier to the court, and Emelie Maria Carolina Johansson.
From the age of 18 he served as a waiter on various Swedish steamships and then as an office worker, actor and illusionist. Between 1915 and 1925 he was convicted of six counts of criminal labour for theft and forgery, and in 1923 for aggravated aggravated causing the death of another man by a police officer in Gothenburg.
After serving his sentence, Kurt Johansson changed his name to Haijby and then led a roving life, including in France and the United States, before marrying for the second time in Stockholm in 1931, now with the 10-year-old widow Anna Holmberg (born 1887), while his sexual interest was primarily directed at younger men. With his wife he started the following year restaurant Lido on Kungsgatan in Stockholm[1] but with his criminal past he had difficulty getting a liquor license. In 1933, according to Haijby's own story, he sought an audience between those who would have lasted a year. Haijby had also sought the chief executive, Torsten Nothin, who shortly afterwards, through a chamberlain in charge of the watch, was told that the king wanted the permit to be granted. Nothin suspected that it was extortion (Haijby could not be considered for wine rights because of his criminal burden) and subsequently contacted the court, which admitted that money payments to Haijby had been made.
In 1934, both the restaurant company Lido and the Haijby sands went bankrupt. In April 1936, the spouses seem to come up with the idea of forcing money for a repurchase of Lido through a public sham divorce (in reality, the spouses continued to live together until Anna's death). When homosexual acts between adults were decriminalized only in 1944, Haijby could be convicted of fornication if he confessed or publicly made his claims about the king. Gustav V himself, however, because of his legal immunity, could not be punished. But a scandal would have damaged the reputation of the monarchy and the royal house, which is why payments were instead made to Haijby. The alleged relationship first became known in a narrower circle, after Haijby's wife Anna stated in her divorce petition in 1936 that her husband had been unfaithful with the king. At the initiative of the Marshal of the National Council and for a compensation of SEK 15,000, she was asked to change the motivation. The court's lawyer Conrad Quensel was instructed to induce Kurt Haijby to emigrate abroad, and would pay him a smaller amount than that intended for Anna Haijby. [1] However, she continued to press the court for money and a total of 34 465 SEK was paid to the spouses during this period.
Kurt Haijby received SEK 1,500 for emigrating to the United States and 3,000 would be paid in New York. However, Haijby returned to Sweden and his wife within a few months. He claimed that he had been deceived by the Swedish authorities and had not received any money – because of his criminal burden, however, he should not have been able to legally enter the United States. After returning home, he claimed that he was on a bare hill, but in the autumn of 1937 the spouses with the court's money managed to repurchase Lido. After deliberations within the court, and obtaining the king's opinion, various forms of help came to Haijby. Among other things, a coffee shop was bought for him and finally, with the court lawyer's help, he got to rent Trystorp Castle in Närke where he would run a boarding house business. For the interior design and furnishing of the castle's 24 rooms, he received 30 000 SEK from the court.
In September 1938, an investigation was launched against Haijby on suspicion of sexual fornication against minors on Särö. During the interrogations, Haijby hinted that he had an affair with Gustav V.[3]The suspicions concerned two boys, 11 and 13 years old, the elder with his parents' permission shared a hotel room with Haijby a week on Särö and a few months later escaped from home with the intention of getting from Gothenburg to Kurt Haijby in Stockholm by bicycle. [4] Then the chief commander, Torsten Nothin, who informed the Minister of Justice Karl Gustaf Westman, who in turn contacted Police Commissioner Erik Fontell in Gothenburg, intervened. In December, Haijby was arrested in Stockholm, taken to Gothenburg for questioning and the following day returned to Stockholm and Beckomberga Mental Hospital. According to Henning Sjöström, there was no legal authority for this arrest when the evidence in September proved to be flawed. [5] However, both boys had testified about the abuse.
Haijby was taken for two weeks at Beckomberga for observation, which at the time was recommended by the Medical Board in case of homosexual fornication with minors. By now the court had paid out at least SEK 100,000 to Haijby. Before the discharge from Beckomberga Hospital, Haijby's choice should have been between prosecution and emigration. Haijby was persuaded to emigrate to Germany in return for a monthly maintenance of SEK 425, after signing an agreement to withhold further charges against the king. The Stockholm Police Chief helped with personal contacts in Germany to enable his entry. Some time later he was arrested there, charged with two new counts of fornication with underage boys,[2] and eventually convicted of this. After serving his sentence, Haijby remained in gestapo custody due to a further investigation into false declaration. Vilhelm Moberg claims that Police Chief Erik Fontell in Gothenburg had been asked by the Gestapo if the Swedish police had any interest in Haijby being held in concentration camps in Germany and that the authorities there would be happy to be of service. [6] However, the request from the Gestapo was a routine request, as "protective detention" in concentration camps by sex offenders was mandatory under current German criminal law. In February 1940 Haijby was deported to Sweden and returned to his wife and the care of Lido.
On his return to Sweden, Haijby made contact with a telephone-supervised scandal writer – Gustaf Ericsson – with a view to publishing a key novel about the whole story. The monthly assistance from the court had ceased upon his return to the country. Torsten Nothin instructed Alvar Zetterquist, head of the Stockholm Criminal Police, to persuade Haijby to voluntarily be admitted to Beckomberga Hospital,[2] which also took place during a period March-May 1941, in order to reduce the damage Haijby could cause the kingdom. Zetterquist states, however, that Haijby was mostly laid off from the hospital in order to participate in the day-to-day management of the restaurant in Stockholm, which was in Anna Haijby's name. In early 1945, when Haijby was once again formally in charge of the restaurant, he was informed at Nothin's initiative that the restaurant's liquor license could not be renewed. The reason was stated to be the serious crimes he had been convicted of over 20 years earlier. This led to an acute deterioration in Haijby's mental health. He was admitted to Södersjukhuset under the diagnosis of depression. In 1946, an additional SEK 15,000 was paid to Haijby on the promise that no book would be printed. Despite this, Haijby published his accusations of judicial abuse against him in the key novel Patrik Kajson,which has been published by his own publisher, which is published again . The book left the printing house on December 5, 1947. The edition was 1,000 copies. In December, Zetterquist and Marshal Ekeberg met with Justice Minister Zetterberg,where Zetterberg informed the government. No one wanted a press freedom trial. [7] Later, the police chief bought most of the edition of Haijby and stored it in the police headquarters. The purchase was paid for in half with a portion of the court administration's previously issued funds, which Kurt Haijby had left in Zetterquist's custody, and partly secretly by Anna Haijby, who was concerned about Kurt Haijby's mental health. [2][7] She also contributed cash to give Kurt Haijby the impression that payments from the court continued after the book's publication. Over time, Haijby became interested in reclaiming the purchase, as he wanted to spread the book into wider circles. After contact with Zetterqvist, the books were repurchased in 1951, when history had already become known to the public. Again, it was a payout from Anna Haijby that made the deal possible. [2] Haijby published another edition in 1952. A new edition was published in 1979.
After the death of King Gustaf V, Kurt Haijby wrote a large number of letters to various authorities about the various legal abuses he claimed he had been subjected to. The Chancellor of Justice (JK) Olof Alsén opened an investigation into the course of events, an investigation which, with the exception of the final result, was classified until 2002. The JK investigation concluded that it could not be proved that Haijby had been mistreated. In 1952, on jo's[1] initiative, and in consultation with the government and King Gustaf VI Adolf, a preliminary investigation took place which could quickly lead to the prosecution of Haijby for extortion. [2] During the trial, a sensory examination of Kurt Haijby was conducted by Professor Gösta Rylander. In his statement in November 1952, Rylander writes that Haijby has performed his actions under the influence of mental abnormality, which was not so severe that Haijby could be seen as insane and that he was not in need of any care in a mental hospital. At the end of the trial, Haijby also claimed to have been seduced by Gustaf V back in 1912 when, at the age of 14, he sold mayflowers at the castle. However, this claim could, with the help of witnesses, be rejected in court. Kurt Haijby was sentenced to eight years of hard labor by Stockholm City Hall Court for aggravated extortionin 1952. The sentence was reduced in 1953 by the Svea Court of Appeal to six years of hard labour. They could be handed down mainly because of a testimony by Alvar Zetterquist. In 1952, the Haijby affair became one of the major events of the year, and in a couple of editorials in Dagens Nyheter Herbert Tingsten argued that what had happened was outrageous and demanded a public clarification of what had happened. Haijby was released from prison in 1956 for health reasons, after several rejected requests for mercy. He committed suicide in August 1965, a year after Anna Haijby's death. At times, there was much-vaunted debates in the press and parliament, there was talk of "legal rot", and the actions of some senior officials in connection with the affair were criticised. Vilhelm Moberg in particular was active in criticizing both the Swedish legal society and the monarchy as an institution.
---
My published books:


---
Woods, Gregory. Homintern . Yale University Press. Edizione del Kindle.