Wife Kay Francis
Queer Places:
8401 Fountain Ave, West Hollywood, CA 90069
Forest Lawn Memorial-Parks & Mortuaries, 1712 S Glendale Ave, Glendale, CA 91205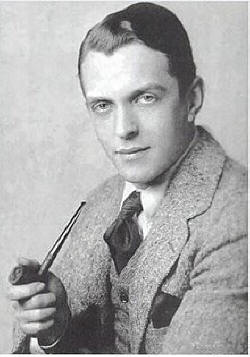 Kenneth MacKenna (born Leo Mielziner Jr.; August 19, 1899 – January 15, 1962) was an American actor and film director.
MacKenna was born as Leo Mielziner Jr. in Canterbury, New Hampshire to portrait artist Leo Mielziner (December 7, 1868 - August 11, 1935), the son of a prominent Reform rabbi (Moses Mielziner) and Ella Lane McKenna Friend (March 18, 1873 – February 2, 1968). Ella and Leo were married October 20, 1896 in Boston, Massachusetts after having fallen in love in Paris, where Leo was a young artist. Leo Sr. was born in New York City had a career as a notable portrait artist, living with his wife and children between Paris, New York, Cape Cod and New Hampshire. Leo, Sr. died in Truro, Massachusetts.[1]
Before Leo, Jr., was 10 years old his family had moved to New York City. He acted in and directed plays while in his teens. He served in the military, then, after returning to New York City, signed a three-year acting contract with producer William A. Brady. He had appeared in seven Broadway shows by 1923 and toured the country in two of those. After sound films arrived, he signed a contract with Fox Film Corporation in 1929 and moved to California.
Starting in 1931, he directed a few films in Hollywood, then resumed his Broadway theatre career in the mid-1930s. Soon Metro-Goldwyn-Mayer hired him as a story editor in New York. Later, back in Hollywood, he was made department head. He returned to acting in the late 1950s both on stage and in film.
Kenneth and his wife, Mary Philips, both actors, were also long-time supporters of the arts. As angels for the first production of South Pacific, Kenneth first brought the book to Richard Rodgers, suggesting its production as a stage musical. The Rodgers had been long-time friends with the MacKennas/Mielziners. Mary Martin, who starred in that production, created an embroidered signature scarf of all the stars in that first production of South Pacific and presented it as a gift of thanks to Kenneth and Mary. This scarf was later given as a gift to Lucille Hackett (née Bardorf), cousin and beloved "sister" to Mary Philips. Kenneth's role as an angel and his position as a director with MGM can be further researched through the Mielziner papers at the New York Public Library and through the library at MGM. Mary Philips had a successful career as a stage and film star during the golden age of the theatre. In September 1924, Humphrey Bogart had appeared in the Broadway play Nerves with Kenneth and Mary Philips. They all became good and lifelong friends. Philips was later married to Bogart (1928–1938), but the marriage ended in divorce. Kenneth MacKenna married Mary Philips in 1938. It was the second and final marriage for both.
One of MacKenna's last roles was portraying fictional Judge Kenneth Norris in the film Judgment at Nuremberg, which was released less than a month before MacKenna's death.
MacKenna was first married to actress Kay Francis on January 17, 1931. They divorced in February 1933. He married Mary Philips in August 1938 and they remained married until his death from cancer. As his wife, long-time friend, and companion, Philips described Kenneth as her true soulmate and felt as though her own life had come to an end when Kenneth died. MacKenna and Philips were buried at Forest Lawn Memorial Park in Glendale, California.
---
My published books:


---
https://en.wikipedia.org/wiki/Kenneth_MacKenna
Behind the Screen: How Gays and Lesbians Shaped Hollywood, 1910-1969, William J. Mann, 2001