Queer Places:
Karol Szymanowski House, Nowy Świat 47, Warszawa, Polonia
Villa Atma, Kasprusie 19, 34-500 Zakopane, Poland
Church on the Rock, Skałeczna 15, 31-065 Kraków, Polonia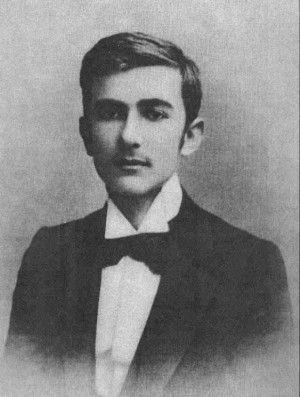 Karol Maciej Szymanowski (3 October 1882 – 29 March 1937) was a Polish composer and pianist, the most celebrated Polish composer of the early 20th century. He is considered a member of the late 19th-/early 20th-century modernist movement Young Poland and widely viewed as one of the greatest Polish composers.
The early works show the influence of the late Romantic German school as well as the early works of Alexander Scriabin, as exemplified by his Étude Op. 4 No. 3 and his first two symphonies. Later, he developed an impressionistic and partially atonal style, represented by such works as the Third Symphony and his Violin Concerto No. 1. His third period was influenced by the folk music of the Polish Górale people, including the ballet Harnasie, the Fourth Symphony, and his sets of Mazurkas for piano. King Roger, composed between 1918-1924, remains the most popular opera by Szymanowski. His other significant works include opera Hagith, Symphony No. 2, The Love Songs of Hafiz, and Stabat Mater.
He was awarded the highest national honors, including the Officer's Cross of the Order of Polonia Restituta, the Order of Merit of the Republic of Poland and other distinctions, both Polish and foreign.[1]
When the family estate was destroyed during peasant riots in 1917, Szymanowski consoled himself in the drabness of Elizavetgrad, to which he had fled, by embarking on a novel, The Ephebe (Efebos). Brimming with nostalgia for the mythic South, the book exists now only in fragments – much of it was burnt in Warsaw in 1939 – but we know that its plot concerned the homosexual peregrinations of its central character, Prince Ali Lowicki.
In 1918, Szymanowski completed the manuscript of a two-volume novel, Efebos, which took homosexuality as its subject.[3][4] His travels, especially those to the Mediterranean area, provided him with new experience, both personal and artistic. Arthur Rubinstein found Szymanowski different when they met in Paris in 1921: "Karol had changed; I had already begun to be aware of it before the war when a wealthy friend and admirer of his invited him twice to visit Sicily. After his return he raved about Sicily, especially Taormina. 'There,' he said, 'I saw a few young men bathing who could be models for Antinous. I couldn't take my eyes off them.' Now he was a confirmed homosexual. He told me all this with burning eyes."[5]
Szymanowski's time in the dreary surroundings of Elizavetgrad had been temporarily enlivened by the arrival of a beautiful, teenage refugee from Russia, Boris Kochno. They had a brief affair before the composer managed to get him safely out of the Ukraine to Warsaw. The affair, although fleeting, had a profound effect on the composer's life, irrevocably confirming his homosexuality and helping him to come out in a mood of positive self-belief, at least when abroad. (Elizavetgrad was another matter.) Not until he visited Paris, late in 1920, did Szymanowski discover what had happened to the boy. He had found his way to Paris and was now the secretary and lover of Sergei Diaghilev.
---
My published books:


---
https://en.wikipedia.org/wiki/Karol_Szymanowski
Woods, Gregory. Homintern . Yale University Press. Edizione del Kindle.