Queer Places:
Skogsö Kapell och Kyrkogård Saltsjobaden, Nacka kommun, Stockholms län, Sweden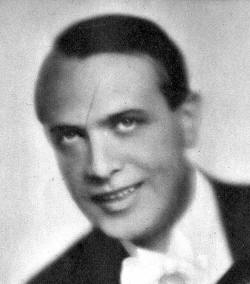 Karl Gerhard (April 14, 1891 - April 22, 1964) was a Swedish actor, cabaret entertainer and songwriter. Gerhard started out as a dramatic actor, but from the 1920s onwards he rose to fame by introducing a new form of revue in which he satirised contemporary trends, politicians and society figures. Gerhard both wrote and starred in all his revues, producing over 60 of them and writing more than 4,000 songs. Elegant and urbane in style and attitudes, he has been described as a cross between Aristophanes, Maurice Chevalier and Noel Coward. During the 1930s he became a staunch opponent of Nazism and fascism, and in 1941 one of his revues was censored after an intervention from the German embassy. Gerhard, who was married three times, spent the latter part of his life living with another man and an adopted daughter. An inspired female impersonator, Gerhard also dealt with the themes of homosexuality and sexual inversion in some of his songs, and did so very openly despite homosexuality being illegal at the time. Notable examples are his signature number 'Jazzgossen' ('The Jazz Boy') from 1922 in which he satirises the effeminate homosexual dandies of the 1920s, and 'La Garçonne' and 'Flickan i frack' ('The Girl in Tails'), which deal with masculine ideals among women.
---
My published books:


---
Robert Aldrich and Garry Wotherspoon. Who's Who in Gay and Lesbian History Vol.1: From Antiquity to the Mid-Twentieth Century: From Antiquity to the Mid-twentieth Century Vol 1 (p.179). Taylor and Francis. Edizione del Kindle.