Queer Places:
University of Houston, 4800 Calhoun Rd, Houston, TX 77004, Stati Uniti
Palazzo Chupi, 360 W 11th St, New York, NY 10014, Stati Uniti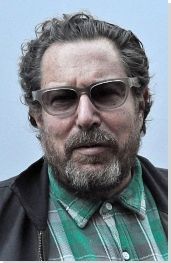 Julian Schnabel (born October 26, 1951) is an American painter and filmmaker. In the 1980s, Schnabel received international media attention for his "plate paintings"—large-scale paintings set on broken ceramic plates.
Schnabel directed Before Night Falls, based on the autobiography of the same name of Reinaldo Arenas, which became Javier Bardem's breakthrough Academy Award-nominated role, and The Diving Bell and the Butterfly, which was nominated for four Academy Awards.
He has won the award for best director at the 2007 Cannes Film Festival,[1] a Golden Globe, as well as BAFTA, a César Award, four nominations for the Golden Lion and an Academy Award nomination.
In 1980, he married Belgian clothing designer Jacqueline Beaurang; they have three children:[14][15] two daughters, Lola, a painter and filmmaker, Stella, a poet and actress, and a son, Vito, an art dealer.[16]
He has twin sons, Cy and Olmo, with his second wife, Basque actress Olatz López Garmendia.[17][18][19]
His collaboration with Palestinian journalist Rula Jebreal, who penned the screenplay and original source novel for Schnabel's film Miral, extended beyond the movie. Schnabel was in a relationship with her from 2007 to 2011.[20][21][22]
Schnabel dated Danish model May Andersen; they have a son, who was born in June 2013.[23]

Palazzo Chupi
Schnabel lives in New York, maintaining studios in New York City and in Montauk on the far eastern end of Long Island. Schnabel resides at 360 West 11th Street, in a former West Village horse stable that he purchased and converted for residential use, adding five luxury condominiums in the style of a Northern Italian palazzo. It is named the Palazzo Chupi, and it is easy to spot because it is painted pink.[24]
---
My published books:

---
https://en.wikipedia.org/wiki/Julian_Schnabel