Partner James Broughton
Queer Places:
Westbeth Artists Housing, 55 Bethune St, New York, NY 10014
Born in Montreal, Canada in 1948, it was at 12 that Joel Singer (born May 22, 1951) first discovered the enchantment of image-making when his brother set up a black & white darkroom in their basement.
He majored in fine arts. Film quickly became his passion, and he began to dream of leaving Canada in order to leap into the great renaissance in avant-garde cinema afoot in the U.S.A. His search for graduate schools began in 1973 when he had the good fortune to visit San Francisco and sit-in on a film history class taught by the poet/filmmaker James Broughton at the San Francisco Art Institute.
They spent the next 15 years in the Bay Area, sharing fully in art and life: they collaborated on seven films and Singer designed and handset several volumes of Broughton's poetry. Singer's photo collages appear as cover art on several other volumes of Broughton's work.
In 1989 they moved to the Pacific Northwest, settling in Port Townsend, Washington where they spent the last decade of Broughto's life. Singer became part of an artist's cooperative gallery and his own photographic collage work thrived. From the woods of the Pacific Northwest he moved to Greenwich Village where he lived in the artist's building "Westbeth" with the writer-anthropologist Tobias Schneebaum who had been a close friend of both Broughton and Singer. Singer lived with Schneebaum for 4 years until Schneebaum lost his battle with Parkinson's Disease. At what turned out to be Schneebaum's last public reading, Singer met his current partner, a Brooklyn born psychiatrist with the Hindu name Nirgrantha who was building his dream house on the magical island of Bali. For the past five years, Nirgrantha and Singer have been living full-time in the heart of Bali.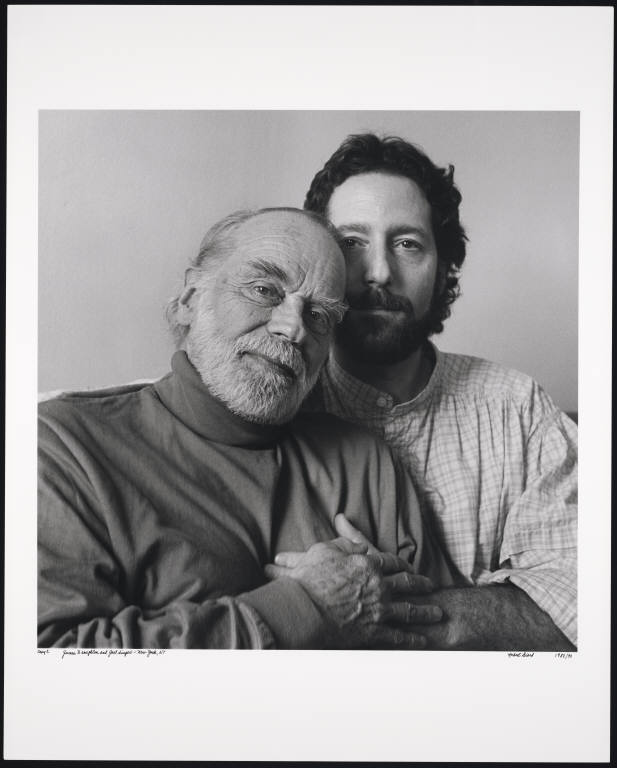 Featured in Particular Voices: Portraits of Gay and Lesbian Writers by Robert Giard [Rights Notice: Copyright Jonathan G. Silin (jsilin@optonline.net)]

Westbeth Artists Housing, 55 Bethune St, New York, NY 10014
---
My published books:

---
http://www.joelasinger.com/bio/