Queer Places:
Little Sister's Book and Art Emporium, 1238 Davie St, Vancouver, BC V6E 1N3, Canada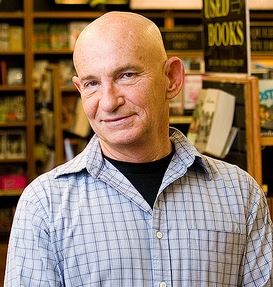 Jim Deva (1949 - September 21, 2014) was a gay rights and anti-censorship activist. Deva, who was co-owner of Little Sister's Book & Art Emporium.
Deva was well known in the West End community of Vancouver where Little Sister's opened up in 1983 on Davie Street. At the time, Little Sister's was the only gay and lesbian bookstore in Western Canada, and was the target of repeated vandalism and bombings.
Little Sister's has repeatedly taken legal action against the federal government over issues of censorship, challenging the authority of Canada Customs to seize materials the agency deems to be "obscene". Little Sister's took its case all the way to the Supreme Court of Canada, which ruled in 2000 that Canada Customs had unfairly targeted the store. The decade-long legal battle with the federal government was detailed in the 2002 documentary Little Sister's VS Big Brother.
Deva, along with manager Janine Fuller, was the recipient of the Gray Campbell Distinguished Service Award at the 2014 BC Book Awards for his efforts to fight censorship.
Jim Deva passed away suddenly on September 21, 2014, after reportedly falling from a ladder while doing housework in his backyard. He is survived by his partner, Bruce Smyth.
---
My published books:

---
https://www.vancourier.com/jim-deva-lgbtq-activist-dead-at-65-1.1384225