Partner Gill Storey
Queer Places:
University of Oklahoma, 660 Parrington Oval, Norman, OK 73019
Founders Metropolitan Community Church Los Angeles, 4607 Prospect Ave, Los Angeles, CA 90027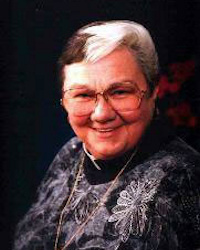 Rev. Elder Jeri Ann Harvey was born January 3, 1934, in Oklahoma City, Oklahoma (USA) into a Cherokee nation family. She graduated from high school in 1952 and received her Bachelor of Science degree from the University of Oklahoma in 1961. She served two years with the United States Navy (1952-1954) and was honorably discharged. She studied theology at Oklahoma South Western University.
Prior to the ministry, Harvey worked as a medical technologist and psychiatric technician in private clinics and the V.A. Hospital. She also had several articles and poetry published and was recorded as a singer with the Nelson Riddle Orchestra in 1953.
Jeri Ann became a member of the Metropolitan Community Church (MCC) in 1972. MCC founder Troy Perry recalls: "It was MCC's 1974 General Conference in San Francisco; I was talking with an MCCer when the young woman stepped in between us, flashed a smile, and said, 'Let a real butch belly up to the bar.' That's how I first met Jeri Ann Harvey – and she's been making an impression on me, and thousands of others, ever since."
She was licensed as a minister in Dallas, Texas (USA) in 1975. She was ordained in Denver, Colorado (USA) in 1977 and was elected to the Board of Elders in Los Angeles, California (USA) in 1979. She pastored Christ the King MCC in Oklahoma City, Oklahoma, Resurrection MCC in Houston, Texas. In April 1978, Rev. Harvey was the first woman elected pastor of the founding church, MCC Los Angeles, which she served until the summer of 1985 when she was called to be a full-time Evangelist.
Rev. Elder Harvey served the MCC as District Coordinator of the South Central District and as Liaison Elder to the Mid-Central and Northeast Districts. She also served on the national board of directors of the Human Rights Campaign Fund, as well as several Los Angeles organizations.
Rev. Elder Jeri Ann was well known in MCC as having a healing touch. She held healing services at MCC's General Conferences which were always well-attended. Her last General Conference was in Alberta, Calgary (Canada) in 2005 where her final healing service was packed to the rafters. At that conference, Jeri Ann also served as witness for long-time MCC member Frank Zerilli at his and Franklin's legal wedding.
MCC moderator Nancy Wilson recalls: "Jeri Ann loved. She loved women and men; she loved kids and puppies. She loved the freedom and the power of the gospel of Jesus that she heard and shared on so many continents through MCC. She loved good music, religious music. She loved a good story. She loved our MCC churches, members and pastors, in small or larger churches. She prayed with them, wept with them. She traveled all over the world; she wore herself out sometimes. She gave until it hurt, many times. The stories of her life and ministry became our history. She confronted the Ku Klux Klan in Texas. She battled for civil rights in California. And like so many of us in the 80's and 90's she did too many funerals. She buried too many friends - from HIV/AIDS, from breast cancer, from all the things that take too many too soon. Jeri Ann Harvey preached hope and she lived hope. She endured a lot; she suffered and struggled a lot. Through it all, she was a fighter and a lover and an icon for many."
After leaving the United States, Jeri Ann and her partner, Rev. Elder Gill Storey, moved to Spain where Jeri Ann died May 28, 2008, at home.
---
My published books:

---
https://lgbtqreligiousarchives.org/profiles/jeri-ann-harvey