Partner Timothy Wu, Husband Michael P. Nguyen
Queer Places:
Swarthmore College, 500 College Ave, Swarthmore, PA 19081
James Catherwood Hormel (born January 1, 1933) is an American philanthropist and a former United States Ambassador to Luxembourg; appointed by U.S. President Bill Clinton in 1999, Hormel was the first openly LGBT person to serve as a U.S. Ambassador[1] and is a noted LGBT activist.
Hormel was born in Austin, Minnesota. He is the grandson of George A. Hormel, founder of Hormel Foods (producers of Spam and other processed meat products). He earned a B.A. in history (1955) from Swarthmore College, Pennsylvania and a law degree (1958) from the University of Chicago Law School where he later served as dean of students and director of admissions. In 1981 he was one of the founders of the Human Rights Campaign. He was a member of the 1995 United Nations Commission on Human Rights and the 1996 U.S. delegation to the United Nations General Assembly, and the boards of directors of the San Francisco Chamber of Commerce and the American Foundation for AIDS Research. Hormel funded the creation of James C. Hormel Gay & Lesbian Center at the San Francisco Public Library in 1995. It is the gateway to collections documenting lesbian, gay, bisexual and transgender (LGBT) history and culture, with a special emphasis on the San Francisco Bay Area.
Hormel was appointed United States Ambassador to Luxembourg by President Bill Clinton in 1999. When he was appointed through a recess appointment, Hormel became the first openly gay man to represent the United States as an ambassador.
Hormel participated in numerous events, including a conference organized in 2004 by Amnesty International in the frame of the Geneva Gay Pride. In 2010 he was given the Lifetime Achievement Grand Marshal Award by San Francisco Pride Board of Directors for his LGBT activism over several decades.[2]
In 1994, President Bill Clinton considered Hormel for the ambassadorship to Fiji, but did not put the nomination forward due to protests from Fiji officials.[3] At the time, gay male sexual acts were punishable with prison sentences in Fiji and Hormel's being open about his sexuality would stand in conflict with "Fijian culture". Instead Hormel was named as part of the United Nations delegation from the US to the Human Rights Commission in 1995, and in 1996 became an alternate for the United Nations General Assembly.[3] In October 1997 Clinton nominated Hormel to be ambassador to Luxembourg, which had removed laws prohibiting consensual same-sex acts between adults in the 1800s.[3][4] This appointment was the first nomination or appointment of an openly LGBT person from the US.[3]
The Senate Foreign Relations Committee approved his nomination with only Republican and conservative Senators Jesse Helms and John Ashcroft opposed. Three other Republicans, James Inhofe, Tim Hutchinson, and Bob Smith, with the urging of religious and social conservatives campaigned vigorously against Hormel's nomination. Trent Lott, the Republican Majority Leader, worked to block the vote and publicly called homosexuality a sin and compared it to alcoholism and kleptomania.[3] Christian-based conservative groups like the Traditional Values Coalition (TVC) and the Family Research Council (FRC) publicly accused Hormel of being pro-pornography and anti-Catholic and the Senators presented those charges to derail the nomination.[5] They asserted that Hormel would be rejected in the largely Catholic Luxembourg. To support the pornography allegation, a list of materials in the Hormel collection at the San Francisco Public Library was compiled by the TVC; it was later pointed out that the same works were also in the Library of Congress.[5] The anti-Catholic allegation stemmed from a 1996 San Francisco Pride parade television interview where he was seen laughing at the same time the Sisters of Perpetual Indulgence, a group that pokes fun at religious conventions, walked by.[6] The Catholic League opposed his nomination because of his "embrace" of the Sisters which the League considers an anti-Catholic group.[7] Although it was unclear why he was laughing, Christian right conservative group FRC distributed video tapes to the entire Senate of the brief event.[8]
Concerns about Hormel's reception in Luxembourg were "blunted when officials of the country, which has laws against discrimination based on sexual orientation, indicated that he would be welcome."[9][10] Senator Alfonse D'Amato of New York found the obstruction of the nomination an embarrassment and urged that Trent Lott bring the issue up for a vote.[11][12] When Lott continued to stall, Clinton employed a recess appointment in May 1999. Hormel was sworn in as ambassador in June 1999. His partner at the time, Timothy Wu, held the Bible during the ceremony.[13][14][15][16] Also in attendance were Hormel's former wife, his five children, and several of his grandchildren.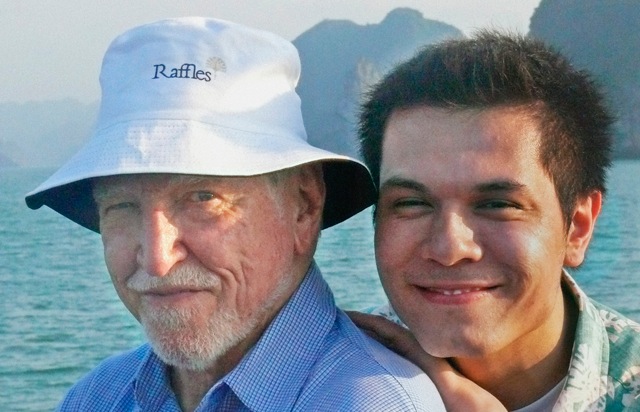 Hormel is the grandson of Hormel Foods founder George A. Hormel and the son of Jay C. Hormel who became President of Hormel Foods in 1929. Hormel's late brother, Geordie Hormel was a musician and recording studio proprietor. His brother Thomas Hormel is an American composer and environmental philanthropist. Hormel has five children, fourteen grandchildren, and five great-grandchildren. He lives in San Francisco, California with his husband, Michael P. Nguyen.[17] In his bio's, Fit to Serve, close Hormel speaks, almost lyrically, of falling in love—and wrestling privately with ageism—after meeting his current partner, a dancer and musician. "Michael is so much a part of my discovery process. He's shown me the surprising beauty of life and to see it through the eyes of someone of another generation, someone who's thoughts aren't clouded with misconceptions. Michael's enabled me to see the gift of being true to ourselves."
---
My published books:

---
https://en.wikipedia.org/wiki/James_Hormel