Queer Places:
St Leonard, Sheepstor, Yelverton PL20 6PF, Regno Unito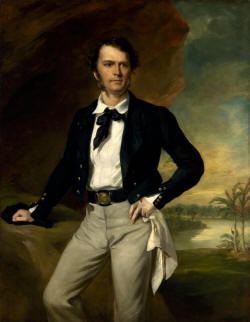 Sir James Brooke, Rajah[note] of Sarawak, KCB (29 April 1803[1] – 11 June 1868), was a British soldier and adventurer who founded the Kingdom of Sarawak in Borneo. He ruled as the first White Rajah of Sarawak from 1841 until his death in 1868.
Brooke was born and raised under the Company Raj in India. After a few years of education in England, he served in the Bengal Army, was wounded, and resigned his commission. He then bought a ship and sailed out to the Malay Archipelago where, by helping to crush a rebellion, he became governor of Sarawak. He then vigorously suppressed piracy in the region and, in the ensuing turmoil, restored the Sultan of Brunei to his throne, for which the Sultan made Brooke the Rajah of Sarawak. He ruled until his death.
Brooke was not without detractors and was criticised in the British Parliament and officially investigated in Singapore for his anti-piracy measures. He was, however, honoured and feted in London for his activities in Southeast Asia. The naturalist Alfred Russel Wallace was one of many visitors whose published work spoke of his hospitality and achievements.
Brooke was influenced by the success of previous British adventurers and the exploits of the British East India Company. His actions in Sarawak were directed at expanding the British Empire and the benefits of its rule, assisting the local people by fighting piracy and slavery, and securing his own personal wealth to further these activities. His own abilities, and those of his successors, provided Sarawak with excellent leadership and wealth generation during difficult times, and resulted in both fame and notoriety in some circles. His appointment as Rajah by the Sultan, and his subsequent knighthood, are evidence that his efforts were widely applauded in both Sarawak and British society.
Among his alleged relationships was one with Badruddin, a Sarawak prince, of whom he wrote, "my love for him was deeper than anyone I knew." This phrase led to some considering him to be either homosexual or bisexual. Later, in 1848, Brooke is alleged to have formed a relationship with 16‑year‑old Charles T. C. Grant, grandson of the seventh Earl of Elgin, who supposedly 'reciprocated'.[11][12] Whether this relationship was purely a friendship or otherwise has not been fully revealed. One of Brooke's recent biographers wrote that during Brooke's final years in Burrator in Devon "there is little doubt ... he was carnally involved with the rough trade of Totnes."[13] However, Barley does not note from where he garnered this opinion. Others have suggested Brooke was instead "homo-social" and simply preferred the social company of other men, disagreeing with assertions he was a homosexual.[14]
Although he died unmarried, he did acknowledge one son. Neither the identity of the son's mother nor his birth date is clear. This son was brought up as Reuben G. Walker in the Brighton household of Frances Walker (1841 and 1851 census, apparently born ca. 1836). By 1858 he was aware of his Brooke connection and by 1871 he is on the census at the parish of Plumtree, Nottinghamshire as "George Brooke", age "40", birthplace "Sarawak, Borneo". He was married (in 1862[15]) and had seven children, three of whom survived infancy; the oldest was called James. George died travelling to Australia, in the wreck of the SS British Admiral[16][17] on 23 May 1874. A memorial to this effect – giving a birthdate of 1834 – is in the churchyard at Plumtree.[18]
James Brooke was 'a great admirer' of the novels of Jane Austen, and would 'read them and re-read them', including aloud to his companions in Sarawak.[19]
Brooke ruled Sarawak until his death in 1868, following three strokes over ten years. All three White Rajahs are buried in St Leonard's Church in the village of Sheepstor on Dartmoor.
---
My published books:


---
https://en.wikipedia.org/wiki/James_Brooke#References