Queer Places:
Ismat Chughtai Girls Hostel, Government Institute of Medical Sciences, University campus,Gautam Buddha Nagar, Greater Noida, Uttar Pradesh 201310, India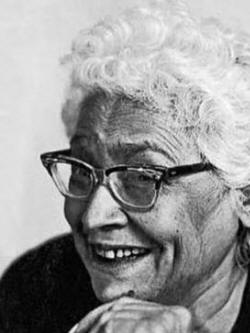 Ismat Chughtai (21 August 1915 – 24 October 1991) was an Indian Urdu novelist, short story writer, and filmmaker. Beginning in the 1930s, she wrote extensively on themes including female sexuality and femininity, middle-class gentility, and class conflict, often from a Marxist perspective. With a style characterised by literary realism, Chughtai established herself as a significant voice in the Urdu literature of the twentieth century, and in 1976 was awarded the Padma Shri by the Government of India.
The fictional Sita and Radha are sisters-in-law in the film Fire who fall in love with each other. Deepa Mehta, the director of the film, based it loosely on an Urdu story, "The Quilt," written in 1941 by Ismat Chughtai, the headmistress of a girls' school. In Chughtai's tale, which the government denounced as obscene, a young girl comes to live in a wealthy Muslim household, where she is witness to the relationship between Begum Jan, the lady of the house, and her servant Rabbo.
---
My published books:


---
Rupp, Leila J.. Sapphistries (Intersections) (pp.206-207). NYU Press. Edizione del Kindle.