Queer Places:
Wheelwright Museum of the American Indian, 704 Camino Lejo, Santa Fe, NM 87505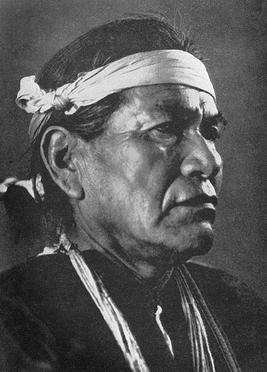 Hosteen Klah (Navajo: Hastiin Tł'a, 1867– February 27, 1937)[1] was a Navajo artist and medicine man. He documented aspects of Navajo religion and related ceremonial practices. As a traditional nádleehi person, he was both a ceremonial singer and master weaver.
Hosteen Klah, also spelled Hastiin Klah, was born in 1867 at Bear Mountain, near Fort Wingate, New Mexico. His name essentially means Sir Left Handed in Navajo; in his youth, he was called Ahway Eskay (Awéé' ashkii). Hoksay Nolyae was his father and Ahson Tsosie, of the Tsétaa'áanii Clan, was his mother.[2] Klah was born after the Navajos' return to their homelands from forced government internment at Bosque Redondo. Klah avoided attending government school;[3] rather, he received training in the traditionally male realm of ceremonial practices (chanting and sandpainting) from his uncle. While most individuals master only one or two complete chants, Klah mastered at least eight.
Hosteen Klah is most commonly believed to be intersex.[2] An influential figure in the development of Navajo weaving, Klah was relatively unique in that, among the Navajo, weavers are typically women, and ceremonial singers (hataałii) are usually male. Hosteen Klah, however, was both a weaver and a singer. This was possible because of his particular gender status as a Nádleehi (meaning "one who is transformed" or "one who changes"). Nádleehi are unique to Navajo culture, and can be born male or intersex.[3]
Identified as a nádleeh in adolescence, Klah began his training in the traditionally female craft of weaving with his mother and sister in the 1880s. Klah wove his first complete weaving at the 1892–1893 World's Columbian Exposition in Chicago,[2][3] where he was probably part of a sandpainting demonstration.
In 1916, Klah wove imagery from the Yé'ii bicheii dance into a rug. He incorporated more representations of Navajo religion into his weaving, including sandpainting imagery by 1919. This practice was regarded as sacrilegious by many Navajo traditionalists[2][3] and is regarded as such by some Navajo people today.
Klah taught his two nieces both his weaving techniques and designs.[3]
In 1921, Hosteen Klah was introduced to Mary Cabot Wheelwright, a Boston heiress. The two became friends and collaborated in founding the Wheelwright Museum of the American Indian in Santa Fe, New Mexico. Fearing for the future of Navajo religion after witnessing decades of assimilationist assaults on traditional culture by missionaries and the US government, Klah wanted to document Navajo religion and make it available for future generations. The museum was initially called the Navajo House of Prayer and House of Navajo Religion, but then renamed the Museum of Navajo Ceremonial Art, and ultimately renamed in 1977, when the museum repatriated sensitive cultural patrimony back to the Navajo Nation.[4]
In 1942 the Museum of Navajo Ceremonial Art (as it was then called) published Navajo Creation Myth - the Story of the Emergence by Hosteen Klah, Recorded by Mary C. Wheelwright.[5]
Hosteen Klah died on February 27, 1937 from pneumonia, and he is buried on the grounds of the Wheelwright Museum.[2]
---
My published books:


---
https://en.wikipedia.org/wiki/Hosteen_Klah