Queer Places:
2727 Benedict Canyon Drive, Beverly Hills, CA 90210
The San Remo, 145 Central Park West, New York, NY 10023
Central Cemetery, Simmeringer Hauptstraße 234, 1110 Wien, Austria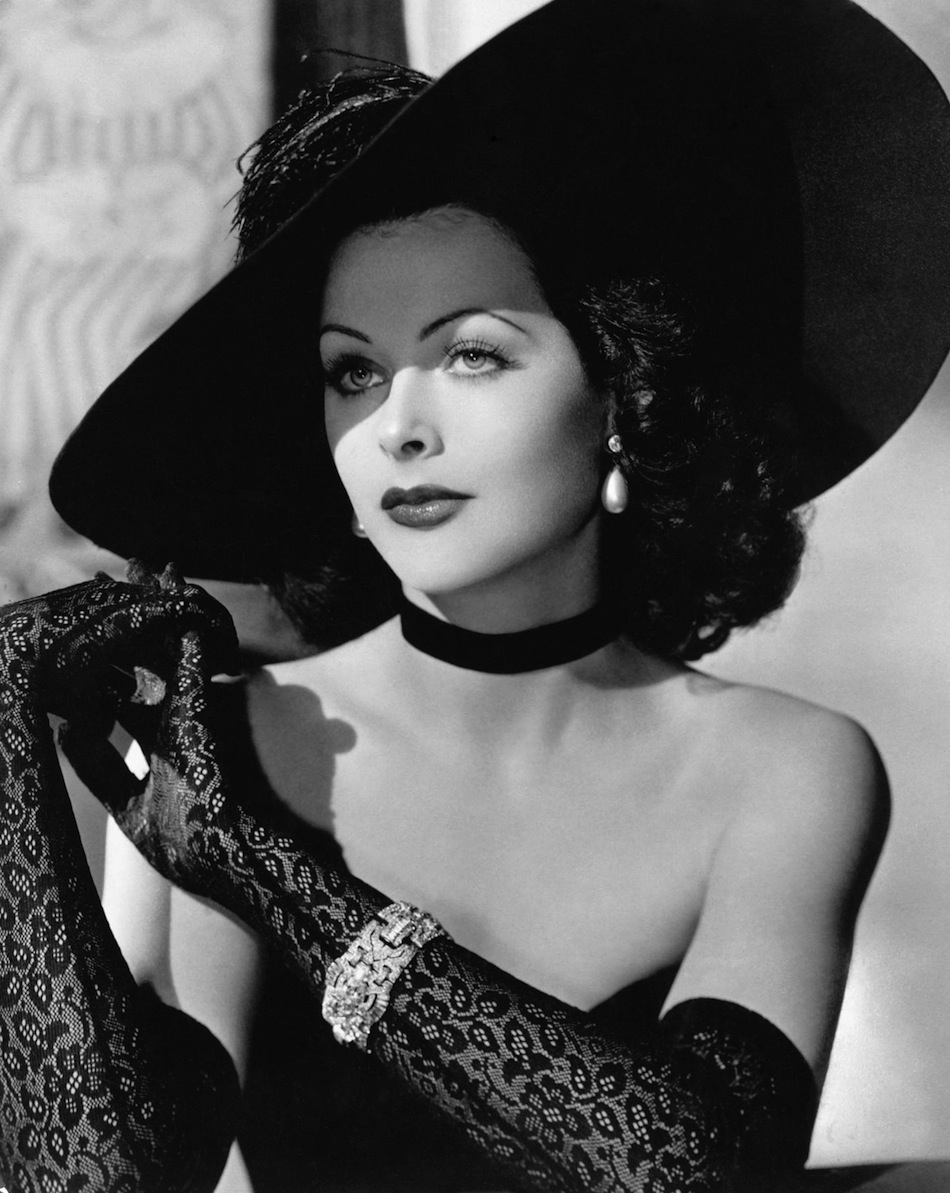 Hedy Lamarr (born Hedwig Eva Maria Kiesler, November 9, 1914 – January 19, 2000) was an Austrian-born American film actress and inventor.[1]
After a brief early film career in Czechoslovakia, including the controversial Ecstasy (1933), she fled from her husband, a wealthy Austrian ammunition manufacturer, and secretly moved to Paris. Traveling to London,[2] she met Metro-Goldwyn-Mayer studio head Louis B. Mayer, who offered her a movie contract in Hollywood, where she became a film star from the late 1930s to the 1950s.[3] Among Lamarr's best known films are Algiers (1938), Boom Town (1940), I Take This Woman (1940), Comrade X (1940), Come Live With Me (1941), H.M. Pulham, Esq. (1941), and Samson and Delilah (1949).[4]
At the beginning of World War II, she and composer George Antheil developed a radio guidance system for Allied torpedoes that used spread spectrum and frequency hopping technology to defeat the threat of jamming by the Axis powers.[5] Although the US Navy did not adopt the technology until the 1960s,[6] the principles of their work are incorporated into Bluetooth technology and are similar to methods used in legacy versions of CDMA and Wi-Fi.[7][8][9] This work led to their induction into the National Inventors Hall of Fame in 2014.[5][10]
Lamarr was married and divorced six times:
Friedrich Mandl (married 1933–1937), chairman of the Hirtenberger Patronen-Fabrik[68]
Gene Markey (married 1939–1941), screenwriter and producer. She adopted a child, James Lamarr Markey (born January 9, 1939) during her marriage with Markey. (He was later adopted by Loder and was thereafter known as James Lamarr Loder.) Lamarr and Markey lived at 2727 Benedict Canyon Drive in Beverly Hills, California during their marriage.[69]
John Loder (married 1943–1947), actor. Children: Denise Loder (born January 19, 1945), married Larry Colton, a writer and former baseball player; and Anthony Loder (born February 1, 1947), married Roxanne who worked for illustrator James McMullan.[70] Anthony Loder was featured in the 2004 documentary film Calling Hedy Lamarr.[60]
Ernest "Ted" Stauffer (married 1951–1952), nightclub owner, restaurateur, and former bandleader
W. Howard Lee (married 1953–1960), a Texas oilman (who later married film actress Gene Tierney)
Lewis J. Boies (married 1963–1965), Lamarr's divorce lawyer

The San Remo, 145 Central Park West, New York
Following her sixth and final divorce in 1965, Lamarr remained unmarried for the last 35 years of her life.
Throughout, she claimed that James Lamarr Markey/Loder was biologically unrelated and adopted during her marriage to Gene Markey.[71] However, years later James found documentation that he was the out-of-wedlock son of Lamarr and actor John Loder, whom she later married as her third husband.[72] She had two more children with him: Denise (born 1945) and Anthony (born 1947) during their marriage.[73]
---
My published books:

---
https://en.wikipedia.org/wiki/Hedy_Lamarr