Queer Places:
25 St Mary St, Toronto, ON M4Y 1R2, Canada
Kerepesi Cemetery, Budapest, Fiumei út 16-18, 1086 Hungary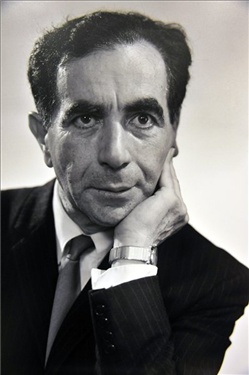 György Faludy (September 22, 1910, Budapest – September 1, 2006, Budapest), sometimes anglicized as George Faludy, was a Hungarian-born poet, writer and translator.
Faludy completed his schooling in the Fasori Evangélikus Gimnázium and studied at the Universities of Vienna, Berlin and Graz. [1]During these times he developed radical liberalist views, which he maintained till the very last days of his life.
In 1938, he left Hungary for Paris because of his Jewish ancestry, and then for the U.S. During World War II, he served in the American forces. He arrived back in Hungary in 1946. In April 1947 he was among a group that destroyed a Budapest statue of Ottokár Prohászka, a Hungarian bishop who is respected by many but who is often considered antisemitic.[2] He only admitted his participation forty years later.
In 1949 he was condemned with fictitious accusations and was sent to the labor camp of Recsk for three years. During this time, he lectured other prisoners in literature, history and philosophy. After his release he made his living by translation. In 1956 (after the Revolution) he escaped again to the West. He settled in London, and was the editor of a Hungarian literary journal.
It was during his stay in London that Faludy wrote his memoir, which was soon translated to English, by which he is still best known outside Hungary: My Happy Days in Hell. (It was only published in his native language in 1987, and since then in several further editions.) He moved to Toronto in 1967 and lived there for twenty years. He gave lectures in Canada and the U.S. and was the editor of Hungarian literary journals. In 1976, he received a Canadian citizenship and two years later was elected as an honorary doctor of the University of Toronto where he regularly taught. His poems were published in New York in 1980 (see below with the other collections).
In 1988 Faludy returned to Hungary. After the fall of communism, his works, which were forbidden, confiscated, destroyed and distributed as samizdat during the Communist period, were at last published in Hungary. New collections of poems appeared in the 1990s, and several translations as well. In 1994 he received the most prestigious award in Hungary, the Kossuth Prize. In 2000 he published the sequel of My Happy Days in Hell:: "After My Days in Hell" in Hungarian (no data available about any English translation), about his life after the labour camp. In the years preceding his death, Faludy was considered not only as a poet, a writer and a translator but as a living legend in Hungary.
Renowned for his anecdotes as well as his writing, he was a celebrated wit whose life story attracted the attentions of many a foreign author. Besides the many European based authors who visited Faludy, there was the Canadian author George Jonas who penned Munich as well as the columnist and poet/playwright Rory Winston.
Faludy's first wife was Vali Ács. His second wife, Zsuzsa Szegő, died in 1963. They had a son, Andrew, born in 1955. In 1963 Eric Johnson (1937–2004), a US ballet dancer and later a renowned poet in contemporary Latin poetry, read the memoir My Happy Days in Hell, became enchanted with the author, and traveled to Hungary in search of Faludy. At this time he began to learn Hungarian and finally caught up with Faludy three years later in Malta. He became his secretary, translator, co-author and partner for the next 36 years.[3] In 2002 when Faludy married again, Johnson left for Kathmandu, Nepal, and died there in February 2004. In 1984, while living in Toronto, Faludy married Leonie Kalman (née Erenyi), a long-time family friend from Budapest and Tangier, Morocco, at Toronto City Hall. George and Leonie kept their separate residences and did not consummate their marriage, but Leonie kept the Faludy name until her death in 2011 (in Fleet, Hants, UK), aged 102. In 2002, Faludy married a 26-year-old poet, Fanny Kovács. Faludy published poems written jointly with his wife.
In 2006, a memorial park was built in his honor designed by the landscape architect Scott Torrance, facing his former apartment at 25 St. Mary's Street. It was initiated by the Toronto Legacy Project to commemorate the outstanding cultural figures of the city. A bronze plaque was placed in the park with his portrait, made by the Hungarian-born sculptor Dora de Pedery-Hunt. His poem Michelangelo's Last Prayer, chosen by the poet, was carved on the plaque in English and in Hungarian.[4]
---
My published books:

---
https://en.wikipedia.org/wiki/Gy%C3%B6rgy_Faludy