Partner Agnes Wergeland, buried together
Queer Places:
Illinois Wesleyan University, 1312 Park St, Bloomington, IL 61701, Stati Uniti
University of Iowa, Iowa City, IA 52242, Stati Uniti
318 S 10th St, Laramie, WY 82070, Stati Uniti
Greenhill Cemetery, Laramie, Wyoming 82072, Stati Uniti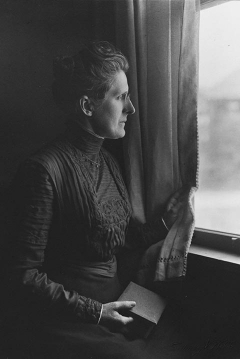 Grace Raymond Hebard (July 2, 1861 – October 1936) gained prominence as a Wyoming historian, suffragist, pioneering scholar, prolific writer, political economist and noted University of Wyoming educator. Hebard's standing as a historian in part rose from her years trekking Wyoming's high plains and mountains seeking first-hand accounts of Wyoming's early pioneers. Today her books on Wyoming history are sometimes challenged due to Hebard's tendency to romanticize the Old West, spurring questions regarding accuracy of her research findings. In particular, her conclusion after decades of field research that Sacajawea (participant in the Lewis and Clark Expedition) was buried in Wyoming's Wind River Indian Reservation is called into question.[1]
Yet Hebard didn't let critics limit her. She served as the first female on the University of Wyoming Board of Trustees, where she exercised authority over the university finances, its president, and faculty.[2] Her University of Wyoming role extended to establishing the university's first library. Moreover, Hebard served as a professor for 28 years. Hebard also broke new ground when she became the first woman admitted to the Wyoming State Bar Association (1898);[3] admitted to practice before the Wyoming Supreme Court (1914); and appointed by her peers as vice president of the National Society of Women Lawyers.[4]
Whether it be as a legal professional, educator, or feminist, the Iowa native spearheaded her own one-woman progressive movement. The range rider seemed to be constantly on the stump in Wyoming giving speeches, organizing historical associations, conducting citizenship classes for immigrants, participating in the local and national suffragist movement, lobbying for child-welfare laws, serving as a Red Cross volunteer, and traveling the state selling war bonds during World War I.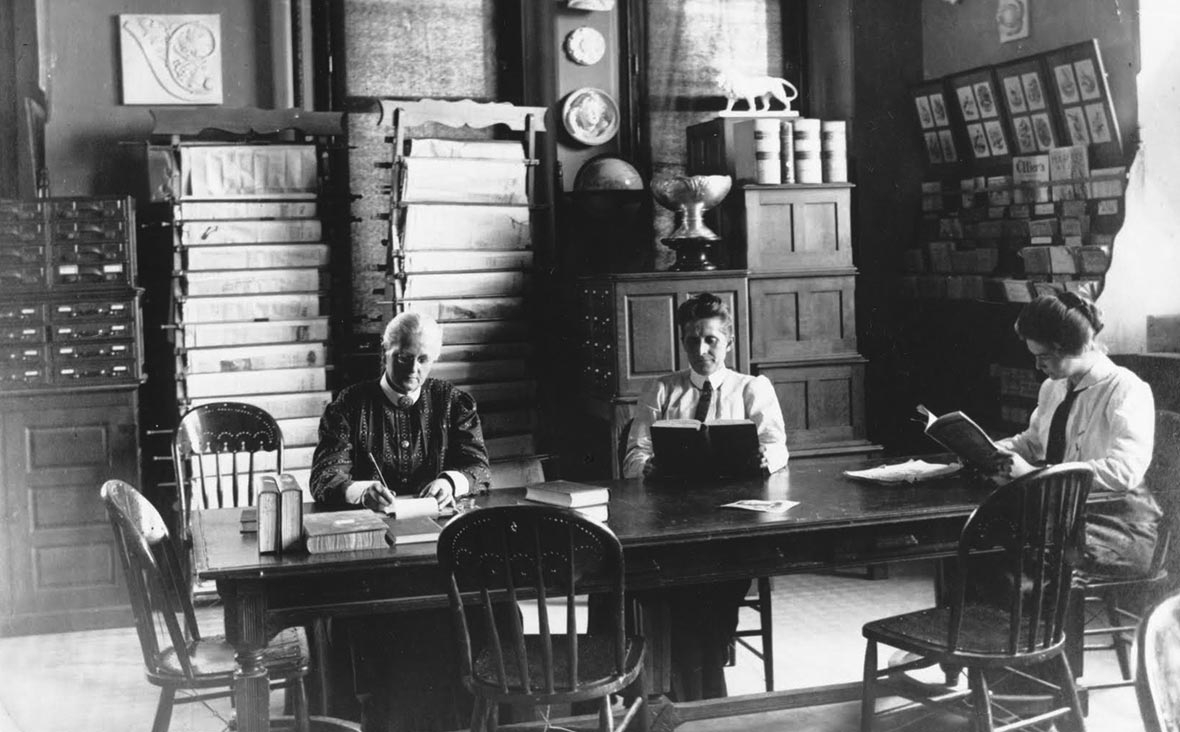 The Doctors' Inn, Laramie

Greenhill Cemetery, Laramie

University of Wyoming, Laramie
Hebard's activism placed her against the prevailing social and political winds that swept through Wyoming and the nation. The way Hebard lived her feminist life, including her deep relationship with fellow Professor Agnes M. Wergeland, spoke volumes about her worldview. Wergeland, like Hebard a feminist, was a trail breaker in her own right. The Norwegian immigrant was the first woman from her country to earn a Ph.D.[3] Wergeland, who became a U.S. citizen in 1902, found in Hebard an ideal tutor for Americanization. Hebard noted: "Dr. Wergeland had never had a realistic conception of what absolute suffrage for women meant until she came to Wyoming, where women are not restricted in their right to vote in any way."[19]
Grace Hebard retired from teaching in 1931. Yet she continued to research and collect historical material in her Laramie home, known to students and colleagues as "The Doctors Inn". Hebard lived in this house that she had had built with her friend, Agnes Wergeland, who died in 1914. Grace's sister Alice Marvin Hebard then lived there until her death in 1928.
The intrepid Hebard is buried across the street from campus at the Greenhill Cemetery in Laramie in a plot near her sister and teacher, Alice, and Wergeland. A plaque memorializing Hebard is mounted on the famed Oregon Trail icon, Independence Rock; located in barren central Wyoming, about 50 miles southwest of Casper.
---
My published books:

---
https://en.wikipedia.org/wiki/Grace_Raymond_Hebard