Friend Giovanni Benivieni, buried together
Queer Places:
Sorbonne, Sorbona, Parigi, Francia
Università di Bologna, Via Zamboni, 33, 40126 Bologna BO, Italia
St Marco, Via Camillo Cavour, 50, 50121 Firenze FI, Italia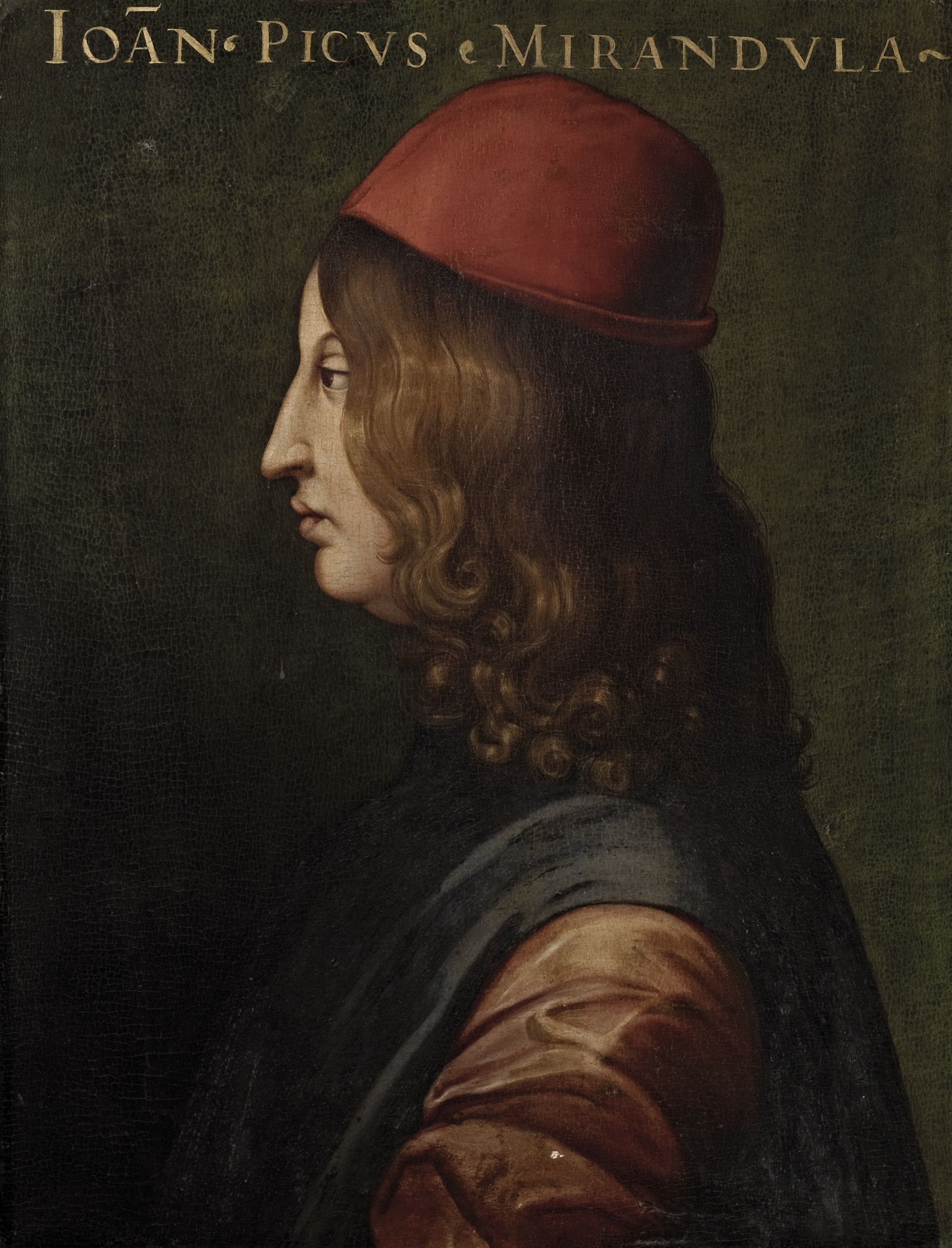 Giovanni Pico della Mirandola (24 February 1463 – 17 November 1494) was an Italian Renaissance nobleman and philosopher.[1] He is famed for the events of 1486, when, at the age of 23, he proposed to defend 900 theses on religion, philosophy, natural philosophy, and magic against all comers, for which he wrote the Oration on the Dignity of Man, which has been called the "Manifesto of the Renaissance",[2] and a key text of Renaissance humanism and of what has been called the "Hermetic Reformation".[3]
A precocious child with an exceptional memory, Giovanni was schooled in Latin and possibly Greek at a very early age. Intended for the Church by his mother, he was named a papal protonotary (probably honorary) at the age of ten and in 1477 he went to Bologna to study canon law.[7]
At the sudden death of his mother three years later, Pico renounced canon law and began to study philosophy at the University of Ferrara.[7] During a brief trip to Florence, he met Angelo Poliziano, the courtly poet Girolamo Benivieni, and probably the young Dominican monk Girolamo Savonarola. For the rest of his life he remained very close friends with all three, including the ascetic and anti-humanist Savonarola.[8] He may also have been a lover of Poliziano.[9]
From 1480 to 1482, he continued his studies at the University of Padua, a major center of Aristotelianism in Italy.[7] Already proficient in Latin and Greek, he studied Hebrew and Arabic in Padua with Elia del Medigo, a Jewish Averroist, and read Aramaic manuscripts with him as well. Del Medigo also translated Judaic manuscripts from Hebrew into Latin for Pico, as he would continue to do for a number of years. Pico also wrote sonnets in Latin and Italian which, because of the influence of Savonarola, he destroyed at the end of his life.
He spent the next four years either at home, or visiting humanist centres elsewhere in Italy. In 1485, he travelled to the University of Paris, the most important centre in Europe for Scholastic philosophy and theology, and a hotbed of secular Averroism. It was probably in Paris that Giovanni began his 900 Theses and conceived the idea of defending them in public debate.
In 1494, at the age of 31, Pico was poisoned under mysterious circumstances along with his friend Angelo Poliziano.[14] It was rumored that his own secretary had poisoned him because Pico had become too close to Savonarola.[12] He was interred together with Girolamo Benivieni at San Marco and Savonarola delivered the funeral oration. Ficino wrote: "Our dear Pico left us on the same day that Charles VIII was entering Florence, and the tears of men of letters compensated for the joy of the people. Without the light brought by the king of France, Florence might perhaps have never seen a more somber day than that which extinguished Mirandola's light."[12]
In 2007, the bodies of Poliziano and Pico della Mirandola were exhumed from St. Mark's Basilica in Florence. Scientists under the supervision of Giorgio Gruppioni, a professor of anthropology from Bologna, wished to use modern technology to determine the cause of the two men's death.[8] In February 2008 they announced that these forensic tests showed that both Poliziano and Pico died of arsenic poisoning, probably at the order of Lorenzo's successor, Piero de' Medici.[15]
---
My published books:


---
https://en.wikipedia.org/wiki/Giovanni_Pico_della_Mirandola