Queer Places:
Homewood Cemetery Pittsburgh, Allegheny County, Pennsylvania, USA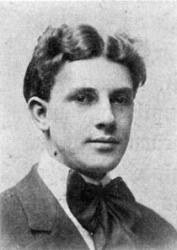 George Mahaffey Patterson "M.P." Baird (September 5, 1887 - July 14, 1970) wrote the words for the University of Pittsburgh "Alma Mater." He suggested the Panthers as the name of the football team, and was actively associated with the Scottish Room Committee. He was a friend of painter Frederick A. Demmler.

DM 120. George M. P. Baird, 1917. 41.5" x 31.5" oil on canvas. [Westmoreland; photo: Kaufmann]
A graduate of Pitt, B.A. in 1909, he later taught English there and formed the Pitt Players. He left his teaching position at Pitt for the Army in 1917. Upon his return he began a new career in government service in the city of Pittsburgh. Baird was executive secretary of the Art Commission of the city of Pittsburgh and chief examiner and later president of the Civil Service Commission. He became executive secretary of the Department of City Planning and senior research analyst, serving there until his retirement in 1960. Throughout his life he maintained a strong interest in the theater. He wrote and produced several one-act plays, directed, served as a theater consultant and lectured on the theater. George M.P. Baird wrote on Pittsburgh and on Pittsburgh history, primarily in the period before World War II.
Author of several volumes of poems and plavs. Baird was a member of Kappa Sigma fraternity and Omicron Delta Kappa honorary fraternity, American Legion Post 59, Scottish Rite and Syria Temple, Bellefield Masonic Lodge 680 and various Masonic orders.
He married and had 3 children. Baird lived at 4 Ellsworth Terrace, Shadyside.
---
My published books:

---
The Pittsburgh Press Pittsburgh, Pennsylvania 16 Jul 1970, Thu • Page 35
Papers of George M. P. Baird, ca. 1915-ca. 1960. (University of Pittsburgh).