Partner Gary Abrahams, buried together
Queer Places:
Forest Lawn Memorial Park (Hollywood Hills) Los Angeles, Los Angeles County, California, USA, Plot Lincoln Terrace, Lot 4518B, Space 3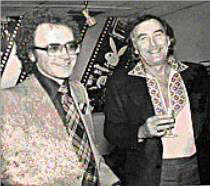 Gary Essert (October 15, 1938 - December 16, 1992) was the founder and director of the Los Angeles International Film Festival and the founder and chief executive officer of the American Cinematheque,
In 1971, Essert founded Filmex, the Los Angeles International Film Exposition, with the help of such Hollywood figures as George Cukor. As the exposition's director, he developed it into the largest public film event in the world, screening several hundred movies each year. He left the organization after a dispute with the board in 1984 and founded the American Cinematheque, a sister organization to the Cinematheque Francaise and the British Film Institute. He served as its chief executive officer until his death.
Essert was born in Oakland, Calif. He served in the Navy from 1957-61 aboard the U.S.S. Ticonderoga, and was a graduate of the University of California at Los Angeles. From 1967-69, he operated The Kaleidoscope, a multi-media dance and concert hall. In 1975, he produced "The Movies," a documentary for the Motion Picture Fund and ABC. An expert on the exhibition of motion pictures, Mr. Essert designed the screening facilities at the University of California at Los Angeles and at the American Film Institute in Los Angeles.
He died on December 16, 1992, at his home in Los Angeles. He was 54 years old and his partner Gary Abrahams preceeded Gary Essert in death of only 1 month. He died of AIDS, said Barbara Smith, the managing director of the Cinematheque.
Gary Essert and Gary Abrahams are buried together at Forest Lawn Memorial Park (Hollywood Hills), Los Angeles, Los Angeles County, California, USA, Plot: Lincoln Terrace, L-4518B.
---
My published books:


---