Queer Places:
Szczecin, Poland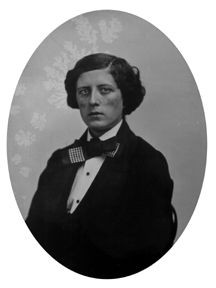 Felicita Vestvali (February 23, 1831 - April 3, 1880), also known as Felicità von Vestvali, was an opera singer and actress famous in both Europe and the United States.
Despite her Italian stage name, Vestali was actually born in Germany as Anna Marie Staegemann[1] She was known in North America as "Vestvali the Magnificent" or "Magnificent Vestvali"[2] and was a favorite performer of Abraham Lincoln's[2] and Emperor Napoleon III.[3] Vestali was admired for her beauty and her contralto voice and for her independence from the norms of femininity at the time. She was a self-described "man-hater" ("Männerfeindin") and an ambitious theatrical star, with links with the feminist movement, the nascent movement for gay and lesbian rights, and to the movements for racial and religious emancipation.[4][5][6]
From 1855 through 1867, Felicita Vestvali was a familiar New York opera star who specialized in singing contralto "trouser roles." She debuted in New York as Romeo in Bellini's "I Capuleti ed i Montecchi," played Maffeo Orsini in Lucrezia Borgia, and in 1864 sang Orfeo in the first New York performance of Gluck's "Orfeo ed Euridice." After her return to Europe, Vestvali left opera for a stage career, and often appeared as Hamlet. New York photographers C. D. Fredricks and Jeremiah Gurney both photographed her in elaborate costumes.
Brady's portrait, a double-sided ambrotype made around the time of her New York debut, portrays Vestvali as she appeared offstage. Vestvali was well known as a lesbian. In Brady's portrait, her mannish attire and severe hairstyle create a distinctively androgynous image.
---
My published books:

---
https://en.wikipedia.org/wiki/Felicita_Vestvali
https://npg.si.edu/exh/brady/gallery/18gal.html