Partner Marcia van Dresser
Queer Places:
Leasam House, Leasam Lane, Rye, East Sussex, TN31 7UE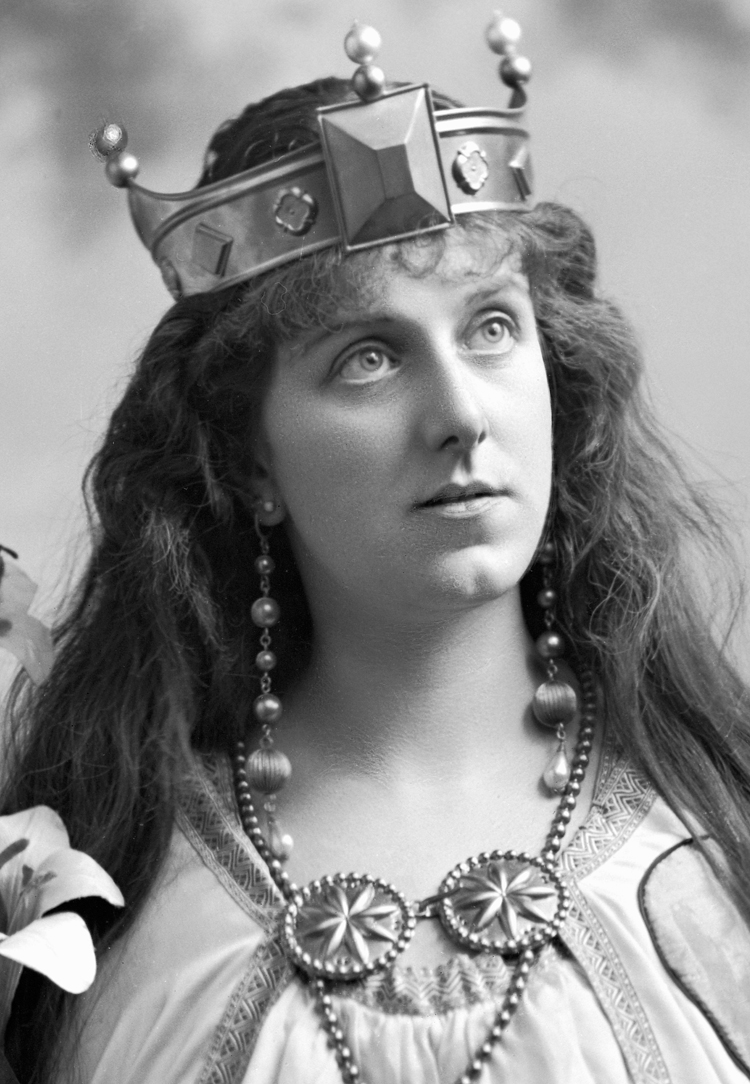 Ethel Maud Ashley-Cooper, Lady Warrender (December 16, 1870 - September 3, 1945), daughter of the eighth Earl of Shaftesbury, married naval officer Sir George John Scott Warrender. After his death in 1917, she became the lover of American soprano Marcia van Dresser, with whom she lived at her house, called "Leasam," near Rye. Music was central to Maud Warrender's life. At the age of twenty-one, a family friend persuaded her mother to allow Warrender to take singing lessons from a Signor Caravoglia. She soon became a celebrated amateur contralto, who organized and participated in innumerable charity concerts, both private and public. Always a supporter of the suffrage movement and women's rights, Warrender knew and worked with many women musicians and composers including Rebecca Clarke, Ethel Smyth, and Maude Valerie White. Alice Dew-Smith once summed up Warrender's musical reputation in the following limerick:
There is an enchantress called Maud,
Her voice!—let me hereby record
That the angels who hear it
Turn pale, for they fear it
May rival their singing to Gawd.
Lady Ethel Maud Ashley-Cooper was born on 16 December 1870, the daughter of Anthony Ashley-Cooper, 8th Earl of Shaftesbury and Lady Harriet Augusta Anna Seymourina Chichester. Anthony Ashley-Cooper, 8th Earl of Shaftesbury inherited the Belfast Castle estate from his father-in-law, the 3rd Marquess of Donegall, in 1884 and completed the building of the Castle. He inherited the St. Giles House estate from his father in 1885. In 1883 his estates in Ireland were 22,996 acres, largely in Antrim and Donegall, worth £41,649 a year.
Lady Ethel Maud Ashley-Cooper married Vice-Admiral Sir George John Scott Warrender of Lochend, 7th Bt., son of Sir George Warrender of Lochend, 6th Bt. and Helen Purves-Hume-Campbell, on 6 February 1894 at St. Paul's Church, Knightsbridge, London, England. Children of Lady Ethel Maud Ashley-Cooper and Vice-Admiral Sir George John Scott Warrender of Lochend, 7th Bt.:
Violet Helen Marie Warrender (born 1896)
Victor Alexander George Anthony Warrender, 1st Baron Bruntisfield (1899-1993)
Harold John Warrender (1903-1953)
In 1899 Louis N. Parker wrote A Masque of War and Peace. It was arranged as a Beor War Charity Matinée by Minnie Paget, and produced by Beeerbohm Tree at His Majesty's Theatre. Percy Anderson designed the costumes, both for the Masque and for the Procession of Great Britain and her Colonies which followed. The result of the performance was £10.000. Gervase Elwes made his first appearance as a singer on that occasion. Lady Maud Warrender appeared twice: as "Mercy" in the Masque and as Newfoundland in the Pageant. Féo Alington was "India," loaded withmagnificent jewels, lent by one of the Maharajas.

Lady Ethel Maud Warrender (née Ashley-Cooper) as Duchesse de Lauzun, La Grande Mademoiselle by Lafayette, photogravure by Walker & Boutall photogravure, 1897; published 1899 6 5/8 in. x 5 in. (169 mm x 126 mm) image size Purchased, 1975 Photographs Collection NPG Ax41285

Lady Ethel Maud Warrender (née Ashley-Cooper) by H. Walter Barnett whole-plate glass negative, 1902 Purchased, 1996 Photographs Collection NPG x76611

Lady Ethel Maud Warrender (née Ashley-Cooper) by Unknown photographer halftone reproduction tear sheet, published 14 January 1903 14 1/8 in. x 9 3/4 in. (358 mm x 248 mm) image size Given by Terence Pepper, 2012 Photographs Collection NPG x193307
Renowned for her fine voice (she had once sung a duet with Dame Nellie Melba) and her organisation abilities, "Maudie" in 1903 staged a London performance of Sir Edward Elgar's Coronation Ode (which includes the famous anthem Land of Hope and Glory) in the presence of the King Edward and Queen Alexandra. It was also at her instigation that the English pianist Ethel Liggins (1886-1970) adopted a Polish-sounding name – as was expected from the best musicians of time. She played under the name Ethel Leginska and was later dubbed "The Paderewski of Women Pianists"!
Quite by accident Lady Warrender is credited with the British royal family's change of name during World War I. At a private dinner party in Buckingham Palace, while chatting to King George VI she repeated some of the gossip occasioned by the dynastic name of Saxe-Coburg and Gotha, Queen Mary's descent from the royal family of Württemberg and the fact that the German Emperor was the King's first cousin: "Oh, I believe, sir, that rumours are going about that, because of your name, you're pro-German." It was said that the king went quite white and left soon afterwards.
Sir George died in 1917, and in 1920 Admiral of the Fleet the Earl Beatty was in Rye to receive the Honorary Freedom of the Borough, he also unveiled a memorial in Rye Church to the late Admiral Sir George Warrender Bart. his old friend and comrade.
In 1933 Lady Maud Warrender published My First Sixy Years (Cassel & Company, London, 1933). She died on 3 September 1945 at age 74.
---
My published books:

---
Edward Elgar and His World Byron Adams Princeton University Press, 14 nov 2011