Queer Places:
3014 Plum St., Erie
Troy Center Cemetery Troy Center, Crawford County, Pennsylvania, USA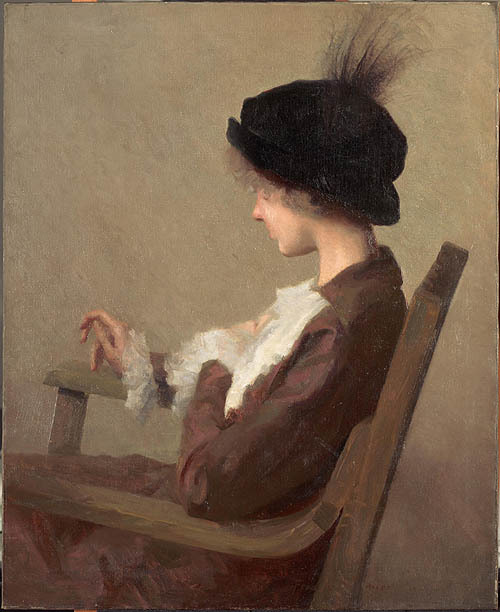 Ethel C. Schreiner (February 14, 1884 - December 31, 1965) is the sitter in Fred Demmler's enigmatic 1914 portrait, "The Black Hat". She was a young friend of Vera Parsons. Ethel is the one who first brought Vera Parsons to Pittsburgh, gave her a "debut tea" at the Schreiner household (December 31, 1913), and probably first introduced Vera and Demmler. Demmler's "The Black Hat" and "Vera" are probably the two most recognized Demmler portraits today, both owned by the Carnegie. In each portrait, each woman is sitting in the same Stickley-like armchair in Demmler's Pittsburgh studio. Ethel was a soprano; she studied at New England Conservatory. In Pittsburgh, Schreiner was known for her dramatic readings of Marie Jenney Howe's parody, "An Anti-Suffrage Monologue".
Ethel C. Schreiner was born Feb 14, 1884, in Titusville, the daughter of Frank T. and Hattie Bennett Schreiner. Schreiner was a graduate of Fredonia Normal School, and taught kindergarten in Titusville for a number of years. She then went into YWCA work and served as general secretary of YWCAs in several places, the most recent being at Troy, NY and Van Wert, Ohio. She was the director of the Department of Public Assistance for Crawford County with offices in Meadville for a number of years prior to her retirement in 1950, at which time she moved to Erie.
She died on December 31, 1965, following an extended illness at the Rondale Nursing Home in Erie.
---
My published books:


---
Titusville Herald, January 3, 1966