Queer Places:
358 Lordship Ln, Dulwich, London SE22 8LZ, UK
207 Hook Road, Chessington KT9 1EA
3 Shortlands Rd, Shortlands, Bromley BR2 0JB, UK
95 Chaffinch Rd, Beckenham BR3 4LX, UK
Golders Green Crematorium Golders Green, London Borough of Barnet, Greater London, England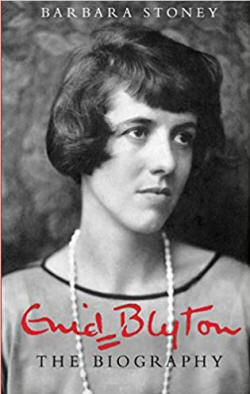 Enid Mary Blyton (11 August 1897 – 28 November 1968) was an English children's writer whose books have been among the world's best-sellers since the 1930s, selling more than 600 million copies. Blyton's books are still enormously popular, and have been translated into 90 languages. She wrote on a wide range of topics including education, natural history, fantasy, mystery, and biblical narratives and is best remembered today for her Noddy, Famous Five and Secret Seven series.
Her first book, Child Whispers, a 24-page collection of poems, was published in 1922. Following the commercial success of her early novels such as Adventures of the Wishing-Chair (1937) and The Enchanted Wood (1939), Blyton went on to build a literary empire, sometimes producing fifty books a year in addition to her prolific magazine and newspaper contributions. Her writing was unplanned and sprang largely from her unconscious mind: she typed her stories as events unfolded before her. The sheer volume of her work and the speed with which it was produced led to rumours that Blyton employed an army of ghost writers, a charge she vigorously denied.
On 28 August 1924 Blyton married Major Hugh Alexander Pollock, DSO (1888–1971) at Bromley Register Office, without inviting her family. They married shortly after he divorced from his first wife, with whom he had two sons, one of whom was already deceased. Pollock was editor of the book department in the publishing firm of George Newnes, which became her regular publisher. It was he who requested that Blyton write a book about animals, The Zoo Bookk, which was completed in the month before they married.[1] They initially lived in a flat in Chelsea before moving to Elfin Cottage in Beckenham in 1926, and then to Old Thatch in Bourne End (called Peterswood in her books) in 1929.[7]][97] Blyton's first daughter Gillian, was born on 15 July 1931, and after a miscarriage in 1934,[4] she gave birth to a second daughter, Imogen, on 27 October 1935.[1]
In 1938 Blyton and her family moved to a house in Beaconsfield, which was named Green Hedges by Blyton's readers following a competition in her magazine. By the mid-1930s, Pollock – possibly due to the trauma he had suffered during the First World War being revived through his meetings as a publisher with Winston Churchill – withdrew increasingly from public life and became a secret alcoholic.[98] With the outbreak of the Second World War, he became involved in the Home Guard.[98] Pollock met again Ida Crowe, an aspiring writer nineteen years his junior, whom he had met years before. He made an offer to her to join him as secretary in his posting to a Home Guard training centre at Denbies, a Gothic mansion in Surrey belonging to Lord Ashcombe, and they entered into a romantic relationship.[99] Blyton's marriage to Pollock became troubled for years, and according to Crowe's memoir, Blyton began a series of affairs,[99] including a lesbian relationship with one of the children's nannies.[99][100] In 1941 Blyton met Kenneth Fraser Darrell Waters, a London surgeon with whom she began a serious affair. Pollock discovered the liaison, and threatened to initiate divorce proceedings against Blyton. Fearing that exposure of her adultery would ruin her public image,[99] it was ultimately agreed that Blyton would instead file for divorce against Pollock. According to Crowe's memoir, Blyton promised that if he admitted to infidelity she would allow him parental access to their daughters; but after the divorce he was forbidden to contact them, and Blyton ensured he was subsequently unable to find work in publishing. Pollock, having married Crowe on 26 October 1943, eventually resumed his heavy drinking and was forced to petition for bankruptcy in 1950.[99]
Blyton and Darrell Waters married at the City of Westminster Register Office on 20 October 1943. She changed the surname of her daughters to Darrell Waters and publicly embraced her new role as a happily married and devoted doctor's wife.[7] After discovering she was pregnant in the spring of 1945, Blyton miscarried five months later, following a fall from a ladder. The baby would have been Darrell Waters's first child and it would also have been the son for which both of them longed.[4]
Blyton's health began to deteriorate in 1957, when during a round of golf she started to complain of feeling faint and breathless, and by 1960 she was displaying signs of dementia. Her agent George Greenfield recalled that it was "unthinkable" for the "most famous and successful of children's authors with her enormous energy and computer-like memory" to be losing her mind and suffering from what is now known as Alzheimer's disease in her mid-sixties. Blyton's situation was worsened by her husband's declining health throughout the 1960s; he suffered from severe arthritis in his neck and hips, deafness, and became increasingly ill-tempered and erratic until his death on 15 September 1967.
The story of Blyton's life was dramatised in a BBC film entitled Enid, which aired in the United Kingdom on BBC Four on 16 November 2009.[109] Helena Bonham Carter, who played the title role, described Blyton as "a complete workaholic, an achievement junkie and an extremely canny businesswoman" who "knew how to brand herself, right down to the famous signature".[27]
During the months following her husband's death, Blyton became increasingly ill and moved into a nursing home three months before her death. She died at the Greenways Nursing Home, Hampstead, North London, on 28 November 1968, aged 71. A memorial service was held at St James's Church, Piccadilly[1] and she was cremated at Golders Green Crematorium, where her ashes remain. Blyton's home, Green Hedges, was auctioned on 26 May 1971 and demolished in 1973; the site is now occupied by houses and a street named Blyton Close. An English Heritage blue plaque commemorates Blyton at Hook Road in Chessington, where she lived from 1920 to 1924.[111] In 2014, a plaque recording her time as a Beaconsfield resident from 1938 until her death in 1968 was unveiled in the town hall gardens, next to small iron figures of Noddy and Big Ears.[112]
---
My published books:


---
https://en.wikipedia.org/wiki/Enid_Blyton