Queer Places:
Our Lady's Church Breda, Breda Municipality, Noord-Brabant, Netherlands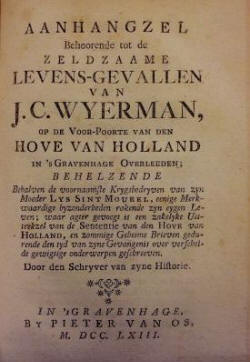 Elisabeth Someruell (died January 26, 1723), also known as Lys Sint Mourel, marketentster and owner of an eatery, served as a man in the Spanish army. Elisabeth Someruell married first with Swiger Borstelmans; and second, on October 11, 1676, in Den Bosch with Hendrick Weyerman (d. 1695), horseman in the State army. From her first marriage she had two daughters, and from the second marriage one son.
Elisabeth "Lysbeth" Someruell was almost certainly of Scottish descent. In her immediate vicinity there were many soldiers: her second husband was a horseman, her brother Jacob (d. 1699) sergeant in the army of stadholder-king William III, and her son Jacob Campo Weyerman (1677-1747) – who would become a famous and notorious 'journalist' – was for a short time a cadet in the regiment of the Scottish colonel George Lauder. Jacob Campo later wrote that he had known people from the Scottish Highlands from his childhood and that his mother came from the 'prudish Albion'.
LLysbeth Someruell initially lived in Den Bosch, where her daughters Sara (on October 25, 1674) and Swigera-Maria (on May 17, 1676) were baptized. No further information can be found about these two children in the archives of Den Bosch. The profession of her first husband is unknown, as well as the place and year of his death. The fact that the second daughter was named after him may indicate that he had already died by then.
Someruell's second husband, the widower Hendrick Weyerman, was a horseman in the State Army and much away from home. She probably initially travelled with his company, possibly as a marketentster. In any case, she was staying in an army camp near Charleroi when she gave birth to a son on 9 August 1677. With the newborn Jacob she travelled back to Den Bosch, where she confessed in the Reformed church in April 1678. She shared her home and household with her unmarried half-sister Maria Stoffelen (or Vastbinders, died 1712). In the same year, she lost a lawsuit that a neighbor had filed against her for insult (injuries). The issue degenerated into a lawsuit about money that dragged on until 1683, partly because she was unwilling or unable to pay the costs of the proceedings. For that reason, she was also held hostage for some time in the Prison Gate in The Hague.
In 1680, Lysbeth Someruell moved with her son and her half-sister to the garrison town of Breda, where she probably traded in lace for some time. A notarial deed of 1683 shows that as a marketentster she sold wine and other products in an army tent outside the city gate. Together with her half-sister, she also operated an eatery in the city itself. In 1683, however, the business went bankrupt – many soldiers were indebted to her for substantial amounts. Nevertheless, she probably always had an eatery, as evidenced by the court documents stating that she 'must earn a sober living with cooking daily with her manual labor'.
Elisabeth Someruell appears once again in the judicial sources: in February 1689 she gave a runaway girl (Elisabeth Hagens) shelter in her house next to the main guard. When the girl's father threatened Elisabeth Someruell with a stick, she shouted at him: 'Schelm, let's hit!' She was clearly never a little one. After 1690, things seem to have gone well for her. She was able to buy a house on the Grote Markt and provide loans to civilians and soldiers. Elisabeth Someruell died on 26 January 1723 and was buried on 1 February in the Grote Kerk (Our's Lady Church) in Breda.
Lysbeth Someruell owes her name to Franciscus Lievens Kersteman (1728-1793?). This famous bread writer had in the second edition of his biography about her son, the Rare life-cases of J.C. Wyerman (1763), added a 'Aanhangzel' in which he proposed to explain the life of Lys Sint Mourel, as he called her. According to this 'vie romancée' she was of Huguenot descent. After the death of her parents, she had gone to work as a maid in a Tilburg inn and, still according to Kersteman, had stabbed a merchant who tried to rape her. Fearing justice, she had fled and disguised herself as a farm boy under the name Tobias Morello and signed on to join the Spanish army in Dendermonde. She would then have gone through a career from tambour to sergeant. In 1673 'Tobias' was wounded in the battle of Bonn. The surgeon who took care of 'his' wounds discovered that the sergeant was a woman and thus the military career of Lys Sint Mourel would have come to an end. Kersteman felt that he should not withhold from his readers a biography of this 'world-famous' woman, who surpasses all other braves of the 'female art in her military companies'. He tried to make Lysbeth Someruell go down in history as one of those women who had served in the army dressed as men.
However, no evidence has been found of the reason for her transvestism – the stabbing in Tilburg – nor of her service as 'Tobias' in the Spanish army. The military environment in which Lysbeth Someruell spent her life may have given Kersteman the idea for this story. Above all, it can be suspected that he was seduced into this story by the success of his book about Maria van Antwerpen, De Bredasche heldinne (1751). Maria's travesty has been proven, but not with Lysbeth Someruell.
---
My published books:


---