Queer Places:
Bryn Mawr College (Seven Sisters), 101 N Merion Ave, Bryn Mawr, PA 19010
Embassy House Hotel, 29-30 Queen's Gate, South Kensington, London SW7 5JB, Regno Unito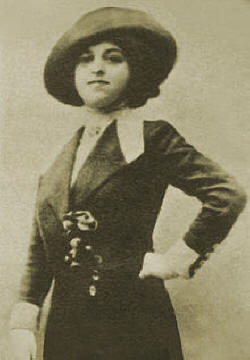 Edith Louise (Rosenbaum) Russell (June 12, 1879 – April 4, 1975) was an American fashion buyer, stylist and correspondent for Women's Wear Daily, best remembered for surviving the 1912 sinking of the RMS Titanic with a music box in the shape of a pig. The paper mache toy, covered in pigskin and playing a tune known as "The Maxixe" when its tail was twisted, was used by Edith Russell to calm frightened children in the lifeboat in which she escaped. Her story became widely known in the press at the time and was later included in the best-selling account of the disaster A Night to Remember by Walter Lord. Russell was also portrayed in the award-winning British docudrama produced by William MacQuitty that was based on Lord's book.
Born in Cincinnati, Ohio, on 12 June 1879, the fashion writer, consultant, importer, buyer and stylist Edith Louise Rosenbaum began her career abroad as a saleswoman in 1908 for the Maison Cheruit in the Place Vendome in Paris. Later she wrote for the magazine "La Derniere Heure a Paris" (published by Wanamaker Department Store's Paris bureau) and was a sketch artist for the Butterick Pattern Service.
Beginning in 1910, Rosenbaum presided as chief foreign correspondent to "Women's Wear Daily," dispatching weekly fashion marketing reports and seasonal collection news to New York from the publication's Paris branch.
By 1912 Rosenbaum was operating a successful buying and consulting service based in Paris and designing her own popular retail line of clothes, called "Elrose," for Lord & Taylor in New York.
Meantime, Rosenbaum had carved a niche for herself as perhaps the first professional fashion stylist. Her clientele of largely entertainment celebrities included Broadway comedienne Ina Claire, Folies Bergere showgirl Mistinguett, and opera diva Geraldine Farrar.
Apart from her eventful public career, Rosenbaum had a notable private life. In 1911 she was seriously injured in an automobile accident in France while en route with friends to attend the races at Deauville. The crash proved fatal for her fiance Ludwig Loewe, a wealthy German gun manufacturer.
The following year, she was a survivor of the "Titanic" disaster, achieving a measure of notoriety owing to the news of her escape in a lifeboat with a musical toy pig. Rosenbaum later filed two of the largest damage claims against the ship's owners, the first for financial loss of her merchandise importations and the other for personal injury.
Rosenbaum was American press attache to the Chambre Syndicale de la Haute Couture Francaise between 1914 and 1919. She also served as war correspondent for the "New York Herald" in 1916-17. In 1918 she changed her name to Russell owing to the French fashion industry's boycotting of German-name merchants and other tradespeople.
In 1923 Russell received a meritorious service award from the Associated Dress Industries of America and in 1925 was recognized for her work during World War I by the International Ladies' Garment Workers' Union.
Throughout the 1920s Edith Russell contributed fashion and society news to such magazines as "Cassell's" in London and "Moda" in Rome. Though semi-retired from her import business by 1934, she continued traveling, lecturing, and writing.
Her adventures during the next several years included dancing with Mussolini at a dinner party and breeding dogs for Maurice Chevalier. She also made life-long friends with the young British actor Peter Lawford and his parents and spent much time with them at their home in Palm Beach. She was later a godmother to Lawford's children with the former Patricia Kennedy.
By the mid-1940s Edith Russell, who had maintained residences in New York and in Paris' Champs Elysees, made her permanent home in London at Claridge's and later at the Embassy House Hotel.
In 1953 Edith Russell was invited by Twentieth Century Fox Studios to attend the New York premiere of the film "Titanic," starring Barbara Stanwyk, Clifton Webb, and Robert Wagner. She was interviewed by "Life" magazine during her stay in America and also met with historian Walter Lord who included her story in his best-selling book "A Night to Remember," published in 1956.
Russell afterwards served as a technical advisor to producer William MacQuitty on his 1958 film adaptation of Lord's book. She was portrayed in the movie as well and attended the premiere as MacQuitty's guest of honor.
She made the rounds of the press during the latter 1950s and throughout the 60s, telling her account of the "Titanic" sinking in numerous interviews in newspapers and magazines and on television and radio. The majority of her TV and radio appearances were with the BBC. She generally brought along her legendary musical pig which she played for audiences. She was made an honorary member of the Titanic Historical Society in 1963.
Until the mid 1960s Russell traveled frequently from London to Florence, Italy where she visited her long-time friend, Jeanne Sacerdote, formerly known as the couturiere "Jenny."
Despite her advanced age and physical frailty, Russell remained active and outspoken in her last years. She attended fund-raisers, gave luncheons and teas for visiting friends, tried unsuccessfully to interest publishers in her memoirs, and continued to be interviewed by reporters about the "Titanic."
On 4 April 1975 Edith Russell died at the Mary Abbott Hospital in London, following a ten day illness. She was 96.
---
My published books:


---
Randy Bryan Bigham : https://www.encyclopedia-titanica.org/edith-louise-rosenbaum-russell-1879-1975.html